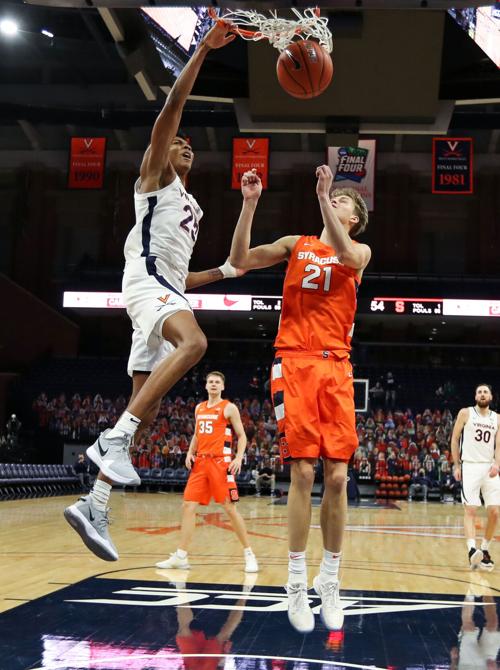 GREENSBORO, N.C. — Virginia opens ACC Tournament play on Thursday with a seemingly favorable matchup. The Cavaliers face Syracuse, a team they blew out in late January.
Despite a quarterfinal matchup that, on paper gives, an edge to the Wahoos, head coach Tony Bennett stressed Monday that his team can't afford to overlook any team in the conference tournament.
"The humility factor, my gosh, if our guys for a moment think 'Oh, we got this,' not but a game ago we're sliding on a three-game losing streak," Bennett said.
Overlooking Syracuse (16-8, 9-7 ACC) would certainly cause a problem for UVa (17-6, 13-4 ACC).
The Orange demolished N.C. State 89-68 on Wednesday to advance to Thursday's game. Syracuse missed eight of its last nine shots in the win, but still finished the game shooting 56.7% overall and 48.3% from 3-point range.
Syracuse has won three games in a row entering Thursday's showdown, which tips off at noon in Greensboro, North Carolina.
At the same time, the Cavaliers should find some confidence in their first showing against the Orange. UVa tallied a season-high 23 assists against Syracuse's 2-3 zone the first time the two teams met, winning 81-58 at John Paul Jones Arena on Jan. 25.
Junior guard Kihei Clark operated in the middle of the zone and picked it apart while dishing out nine assists. He found shooters on the perimeter, and they delivered, knocking down 14 shots from 3-point range.
Four UVa players reached double-figure scoring in the victory, with redshirt seniors Sam Hauser and Jay Huff both finishing with 21 points. Hauser's points all came on his seven made 3-point shots.
"We would move it into the middle of the zone and then kick it back out," Huff said after the win. "I think we were really able to do that well in a way that just led to no-dribble shots, which was really big."
Clark led the passing explosion with his nine assists, but he wasn't the only Cavalier to find open shooters. Freshman guard Reece Beekman chipped in with five assists of his own, and four other players added at least two assists.
The Wahoos are at their best when they move the ball well and post impressive assist-to-turnover numbers. In its six losses, UVa has averaged 11 turnovers and 11 assists. In the Cavaliers' 17 wins, they have racked up an average of 14.8 assists compared to 8.7 turnovers. UVa is undefeated when posting at least 15 assists.
After losing three games in a row in February when it committed 11.3 turnovers per game, Virginia bounced back with wins over Miami and Louisville to close the regular season, recording 11.5 assists and just 6.5 turnovers per game over the two wins.
"It taught us a lot about our team and ourselves and where we need to get better," Hauser said of the losing streak. "I think we locked in during practice more, came with a better mindset and really focused on attention to details, and I think it's shown the last two games."
Defensively, the Cavaliers need their best against a Syracuse team finding an offensive groove. Syracuse star Buddy Boeheim was in a shooting slump during his visit to Charlottesville, and the junior guard went just 1-of-8 from beyond the 3-point line in the loss. The Orange shot 5-of-24 (20.8%) from beyond the arc.
Wednesday against N.C. State, Boeheim built on his recent shooting success. The head coach's son knocked down six 3-point shots and finished with 27 points, including 20 in the first half. Over his last six games, Boeheim is averaging 22 points per game and shooting 44% from 3-point range. Syracuse is averaging 74.7 points per game over that span.
"We're a very good offensive team," head coach Jim Boeheim said Wednesday. "When we make shots we're really good. Today, we made shots."
Once the younger Boeheim starts shooting well, he searches for more opportunities. He's made an average of just over four 3-pointers per game over his past six contests. He's not shy when it comes to launching 3s.
Thursday's matchup carries significant weight for the Orange as they seek an NCAA Tournament berth. UVa is well inside the projected tournament field, but Syracuse sits on the bubble. A win over the ACC's regular-season champion could be enough to propel the Orange into the field.
To pick up the signature win, Syracuse will need a much better showing than its performance against UVa in late January.