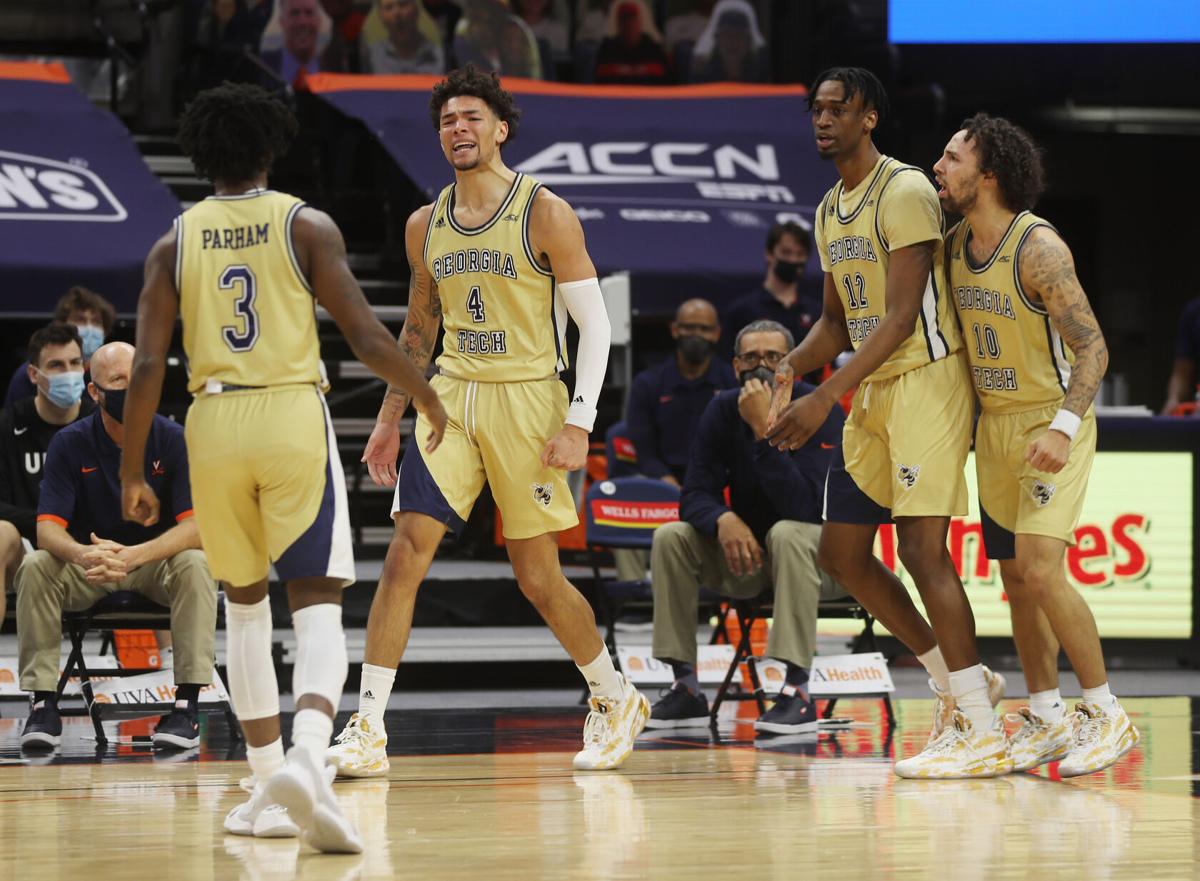 The Virginia men's basketball team walked out of McCamish Pavilion on Jan. 18, 2020, a winner. In the year since, no other ACC team has defeated Georgia Tech on its home floor.
On Wednesday night, No. 9 UVa (13-3, 9-1 ACC) returns to Atlanta with plans to defeat Georgia Tech (9-6, 5-4 ACC) and squash the Yellow Jackets' 11-game ACC home winning streak. Josh Pastner's team, which nearly beat UVa in Charlottesville on Jan. 23, is a perfect 5-0 against ACC teams at home this season with wins over North Carolina, Clemson and Florida State.
"Man, are they confident in their building, but I think a lot of it too is they have created a home atmosphere," Notre Dame head coach Mike Brey said Monday. "No other place have we played where it's loud and there's a band, and it really helps their team."
Even with attendance limitations due to COVID-19, the Yellow Jackets are benefiting from a home-court advantage. The program allows 1,200 fans per game, with students being given 75% of the ticket allotment. Georgia Tech's band also appears at home contests.
ACC teams have thrived in their own buildings during this unusual season, with home teams winning 69.3% of ACC games. Boston College, which is 2-4 at home, is the only ACC team below .500 in home games this season.
UVa allows only 250 fans at its home games, and while the cheerleaders were in attendance last weekend, the vibe at John Paul Jones Arena this season is largely subdued. Despite few fans, Virginia is a perfect 8-0 at home this year.
The Yellow Jackets beat Notre Dame 82-80 at home on Saturday, keeping their home unbeaten streak alive. Brey even joked that after visiting Georgia Tech, he needs to talk to his athletic director about allowing a band into Notre Dame home games in March.
N.C. State head coach Kevin Keatts laughed Monday, saying he calls games with 1,000 fans or more this season "sellouts."
"We've played in front of a few sellouts, and it does make a difference," Keatts said.
For UVa, the Georgia Tech atmosphere most closely mirrors Clemson's home environment. The Tigers welcomed 1,876 people and their band into Littlejohn Coliseum when the two teams met in January. Virginia handled that setting well, beating Clemson 85-50 in arguably the team's best showing of the season.
"There was life in the arena," Virginia coach Tony Bennett remarked after the win over Clemson.
Without an overly vocal or fiery on-court presence this season, UVa seemed to embrace the added energy in the building when facing Clemson. Virginia's head coach expects a similar vibe in the arena Wednesday night against Georgia Tech.
"You're fighting for atmosphere, energy, life, so yeah, it's just the way the ball bounces," Bennett said on his radio show. "Some states or counties allow fans or allow more people in than others, so I'm sure it'll be a live atmosphere."
Georgia Tech's energetic crowd may help the team at home this season, but the Yellow Jackets enter the matchup with the Wahoos on an 11-game home ACC winning streak in large part due to their roster. Jose Alvarado leads the ACC in steals, and the guard is playing at an All-ACC level.
Alvarado scored 20 points on 7-of-12 shooting to go with eight assists and six steals when the teams first met this season in January. UVa won that matchup 64-62.
Michael Devoe and Bubba Parham add value at the guard spot alongside Alvarado, and Jordan Usher scored 19 points on the wing for Georgia Tech in the first meeting with Virginia.
In the post, Moses Wright is undersized for a center, but he held his own in the first meeting with UVa. He scored 13 points and blocked five shots in the Georgia Tech's narrow defeat.
The Yellow Jackets nearly handed UVa its first home loss of the season, leading by as many as 11 points in the second half before losing the lead down the stretch as Sam Hauser and Jay Huff made jump shots.
"I don't know if we faded," Pastner said Monday. "I think Virginia hit some really tough shots. I think they're really good. That's what makes them so good. We'll have to play our best game of the year if we're gonna want to beat Virginia."
Georgia Tech needs a good showing to defeat Virginia. Fortunately for the Yellow Jackets, they'll play the reigning national champions in front of a "sellout" crowd Wednesday night.