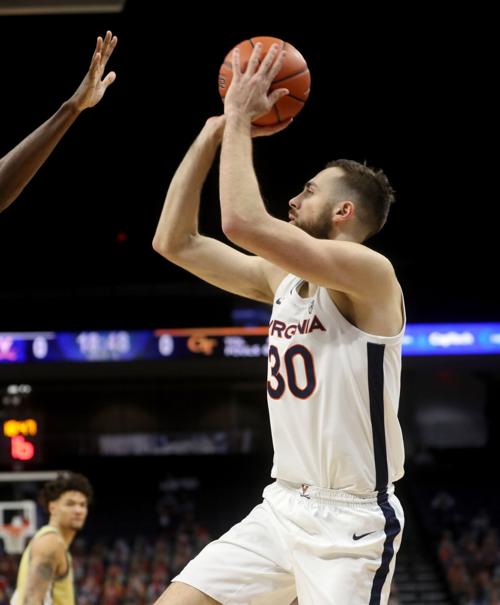 The Virginia men's basketball team walked into the Donald L. Tucker Center on Monday hoping to leave with a statement win over No. 16 Florida State. Instead, Tony Bennett's seventh-ranked Cavaliers left with another slice of the team's least favorite dessert.
"Just like the humble pie we ate against Gonzaga, there's some more," Bennett said on his Monday radio show.
The Blue Devils are coming off consecutive wins and beat Wake Forest 84-60 on Wednesday. They beat N.C. State 69-53 the game prior.
Duke comes in at No. 9 in defensive efficiency among ACC teams in conference play, according to data from KenPom.com. Despite being in the bottom half of the league defensively for much of the season, the Blue Devils feel confident that their defense is improving.
"We've been locked in on the defensive end in practice," freshman guard D.J. Steward said Wednesday. "I'm pretty sure that it's been translating really well for us. We've really just been focused, and then we knew that our offense is going to come — we have so many good scorers."
Even without talented freshman guard Jalen Johnson, who opted out of the season earlier this week to prepare for the NBA Draft, Duke can score. The Blue Devils rank second to only Florida State in offensive efficiency in conference play. They're the 16th most efficient offense in the country.
Against Wake Forest, the Blue Devils had five players score at least nine points. Sophomore forward Matthew Hurt went 8-of-9 from the field and 3-of-4 from 3-point range as he finished with 22 points, leading the Blue Devils in scoring. He'll test UVa's frontcourt on the perimeter, forcing them to respect his jump shot.
UVa's Jay Huff, who blocked 10 shots against the Blue Devils the last time the two teams met, may draw the assignment on Hurt. If so, it's a matchup between two of the best shooting big men in the ACC. Huff is second in the ACC in shooting percentage at 61.4%, while Hurt ranks third at 56.1%.
While Virginia won't have to worry about defending Johnson on Saturday, Duke boasts plenty of offensive options that seem to have found chemistry.
"I think when you play that hard on the defensive end, you play better offense," Duke head coach Mike Krzyzewski said. "You're more physical and run the offense harder. You can't play that hard on defense and not play hard on offense."
Duke presents a challenge to Virginia, and while the Blue Devils 9-8 record makes them seem average, the wins and losses are slightly misleading. Seven of Duke's nine wins have come by at least 10 points. Of those team's eight losses, seven have come by single digits.
The Blue Devils are 3-3 in their last six ACC games, but their average scoring margin over those six games is +9.3. Duke's wins typically come in competitive fashion, while its losses tend to be heartbreaking.
"After those really tough close losses, for these kids to have this great attitude and work ethic says something about them," Krzyzewski said.
Virginia won't be discouraged by its recent loss to FSU — the Cavaliers are 3-0 following defeats this season. The team wants to generate more intensity Saturday, though.
At times this season, UVa has looked flat and lacked physicality. The Cavaliers weren't nearly as consistent as they needed to be Monday against the Seminoles.
Virginia's players hope to bring more energy and consistency Saturday night in a mostly empty Cameron Indoor Stadium. Unlike other ACC schools, Duke doesn't allow any fans to its home games.
"It won't be like a normal Duke game, just like when people come here, but it's just about execution and preparing," Bennett said. "Hopefully we'll have some good days of preparation for it."