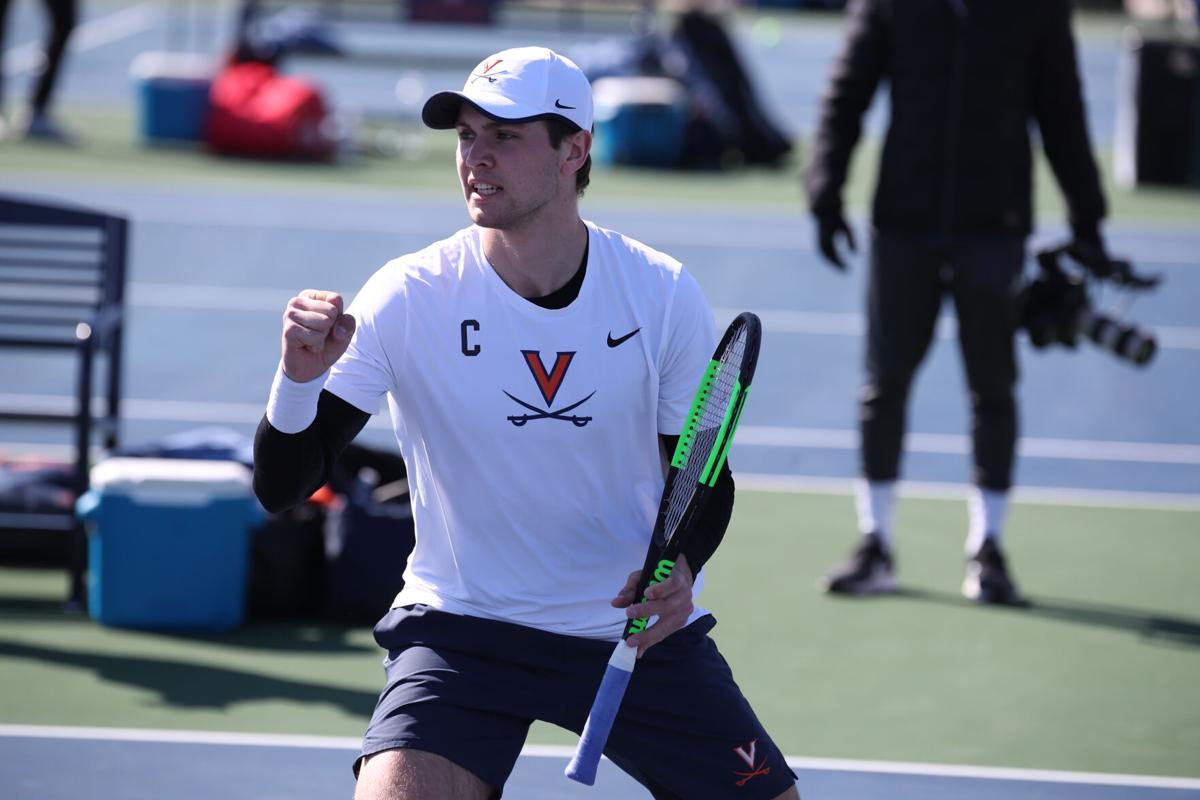 For the past two decades, the Virginia men's tennis team has been the ACC's standard bearer.
The Cavaliers have won 12 ACC championships since the 2004 season, including every conference title from 2007-15. Virginia won 140 consecutive matches during a stretch from 2006-16, which is the longest winning streak by any athletic program in ACC history.
After winning the ACC title in 2017, Wake Forest vaulted to the top of the league, winning the conference in 2018 and 2019. Last season's event was canceled due to COVID-19, but the Cavaliers enter the 2021 event as the No. 1 seed after a perfect 12-0 mark in ACC play.
Even after a stellar regular season, the Cavaliers know they'll be tested.
"We were 12-0, so of course we have confidence, but I mean, every match has been tough," freshman Jeffrey von der Schulenburg said. "We might have won 4-2 a lot of the times, but it could have gone either way."
Top challengers include second-seeded Wake Forest and third-seeded North Carolina. The Tar Heels come into the event fourth in the national polls, two spots ahead of Virginia. The teams split regular-season meetings, with UNC winning a nonconference indoor match in February and UVa winning at home on March 28.
The Cavaliers defeated Wake Forest in February, but the Demon Deacons enter the conference tournament red hot. They've won six in a row, including a road victory at UNC.
"Winning an ACC Tournament is a really tough thing to do, so you've got to take it match by match," Virginia head coach Andres Pedroso said. "Every match is really competitive and the margins between winning and losing are razor thin."
UVa has seen that play out this spring. The Cavaliers have competitive 5-2 wins over teams like Georgia Tech and Clemson. Virginia defeated Notre Dame 4-2 in April in a hotly contested road match.
It's a match that UVa's freshmen stars — three of the team's top four players are first-year athletes — point to as a reason they came to college. The trio, which includes von der Schulenburg, Chris Rodesch and Iñaki Montes, felt like the Notre Dame match was particularly intimidating. Opposing fans and players were energetic, even calling out the names of the UVa players and chanting about what a potential loss would mean for the Wahoos.
All three foreign players opted to come to Charlottesville instead of immediately pursuing a professional career for those moments.
"It's just a different environment in college tennis, but I think it's just amazing that college tennis is like that because you get mentally tougher," Rodesch, a Luxembourg native, said. "When you go to the pro tournaments, you will be mentally tougher than the other guys who don't play college tennis."
They've become more used to the college tennis environment, even if they were a bit rattled in the win over the Fighting Irish.
"To be honest, they totally got into my head," von der Schulenburg, who is from Switzerland, said with a laugh. "I did like two double faults in a row."
While von der Schulenburg lost his individual match against Notre Dame, he won his doubles match and the Cavaliers picked up the win as a team. They're hopeful for more positive results with postseason play starting this week.
Virginia begins its ACC Championship run on Friday afternoon in the quarterfinal round. The Cavaliers face Georgia Tech to open the event. The Yellow Jackets defeated Miami 4-3 on Thursday afternoon to advance to face UVa.
"Now is the most important part of the season, you have to be ready," von der Schulenburg said.