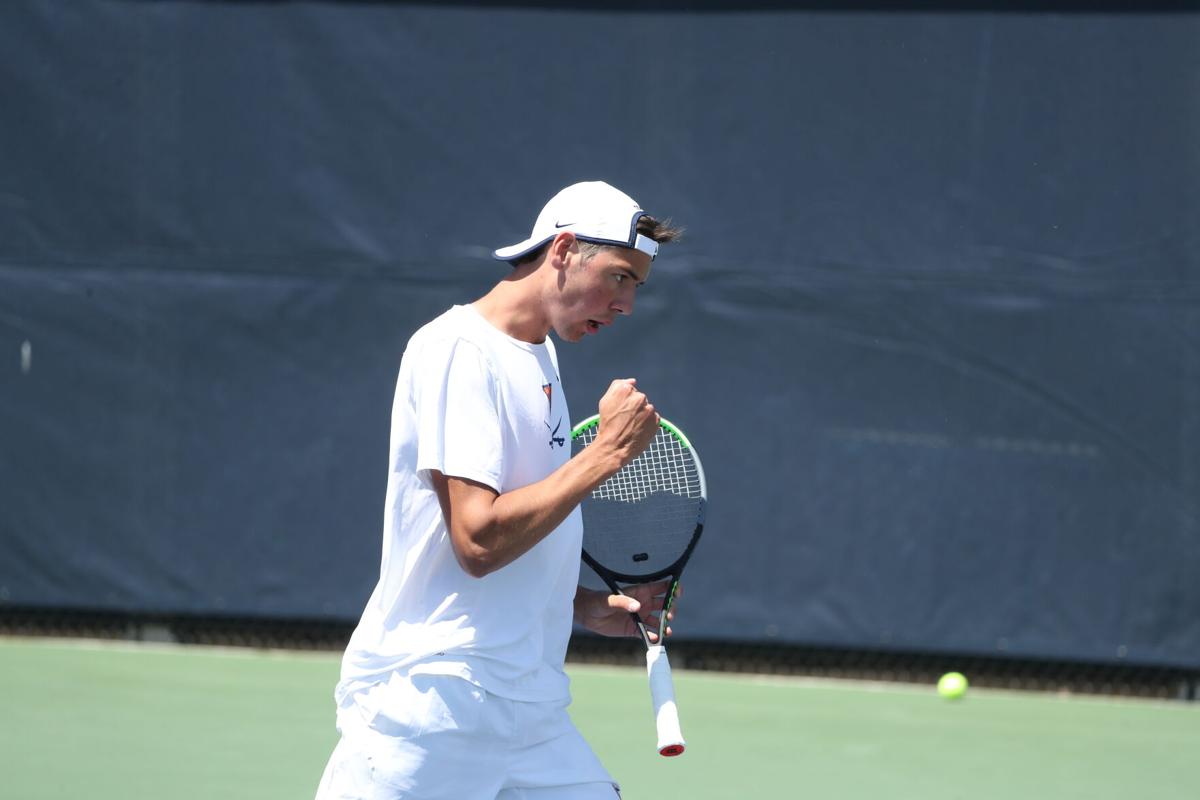 The Virginia men's tennis team made quick work of its first-round NCAA Tournament opponent Saturday. The Cavaliers were dominant in a 4-0 win over Fairleigh Dickinson at the Boar's Head Sports Club.
"Every match is a war at this tournament," Virginia head coach Andres Pedroso said. "Credit to Fairleigh Dickinson for a great match and getting to the NCAA Tournament. They had a great season; you can obviously tell why. They're great competitors, and they fought to the end."
UVa earned the doubles point without much pushback from the Knights. Graduate student Carl Söderlund and junior William Woodall earned a 6-3 set win, while freshmen Jeffrey von der Schulenberg and Inaki Montes were impressive in a 6-0 victory. The two victories handed the Cavaliers the doubles point and an early 1-0 lead.
The six singles matches were all Virginia as well.
Montes, who cruised in doubles, was nearly as dominant in singles, winning his match 6-1, 6-0. Despite being a freshman in his first NCAA Tournament, Montes looked sharp and played without nerves. UVa's three freshmen all played with poise in their first NCAA Tournament action.
"Our freshmen are cool, calm, collected," Pedroso said. "They've got great composure. That's what they've done all year. I expected that today."
Senior Gianni Ross won his singles match 6-1, 6-0 to earn a point for the Cavaliers. Woodall won 6-0, 6-3 to clinch the final point, giving Virginia a 4-0 victory. Virginia's experienced players performed well Saturday.
"Those guys have done nothing but work their three, four years here at UVa," Pedroso said, "and they've earned a chance to compete in a tournament like this, so it's always great to see the hard work pay off."
No UVa player lost a set Saturday.
The Knights (6-5, 4-0 NEC) competed well, but the Cavaliers (22-2, 12-0 ACC) were clearly the more talented and complete team.
The win came in front of an enthusiastic group of fans at Boar's Head Sports Club. While spectators were distanced due to COVID-19 guidelines, the UVa fans in attendance were lively and engaged in the matches. It was a competitive environment with plenty of support for UVa's athletes.
"It's always great to play at home," Pedroso said. "It's always great to be hosting. It's an honor. We love the conditions. We love the scenery. What's not to like?"
Virginia advances to face Stanford on Sunday at noon.
The Cardinal (11-5, 6-1 Pac 12) picked up a 4-0 win over LSU on Saturday to secure their spot in the second round. Stanford is a proud program, with 17 men's tennis national championships, but the most recent title came in 2000.