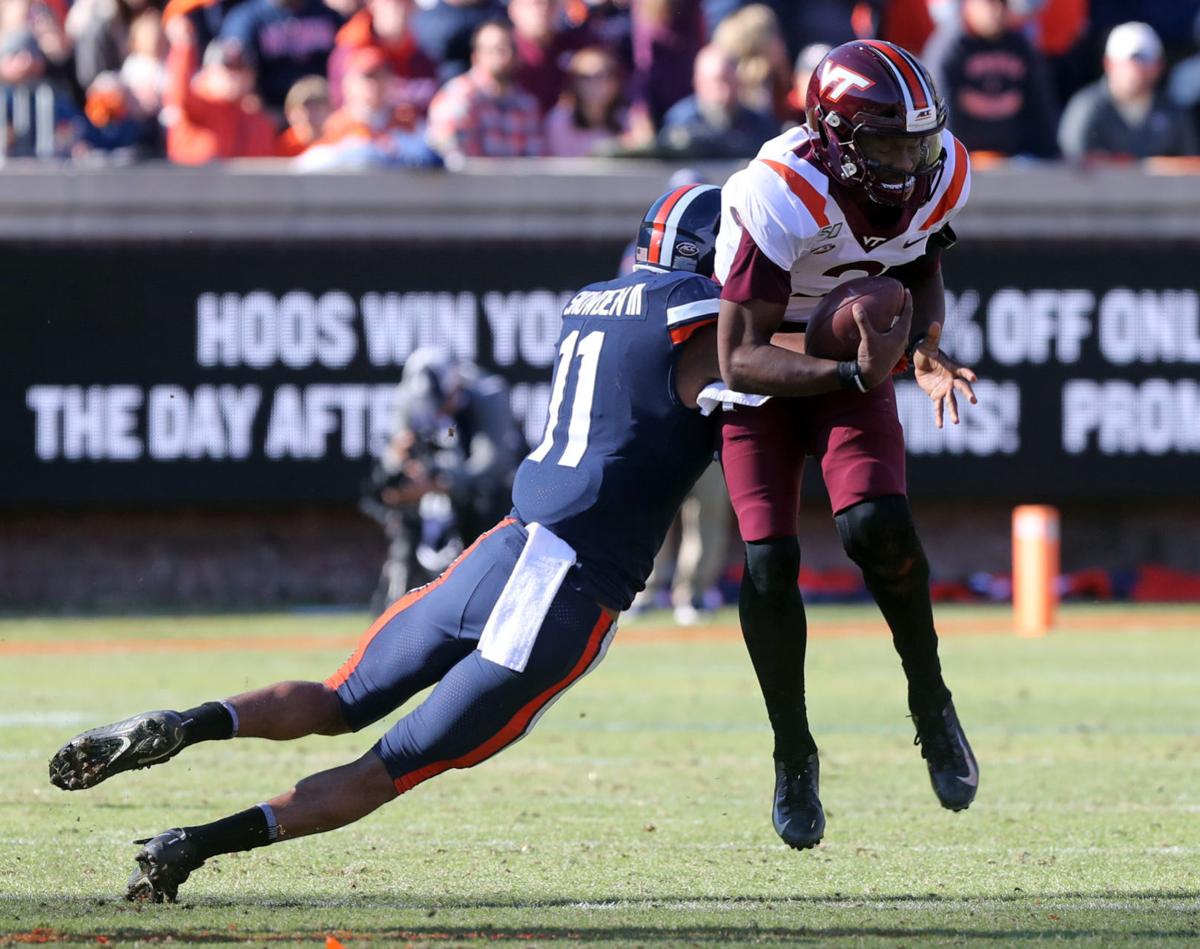 Virginia linebacker Charles Snowden announced Sunday night that he will enter the 2021 NFL Draft, ending his college career. Snowden opted not to use an additional year of eligibility.
"To Coach Mendenhall and his coaching staff, thank you for giving me an opportunity," Snowden wrote on social media. "They took a chance on me, a basketball player with zero football scholarship offers, and pushed me well beyond what I thought I was capable of."
Snowden spent four seasons at Virginia, developing into one of the best linebackers in the ACC. He ends his career in Charlottesville with 191 tackles, 30.5 tackles for loss and 15 sacks. He also impacted passes, recording 15 passes defended and snagging a pair of interceptions.
Unfortunately for the star linebacker, he enters NFL Draft season dealing with an injury. He broke his right ankle in the team's blowout win over Abilene Christian. The injury occurred on Nov. 21, and the recovery period is typically about six months.
Despite recovering from the season-ending injury, Snowden is sure to draw interest from NFL teams. He stands at 6-foot-7 and weighs about 240 pounds, giving him exceptional size at the linebacker position. His length is particularly impressive.
This season, Snowden finished with 10 tackles for loss and six sacks despite only playing in eight games.
In addition to his on-field attributes, Snowden developed into a leader over his time in Charlottesville. He's an active member in the UVa community and used his platform to speak out about a variety of issues while at Virginia, including racial injustice. He was among the most respected players on the Cavaliers' roster not only for his play, but also for his leadership and maturity.
"He's connected with everybody on the team," cornerback Nick Grant said in November. "I'd venture to say anybody on the team would say Charles is their best friend or one of their very best friends."
Snowden becomes the latest UVa standout to make a decision about their future playing days.
Cornerback De'Vante Cross announced recently he would return for a sixth season with the Wahoos. Heskin Smith and Darnell Pratt Jr., both cornerbacks, announced they would transfer. Running back Shane Simpson declared for the NFL Draft, joining Snowden. Other upperclassmen are expected to share their decisions in coming days.
For Snowden, he looks to become the first UVa linebacker selected in the NFL Draft since Micah Kiser was picked in the fifth round of the 2018 draft.
"Lastly, to the city of Charlottesville and Wahoo nation," Snowden wrote, "Thank you for accepting me, encouraging me, and allowing me to make Charlottesville my second home."