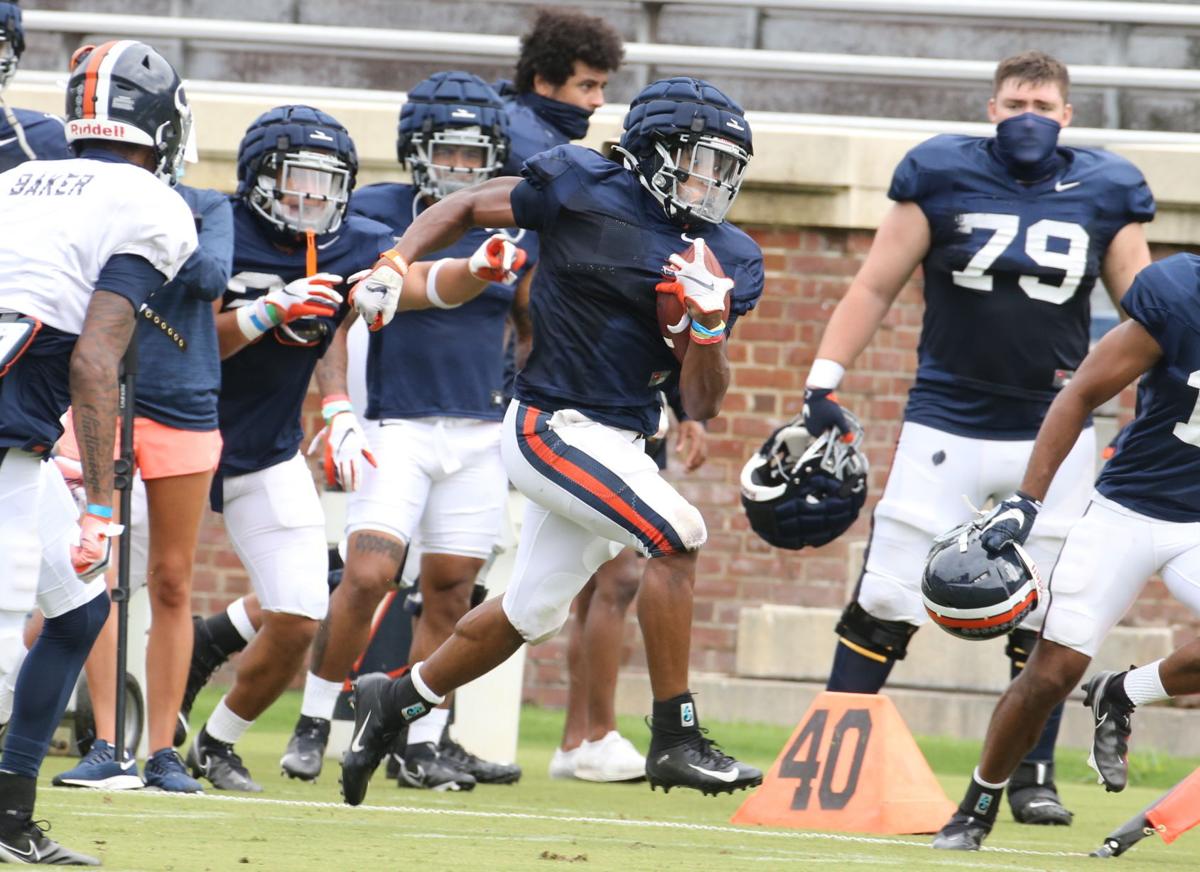 Bronco Mendenhall joined a media Zoom call Friday at approximately 10:30 a.m. By 11 a.m., Virginia football fans had learned that the Cavaliers' offense will be without three important skill players for the immediate future.
First, Mendenhall revealed that Indiana transfer running back Ronnie Walker Jr. received word on his waiver to play immediately.
The NCAA denied the request.
UVa appealed, and it hopes to learn the result of the appeal soon.
"No. 1, I'm not sure how the waivers are even considered and not sure why it was denied," Mendenhall said. "Don't agree with it, and hopefully the appeal will work in his favor and in our favor, which would be fair."
Walker Jr. played two seasons at Indiana before transferring to UVa this offseason. He has two years of eligibility remaining, whenever he's allowed to take the field. A Virginia native, Walker Jr. transferred to UVa in part to be closer to home.
When Walker announced his decision, he shared that he wanted to be closer to home to help his mom when needed, while also giving her the opportunity to see him play. UVa still hopes that Walker Jr. will receive the waiver following the appeal.
Seconds after discussing Walker Jr.'s failed waiver application, Mendenhall revealed that wide receiver Dontayvion Wicks will miss the 2020 season.
"We have had a loss," Mendenhall said. "We've lost Dontayvion Wicks for the season. An injury happened last week."
The loss of Wicks, a sophomore wide receiver with good size and strength, limits options at outside receiver. Tavares Kelly Jr. and Billy Kemp IV are both built like slot receivers, whereas Wicks made sense lining up on the outside.
Fortunately for the Cavaliers, FCS transfer Ra'Shaun Henry joined the program. Mendenhall called the wide receiver from St. Francis a "bright spot." Henry possesses the size needed to perform outside. UVa's head coach admitted there's some concern with depth at the position, but Terrell Jana and Henry make for two quality options outside.
Mendenhall also likes what he's seen from his two freshmen wide receivers, Lavel Davis Jr. and Demick Starling. Davis Jr. may be the most fascinating receiver on the roster. At 6-foot-7, his size jumps off the page. He caught 22 touchdown passes during his final two years of high school, while also competing in track and basketball.
The three-star recruit came to Charlottesville ahead of where Mendenhall expected. The coach says he might player earlier than originally planned.
"Some volatility there, but man, our recruiting, especially our two first years and our grad transfer Ra'Shaun Henry, that's been a lifesaver — those three — for that position," Mendenhall said.
Later in the media availability, Mendenhall circled back to the running back position, revealing yet another blow to the offense.
Mike Hollins, a sophomore running back adored by the coaching staff, is one of the team's five players who opted out and aren't currently with the program. It's unclear if Hollins opted out because of COVID-19 or other reasons.
Without Hollins, Walker Jr.'s waiver appeal becomes even more important. Wayne Taulapapa returns at the position, but outside of him, the Cavaliers lack depth. Shane Simpson, a transfer from Towson, may immediately step into a prominent role with Taulapapa.
Simpson enters the mix with more speed but less strength than Taulapapa. Simpson is no slouch in the weight room, but he's a more elusive and dynamic runner than Taulapapa, which could make for a solid 1-2 punch at running back. An injury or COVID-19 positive test or contact tracing result could quickly jeopardize that 1-2 punch, though.
With COVID-19 a factor this fall and injuries at running back always a possibility, depth becomes critical. UVa's running back room doesn't have nearly the depth it expected entering the year.
Depth means everything to college football teams entering an unusual fall season. Virginia likes where it stands at quarterback and offensive line. The running back and wide receiver rooms, however, firmly become the group's largest question marks following Mendenhall's Friday announcements.