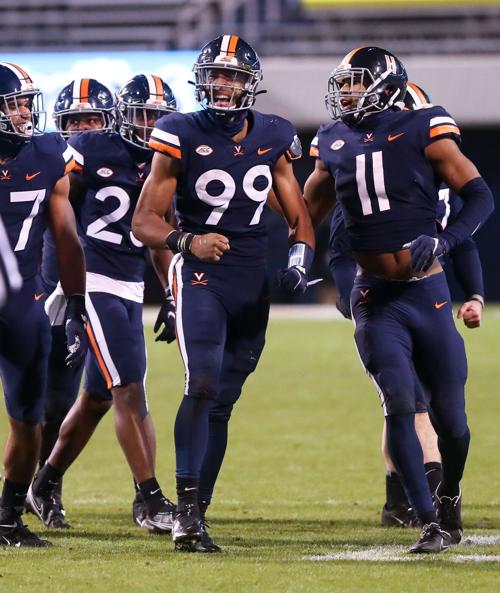 Bronco Mendenhall knew he wanted to take a gamble on fourth-and-short late in the fourth quarter against North Carolina last Saturday.
With the Cavaliers leading 44-41, Mendenhall made the decision to go for it on fourth down, hoping to keep the ball away from UNC's potent offense.
After making the initial decision to go for it, Mendenhall chose between running an offensive play and opting for a fake punt. Virginia's head coach selected the fake punt, allowing Keytaon Thompson to receive a snap and make a play with his feet to make the first down.
"Therein lies, I thought, the most critical question of that game, it wasn't whether we're gonna go for it or not," Mendenhall said. "I woke up in the morning knowing we're gonna go for it in a critical situation, but then it is which is going to be more effective, an offensive play or a fake punt."
Mendenhall opted for the fake punt, hoping for an element of surprise. Thompson said the shock factor didn't quite work, but he found a way to gain the needed yardage regardless.
"They knew it was a fake," Thompson laughed. "They were looking at me, pointing me out before the snap and stuff like that."
Regardless, the play worked and capped off UVa's upset win over the Tar Heels.
Last Saturday night, Virginia went a perfect 4-for-4 on fourth down, including the fake punt. That drive ensured the Cavaliers could kill the clock.
UVa's other fourth-down conversions kept drives alive that led to two touchdowns and a field goal. The fourth-down aggression played a tremendous role in UVa's ability to beat North Carolina.
On the season, UVa is 14-for-20 on fourth-down conversions. The Cavaliers are one of just four FBS teams this fall to attempt 20 fourth-down conversion attempts. Mendenhall's group is extremely aggressive on fourth down.
According to UVa's head coach, this approach is analytics based. The Cavaliers used data to determine when the potential reward of successfully converting a fourth-down attempt outweighs the risk of failing to convert. That data is compiled into a book that Mendenhall uses to help guide his decision-making on fourth downs.
The decision-making process includes some gut feel, too.
"I consult that, but I don't defer to it," Mendenhall said. "So, there are times where my intuition will say, 'I don't think so,' or other times, we're gonna do it regardless of the book. So primarily the analytics with a little sprinkle of intuition, if it was a recipe, is the way I would say."
Success on fourth down helps keep drives alive, which is critical for a team struggling on third down.
UVa would rather avoid those tough fourth-down decisions when possible. The Cavaliers want to find more success on third downs. UVa is converting just 32.3% of its third down attempts this fall, and a higher success rate in those situations could help keep the Cavaliers out of tricky fourth-down situations.
"If we are not as successful on third [down] as we'd like to be, which we have not been, that pushes the deal to fourth," offensive coordinator Robert Anae said. "I'm glad to see between third and fourth down we are accomplishing the goal."
Quarterback Brennan Armstrong mentioned after UVa's win over UNC that he tries to be aware of UVa's fourth-down aggression when facing third-and-long situations. When the Cavaliers enter that situation, he knows if he can at least pick up some yards there's a chance the Wahoos go for it on fourth down.
UVa's signal caller feels confident in his group converting any short-yardage fourth-down plays.
"I think with our style and what we're doing on offense, I think we're gonna easily pick those up, and we went 4-for-4 today," Armstrong said Saturday. "That's huge. It keeps the drives alive, and we got points off of that."
Thompson's fake punt capped off a perfect 4-for-4 day on fourth down. While the Cavaliers would love to improve their third-down performance, Armstrong and company know fourth-down success can keep them in any game.
As the Cavaliers look to finish the season strong and end the fall with a winning record, an aggressive fourth-down mindset could propel the Wahoos to a winning streak.
Be the first to know
Get local news delivered to your inbox!