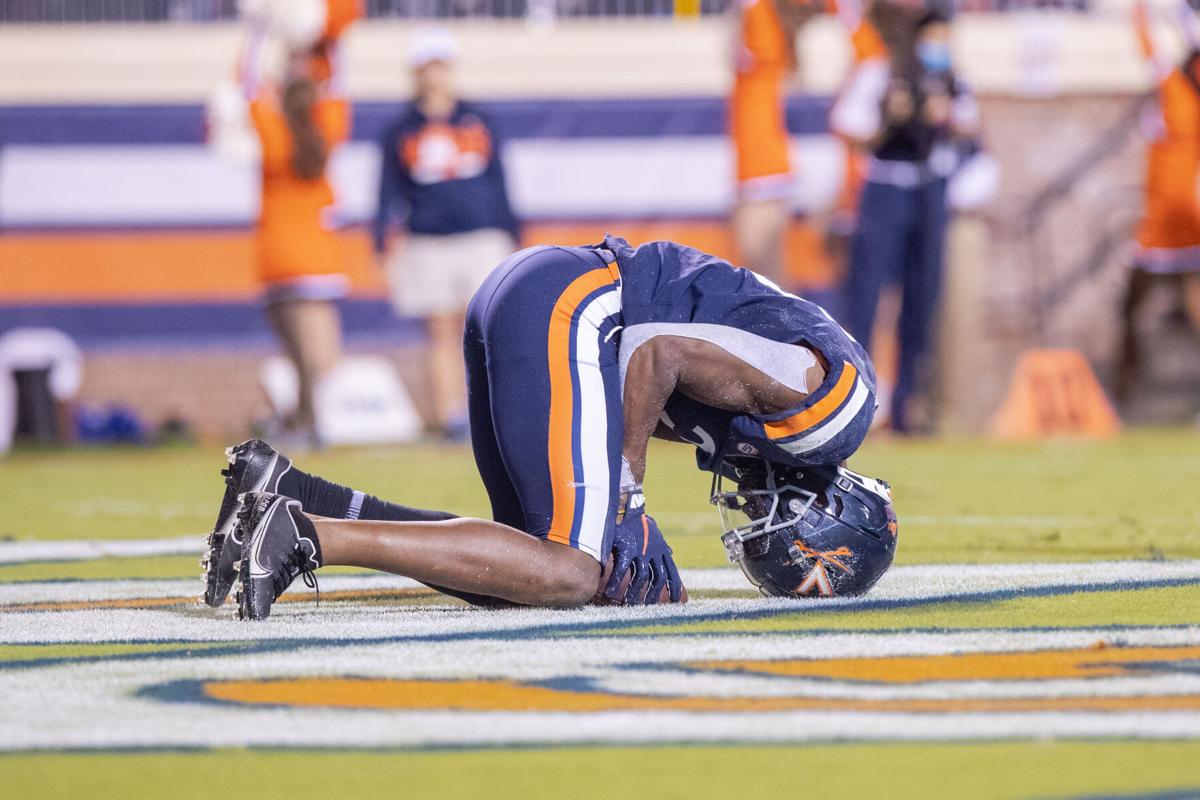 Virginia running back Mike Hollins told the media after Friday's 37-17 loss to Wake Forest that it wasn't hard to maintain hope the Cavaliers could win the ACC Coastal Division despite starting 0-2 in conference play.
"Once we start clicking again, start playing with confidence on both sides of the ball and on special teams, executing our assignments play in and play out, I don't think anybody can stand in our way," Hollins. "No hope is lost at all."
When asked what it would take to regain confidence — UVa's locker room was highly confident after blowing out William & Mary and Illinois to open the season — Hollins paused for nearly five seconds.
The running back's delayed response was telling.
UVa (2-2, 0-2 ACC) seems to have more questions than answers after consecutive 20-point ACC defeats. Players preached that they won't lose hope of winning the division despite a subpar start to conference play, but some of the comments felt forced.
"Always looking at things on a positive side, now our backs are against the wall," linebacker Noah Taylor said. "Now we can't lose another game. We can't lose another ACC game. We can't lose another game, period."
While Taylor aimed to put an optimistic spin on things, no team wants to lose twice to open the conference season. Duke's 2013 team is the only team to start 0-2 in the ACC and win the Coastal. UVa hasn't shown anything, especially defensively, the last two weeks that make it look like a potential division champion.
All offseason the Cavaliers harped on defending the Coastal Division after winning it in 2019 — divisions were eliminated temporarily in 2020 due to COVID-19. That goal seems lofty after the two defeats.
More realistically, UVa will spend the next eight games battling for bowl eligibility. Teams need six wins to qualify for postseason play.
Road games against Miami, Louisville, BYU and Pittsburgh are challenging matchups. UVa may very well be favored in home games against Duke and Georgia Tech, but November matchups with Notre Dame and Virginia Tech will require quality performances.
Finding four wins in those eight games means UVa needs to play significantly better. While the Cavaliers have recorded more than 500 yards of offense in all four games this fall, the defense allowed 1,172 yards and 96 points in losses to North Carolina and Wake Forest.
It's been a jarring change of pace after Virginia held William & Mary and Illinois to 520 yards and 14 points.
Head coach Bronco Mendenhall wasn't concerned with keeping hope after the win, but rather getting his team to play better football in the final eight games.
"I think hope isn't the right word," Mendenhall said. "I love the opportunity to develop, grow and battle and strain and become."
Mendenhall praised his team's energy and fight. The group's wide receivers fought through tackles on a fruitless final drive. UVa ended the game near the goal line, unable to score before the clock ran out in its 37-17 loss, but the group played like the last drive mattered.
"I loved seeing Malachi Fields tonight battling at the end," Mendenhall said. "I loved seeing Keytaon Thompson dragging bodies at the very end. I love seeing people that will fight, scratch, claw for a cause right to the very end."
UVa's head coach wouldn't brush aside the team's chances of a dramatic turnaround, but he's a smart man. A porous defense coupled with the 0-2 start to league play doesn't lead to conference championship game appearances.
"I'm not ruling us out, but it's really clear that we have lots of work to do," Mendenhall said.
He wants his team to keep fighting through the season, just as it fought through the final possession of a blowout loss to Wake Forest.