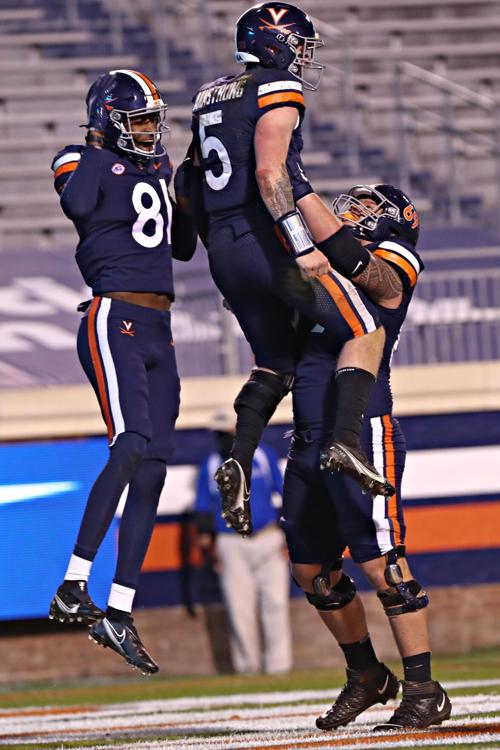 Through two games this fall, Virginia football players and coaches believed they were trending in the right direction.
The Cavaliers forced seven turnovers in a season-opening 18-point win over Duke before competing well against then-No. 1 Clemson. Then, the Wahoos performed horribly in a 38-21 loss to N.C. State. They followed the performance with losses to Wake Forest and Miami, dropping to 1-4 on the year.
As the losses piled up, some fans checked the calendar to see when the men's basketball season would start.
While doubts creeped in among fans, the players and coaches remained calm. They kept saying they believed they were close to victories and that development occurring in practice would soon show on game days.
Finally, after weeks of disappointing results, the growth and results are showing.
Virginia upset North Carolina 44-41 at the end of October, and it took down Louisville 31-17 on Saturday to improve to 3-4 this fall with a winnable contest against Abilene Christian next on the team's schedule.
"The reality is, this year the development of the team is happening while we're keeping score," head coach Bronco Mendenhall said. "It's not happening during spring, it's not happening during summer, it's happening while we're playing."
That development seemed clear against Louisville.
UVa's defense allowed over 450 total yards, but the Wahoos also forced three critical turnovers. One of those turnovers was a Noah Taylor interception that was returned for a touchdown.
Offensively, UVa rushed for 165 yards and two scores, with a handful of players making contributions on the ground. Quarterback Brennan Armstrong was among those who made key plays with his legs, rushing 15 times for 60 yards and a pair of touchdowns.
Maybe most importantly for Armstrong, he limited turnovers. The signal caller tossed just one interception against the Cardinals.
In Armstrong's first three career starts, he fired six interceptions. In his three subsequent starts, he only threw two interceptions.
"I think I'm gonna get better at that," Armstrong said. "Just don't force things. I think that's what happened today, just tried to force something that wasn't there, could've just scrambled and found something else, picked something up with my feet."
UVa's team is growing, and the schedule sets up well for the Wahoos.
An FCS team visits Charlottesville next weekend, and the Cavaliers travel to Tallahassee to face Florida State the following week. The Seminoles sit at just 2-6 on the season, and five of their six losses have come by at least 15 points.
As basketball season begins, the football team could increase its winning streak to four games as it surges above .500.
"We honestly think we can win every game the rest of our season," Armstrong. "It's just how we prepare, how we want to attack each and every game, and it just comes down solely to us not hurting ourselves and taking care of the ball."
For a program that rarely brings in four- and five-star recruits, development means everything.
Developing players during a pandemic has proved to be challenging, especially without a spring practice season. The Cavaliers have done well to avoid COVID-19 — they weren't missing any players due to positive tests or contact tracing against Louisville — and they're starting to put together improved on-field results.
"I think the bottom line is that I'm still learning, growing and developing protocols in the very best way to play football in a pandemic," Mendenhall said. "Trying to get the exact right practice models, execution models and everything possible to help a team flourish under a pretty tight time frame and keep them all healthy."
UVa started the fall season slowly, jumping out to a 1-4 start as consistency in all three phases lacked. Since the subpar start, the Cavaliers upset a ranked North Carolina team and beat Louisville by two touchdowns.
There's growth in Charlottesville, and it stemmed from the players and coaches keeping faith after starting the year 1-4.
"We just kept fighting, battling," receiver Billy Kemp IV said Saturday. "You can really say that's just the nature of this team."
Be the first to know
Get local news delivered to your inbox!