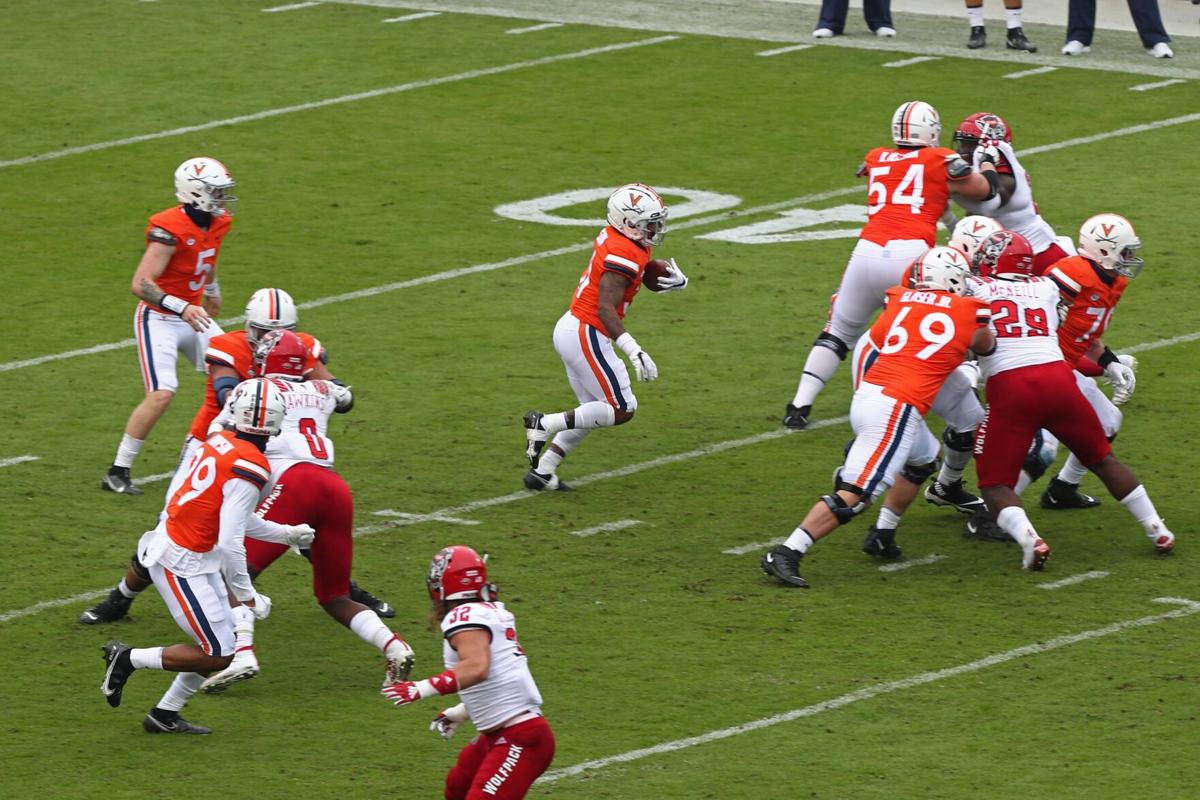 It's been more than 700 days since the Virginia football team rushed for 200 yards against an ACC opponent.
A 200-yard rushing output in a conference game came in a 2018 victory over North Carolina. Led by Bryce Perkins, the Wahoos rushed for 208 yards on 44 carries. Virginia won the game, 31-21.
Since then, the Cavaliers have come close a few times, rushing for 181 yards in last season's win over Virginia Tech and opening this fall with a 188-yard rushing performance against Duke.
For a team seeking offensive balance, however, many of its rushing totals cause alarm.
In last Saturday's 38-21 loss to N.C. State, Virginia averaged a meager 2.83 yards per carry, rushing 29 times for 82 yards. The lowly total does include lost yardage on sacks, but the numbers aren't much better without those plays.
"Our ineffectiveness in running the ball kind of caught me by surprise because I really thought we had done a nice job in the first two games," UVa head coach Bronco Mendenhall said.
Perhaps most alarming was the need to abandon the running game due to game circumstances. After falling behind 24-0 to the Wolfpack, the Cavaliers understandably leaned heavily on the passing attack.
Lindell Stone relieved an injured Brennan Armstrong, throwing the ball 54 times for 240 yards and three touchdowns. As a team, Virginia threw the ball 64 times for 324 yards.
Through three games, 60% of UVa's plays are passing plays. The team generates 67.2% of its yardage through the air. When it comes to scoring touchdowns, 72.7% of the team's touchdowns come via the passing attack. One of the three rushing touchdowns is from Armstrong.
"It's huge, just to establish a running game and to stay true to it just so we can help out with the pass game," running back Shane Simpson said. "I know myself and Wayne, Perris, whoever's back there, we can definitely contribute."
Simpson, a graduate transfer from Towson, has carried the ball just 18 times this fall. He's tallied 84 yards on those carries, averaging 4.7 yards per carry. His running back mate, Wayne Taulapapa, has 41 carries for 177 yards. He's averaging 4.3 yards per attempt.
They both need to be more productive for UVa's offense to excel.
Fortunately, help is on the way.
A reliable third option could be what the Cavaliers need. Walker joining the backfield allows UVa to either split carries among the three backs somewhat evenly, or they can lean on one of them as a feature back. Given Taulapapa's steady, yet underwhelming stats, it might be in the Cavaliers' best interest to give Walker a long look.
It'll be up to the running backs to generate a rushing attack. Fortunately for UVa, Stone won't enter the game facing a 24-0 deficit.
"This time, when you start the game in the first quarter, you're not coming from behind, so there's more balance," offensive coordinator Robert Anae said.
Slow starts in each of the first three games have contributed to UVa's jarring rushing totals. With time running out and a multiple-possession deficit, throwing the ball becomes the only option.
A need for balance shouldn't completely dictate UVa's offensive philosophy, though.
Despite not rushing for 200 yards in an ACC game last season, the Cavaliers posted 517 total yards against North Carolina and 492 against Virginia Tech. The passing attack has shown the ability to move UVa down the field.
Given the multitude of receiving options this fall — four UVa players have at least 100 receiving yards through three games and five players have at least nine receptions — passing still represents Virginia's best offensive option, even if Armstrong misses time.
At the same time, balance can help the Cavaliers be more efficient on offensive. An effective rushing attack takes pressure off the passing attack, keeping the defense off guard.
ACC teams averaging at least 4.5 yards per carry include Virginia Tech, Notre Dame, North Carolina, Miami, Georgia Tech and Clemson. Those teams are 14-3 in conference games this fall, with two of those losses coming in games between teams on that list.
Running the ball well isn't the only factor that translates to victories, but it's extremely helpful, especially when UVa's offense ranks second-worst in the ACC in passing efficiency.
Virginia won't become the ACC's most dynamic rushing attack overnight, but better balance could help take pressure off the team's developing quarterbacks.
"When it's time to run the ball, let's do it," Anae said. "When it's time to throw the ball, let's do it."
Be the first to know
Get local news delivered to your inbox!