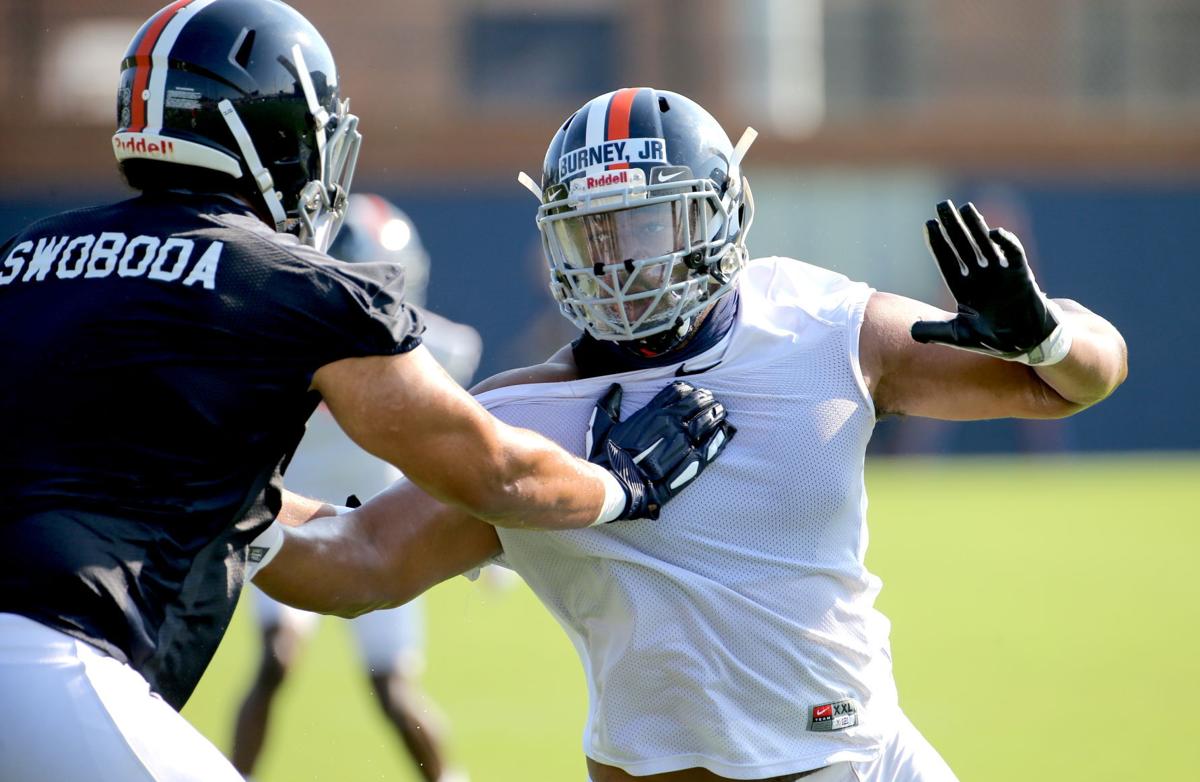 Tuesday saw a pair of Power 5 conferences postpone their fall football seasons. The Big Ten and Pac-12 announced the cancellation of fall football games, while the ACC, Big 12 and SEC remain committed to pressing forward with a potential fall season.
That means powerhouse programs such as Michigan, Ohio State and USC won't play football games this fall. Virginia, however, continues to prepare for the season despite constant uncertainty.
"Obviously, we're not oblivious to what's going on in college football right now, but I think Coach [Bronco Mendenhall] has said it best multiple times, 'control the controllables,'" Virginia defensive line coach Clint Sintim said Wednesday. "Right now, we've all been given an opportunity to come out here and practice and play football, and for me to coach football, so we're all doing what we love and until we hear otherwise, that's what we're gonna keep doing and we're gonna keep marching away."
Virginia started fall camp Monday, and it has practiced this week as a team. The Cavaliers hope to play their fall season, which is slated to begin on Sept. 11 with a matchup against VMI.
With many FCS conferences opting not to play this fall, it's unclear if the Wahoos will ultimately open the season with VMI in Week 1, despite the current schedule.
Almost everything about the fall season remains murky.
Fall camp comes as a challenge to student-athletes in normal seasons. Coaches push players during this time to help them get into elite physical shape, while also wanting to determine the depth chart through positional battles. Competition is frequent, and it's a physical and mental grind.
Add in the uncertainty of whether a season can safely happen in the fall, and it's a unique challenge facing college athletes.
For UVa's athletes, the focus remains on football and staying in the moment.
"With something like this, with COVID going around and everything, it's just a day at a time," sophomore defensive tackle Jowon Briggs said. "Can I make myself better the next day? Can I make myself better today? I'm not really looking forward weeks from now, I'm really just focused on how I can act, how I can train the day I'm at right now."
The student-athletes find the practices to be an enjoyable distraction.
Unsurprisingly, Division I football players fresh off a 2019 Orange Bowl appearance enjoy football. Wanting to play doesn't mean the season will happen in the fall, but the decision is out of the control of Virginia's players.
They're making the most of time spent around teammates under strict health protocols.
"Every other conference, they make their own decisions, but what we're focused on is Virginia football and how we can get better, so it's felt normal to me," sixth-year defensive lineman Richard Burney said. "We're out here practicing with the guys, and it's fun."
Scrolling through social media delivers a steady stream of college sports news.
One hour, a league cancels fall games. Another hour, a league releases a statement standing by its health protocols and the potential for a fall athletic season.
The seemingly endless flow of news adds to the uneasy feeling surrounding fall athletics. Virginia's players don't seem to pay the frequent headlines much attention.
"I'm the kind of guy that kind of keeps tunnel vision as far as this goes," Briggs said Wednesday. "I know I'm in the ACC. I know we're playing football, and I know tomorrow I have practice, so I'm gonna act accordingly. I'm gonna prepare my body tonight, wake up in the morning and go to practice."
Be the first to know
Get local news delivered to your inbox!