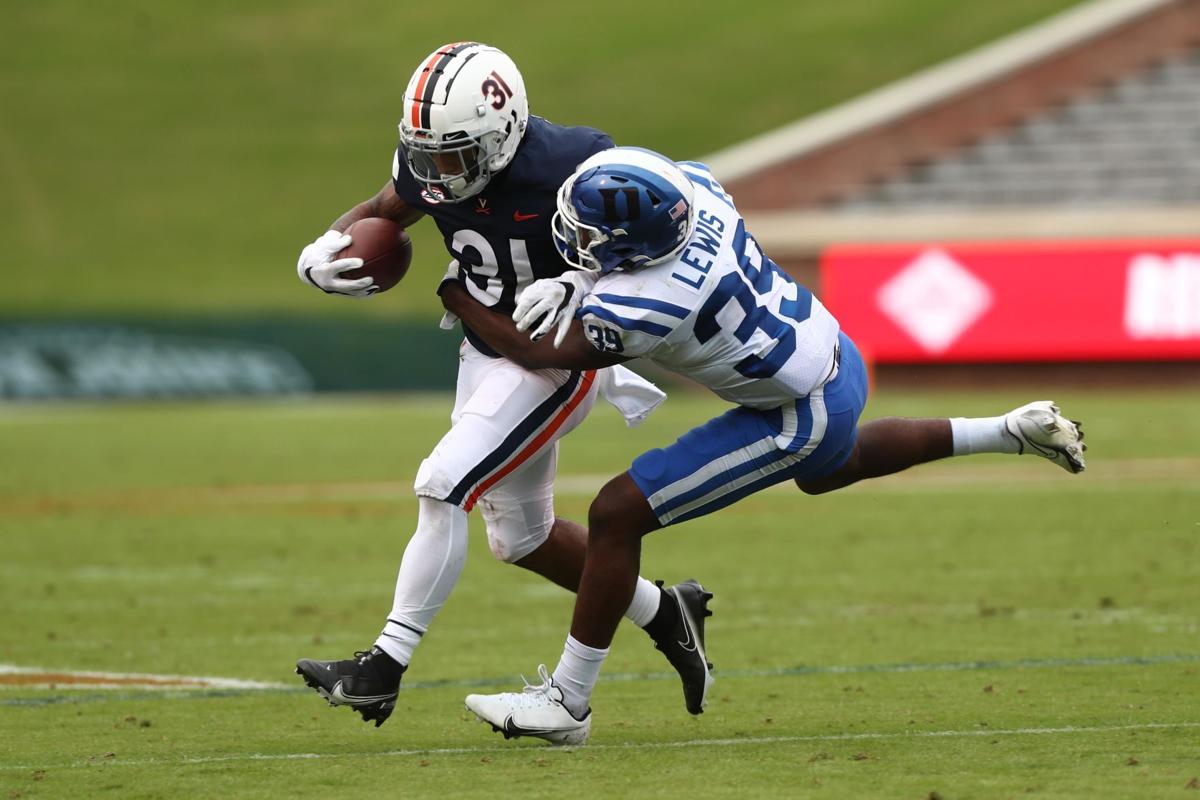 The first play of the Virginia football team's 2020 season ended in a fumbled kickoff return.
The first play of its game against Clemson ended with the Tigers' Lyn-J Dixon returning the opening kickoff 52 yards.
While the first play against N.C. State wasn't a special teams miscue, the Cavaliers (1-2, 1-2 ACC) allowed a blocked punt early in the second half. The return game was unable to make an impact play in the 17-point loss.
"I think our special teams have been poor, collectively," Virginia head coach Bronco Mendenhall said. "Our kick return is not close to where it was a year ago."
Given the loss of Joe Reed, that drop off makes sense. A season ago, Reed helped UVa rank second nationally in yards per kickoff return (28.7). The speedster returned two kickoffs for touchdowns.
This fall, the Cavaliers are averaging just 17.3 yards per kickoff return in their small sample size. The first of the team's four total returns was fumbled. Billy Kemp IV returned two kickoffs against N.C. State, only tallying 32 total yards. Shane Simpson, a transfer from Towson, added an 18-yard return against Clemson.
Somewhat shockingly, the Cavaliers have yet to return a kickoff more than 20 yards.
UVa ranks 14th in the 15-team ACC in kickoff return average. Only N.C. State is worse.
"We just need to focus on our assignments," Simpson said. "Just like coach always says, we're just one block away, and that's truly it. We just have to focus on that and everything will play out on its own."
The punt return game hasn't been much better.
Whether it's subpar blocking or opponent punting, the Cavaliers haven't turned punts into return opportunities. Kemp IV returned just one punt this season, and it went for two yards last week against N.C. State.
On the plus side, Brian Delaney is perfect on his two field goal attempts and he's made all 10 of his extra points. The team's net punting statistic sits toward the bottom of the ACC, but Mendenhall has been pleased with Nash Griffin at the punter spot.
Griffin also threw a 26-yard completion to Nick Jackson on a fake punt against the Wolfpack. The play kept a drive alive and led to a touchdown.
"I was really happy with our punt fake and really like our punter and our field goal kicker, so that part is strong," Mendenhall said.
Subpar performance in other special teams areas leaves the Cavaliers in a tough position.
Brennan Armstrong has been inconsistent as the team's starting quarterback, firing two interceptions in all three games this fall. As a team, UVa has tossed seven interceptions through three games.
Defensively, the Cavaliers haven't been dominant. They rank 11th in the ACC in scoring defense, and they're allowing almost 400 yards per game.
With the offense and defense performing slightly below expectations, special teams is left as an area to help keep games competitive. Instead, the group looks like a weakness through three games.
ESPN's special team efficiency ranking puts the Cavaliers 63rd out of 76 FBS teams that have played this fall. UVa ranked 13th out of 130 teams last season.
Players like Kemp IV, Tavares Kelly Jr. and Simpson are experienced and talented returners. The Cavaliers hope at least one of the three can make impact plays in future weeks to turn around the unit's subpar start.
"We just need to be significantly better in all phases," Mendenhall said. "I think we're off to a slow start with our special teams collectively, and that's affecting field position right now."
Be the first to know
Get local news delivered to your inbox!