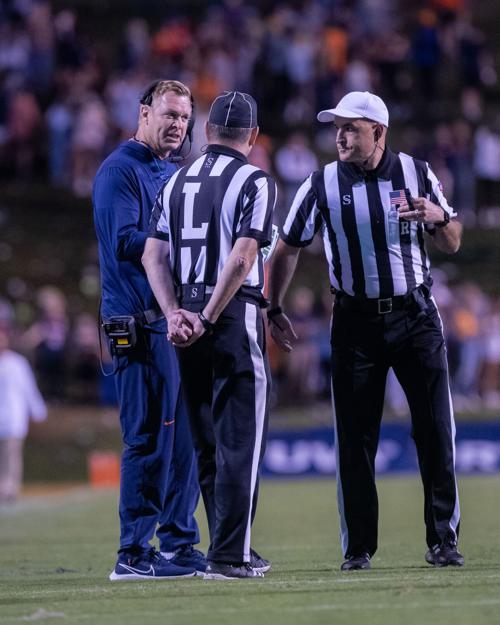 A chorus of cheers turned to frustrated boos numerous times Friday night at Scott Stadium. On multiple occasions what seemed like a productive play for Virginia was wiped out by a yellow flag.
"Penalties have changed games, especially on defense," Virginia linebacker Elliott Brown said.
In losses to North Carolina and Wake Forest, the Virginia football team averaged 10 penalties for 92.5 yards. UVa is 13th in the ACC and 111th nationally with an average of 70.3 penalty yards per game.
Virginia opened the season with a disciplined blowout of William & Mary. The Cavaliers only committed a pair of penalties for 22 yards in the 43-0 win.
The team's sloppiness has increased since.
Brown's accurate assessment of game-changing penalties is perhaps best illustrated by a stretch in the second quarter of UVa's 37-17 loss to Wake Forest.
With the Demon Deacons leading 10-3 early in the quarter, quarterback Sam Hartman scrambled to his right on 3rd-and-9 from the UVa 11-yard line. Hartman picked up just four yards, setting up a likely field goal attempt.
Instead, a defensive holding penalty extended the drive, allowing Wake Forest to keep the offense on the field and score a touchdown to take a 17-3 lead.
On the next possession, UVa's offense gained 26 yards on a 2nd-and-16 pass play. The completion from Brennan Armstrong to Keytaon Thompson was negated due to offensive holding. Instead of having a first down inside Wake Forest territory, UVa punted a couple plays later.
"Those are just things we can't have," Thompson said. "We can't be shooting ourselves in the foot like that, especially when we're trying to come back or trying to deplete a deficit."
The subsequent possession featured UVa jumping offside on a fourth-and-one rush by the Demon Deacons. The penalty helped Wake Forest keep the football, and the Demon Deacons added a field goal to take a 20-3 into halftime.
Had UVa not committed penalties on those three consecutive possessions, the Cavaliers could've been within one score of the Demon Deacons at halftime. UVa instead trailed by 17 at the break.
Virginia even opened the second half with a touchdown drive, but it pulled the team within 10 points rather than tying the game or handing UVa a slim lead.
Penalties aren't the determining factor in winning or losing — Alabama, Arkansas and Ole Miss are among the 10 most penalized teams in college football and each program resides in the top 15 of the latest AP poll — but this Virginia team can't afford those ill-timed mistakes. The Cavaliers have struggled defensively, and they can't give away free yards to conference peers.
Head coach Bronco Mendenhall attributes some of the recent penalty problems to the team facing such significant early deficits against both North Carolina and Wake Forest.
"When you work, practice or repetition under pressure, that's when new behaviors start and so because of playing from behind or trying to force our way back into a game that has a lot to do with what I'm seeing and when they're coming up," Mendenhall said.
Generating increased pressure in practice has been a focus for Mendenhall this week. The head coach says the team isn't highly penalized in practice — UVa has officials at each practice to flag infractions — but the performance isn't translating to games when the Cavaliers find themselves desperately fighting to make a game competitive.
The coaches plan to hold themselves and their coaching peers accountable this week when it comes to penalty concerns.
"It's just a matter of discipline," offensive coordinator Robert Anae said. "Hopefully our position coaches are coaching with discipline. You pretty much play how you're coached."
Virginia looks to return to the win column Thursday against Miami. To make that happen, UVa needs to get out of its own way.