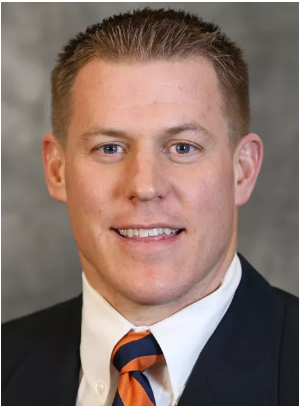 Bronco Mendenhall has made a few adjustments to the Virginia football team's coaching staff, the program announced Monday. The Cavaliers didn't hire or fire any staff members, but a few responsibilities have changed.
Nick Howell will remain the team's defensive coordinator and will oversee the secondary, but he's receiving some help with the back end of UVa's defense.
Shane Hunter will move from coaching inside linebackers coach to be the safeties coach. With Hunter moving over to help the secondary, Kelly Poppinga, the team's co-defensive coordinator, will coach inside and outside linebackers. Previously, Poppinga coached just the outside linebackers.
Ricky Brumfield will coach the cornerbacks rather than the tight ends in 2021. Brumfield remains the special teams coordinator. Offensive coordinator Robert Anae will coach the tight ends with Brumfield focusing on teaching the cornerbacks.
"Kelly, Shane and Ricky have established themselves as outstanding coaches and are ready for more responsibilities," Mendenhall said in a statement. "These adjustments provide Coach Howell the opportunity and assistance to focus more of his efforts on the overall execution of the defense."
UVa's secondary ranked last in the ACC in 2020 in passing yards allowed and passing efficiency defense. The Cavaliers were the only ACC team to allow more than 300 passing yards per contest last season.
Fortunately for UVa, they return experienced contributors in the secondary in safety Joey Blount as well as cornerbacks De'Vante Cross and Nick Grant. The Cavaliers also added Anthony Johnson, a transfer defensive back from Louisville.
The changing of responsibilities gives the experienced secondary, which struggled last season, two additional full-time coaches to help improve performance.
"Nick has developed into a trusted and valuable member of our staff," Mendenhall said. "My intent is to maximize his knowledge and experience with our defense to provide out team with the best opportunity for success."
Howell seems pleased with the move, which gives the defense additional staffing help.
With Clint Sintim coaching the defensive line, the defense has a designated coach for the defensive line, linebackers, cornerbacks and safeties. Howell oversees the entire defensive operation.
"We haven't really had a fifth coach on defense before, and I think that's necessary," Howell said.
UVa's defensive coordinator believes the move can help on the field and in recruiting. He's looking forward to establishing a defensive philosophy as he gains help with the day-to-day secondary coaching.
"I'll be able to hopefully have a little more sight and be able to build the culture and just get us to play the best that we possibly can, so yeah it's exciting," Howell said. "I'm excited to go to work doing it this way."