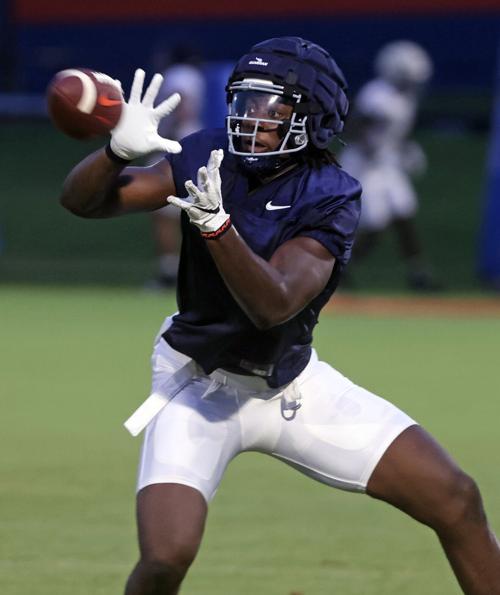 Virginia football coaches rave about the team's depth and experience entering the fall. Thanks to COVID-19 eligibility relief, the Cavaliers do possess impressive veteran depth.
Questions remain at a few positions, however, as the program aims to replace a handful of departed difference makers.
Let's take a look at UVa's roster by position.
Quarterback
Starter: Brennan Armstrong
Backups: Iraken Armstead, Jacob Rodriguez, Jay Woolfolk
Outlook: Armstrong returns for his second season as Virginia's starting quarterback. By all accounts, he's more comfortable as the team's top signal caller, and he's ready to build off a decent 2020 season. Limiting mistakes — he threw 11 interceptions in nine 2020 games — will be crucial this year. UVa went 4-1 when Armstrong threw one or fewer interceptions. When he tossed two or more picks, UVa went 1-3.
Armstead and Rodriguez spent camp competing for the backup position. Every player at this position group can run the football in addition to passing effectively.
Running back
Backups: Ronnie Walker Jr., Mike Hollins, Amaad Foston, Devin Darrington
Outlook: There's depth at running back, which bodes well for UVa, but the Cavaliers desperately need more production from this position. Taulapapa led the running backs in rushing yards last season, amassing just 395 yards on the ground. He showed promise, but still rushed for 150 fewer yards than Armstrong.
Keeping Armstrong healthy at quarterback is vital. If the running backs can gain yardage in chunks, it allows UVa's offense to rely less on Armstrong as a runner. Look for Walker Jr. and Hollins to challenge Taulapapa for the most carries among the running backs.
Foston's receiving ability makes him a potential breakout freshman. He looked good out of the backfield in the spring game.
Wide receiver
Starters: Dontayvion Wicks, Keytaon Thompson, Billy Kemp IV
Backups: Ra'Shaun Henry, Artie Henry, Lavel Davis Jr.
Outlook: We list Davis Jr. as a backup since he is expected to miss at least most of this season with injury. When healthy, he's a game-changing athlete. He averaged 25.75 yards per reception as a freshman.
Even without Davis Jr., UVa possesses plenty of weapons at wide receiver. Thompson and Kemp IV might catch more balls than Wicks, but few players on the roster possess the deep-play potential that Wicks holds. If the starters stay healthy, the Cavaliers should produce at wide receiver. Wicks and Thompson are potential breakout stars within the ACC.
Tight end
Outlook: While Woods' college stats from three seasons at Oklahoma State aren't eye-popping, those within the program expect a big season from the massive tight end. He's a physical blocker, and his 6-foot-7 frame makes him an obvious red-zone target. Misch is experienced behind Woods, but there's not much proven pass-catching depth behind Woods.
Offensive line
Starters: Olu Oluwatimi, Chris Glaser, Ryan Nelson, Ryan Swoboda, Joe Bissinger
Backups: Bobby Haskins, Jonathan Leech, Noah Josey, Derek Devine
Outlook: Oluwatimi will be the team's starting center, while Glaser and Bissinger figure to see time at guard. Swoboda and Nelson make sense at the tackle positions. Haskins enters the season with playing experience, and he's a talented reserve.
UVa loves its starting unit. The Cavaliers feel confident in the group, and there are a handful of unlisted names with tremendous potential, including freshman Josey. UVa's offensive line enters the fall season in a fantastic spot. Keep a close eye on Glaser, one of the most underrated linemen in the ACC.
Defensive line
Starters: Mandy Alonso, Jahmeer Carter, Adeeb Atariwa
Backups: Jordan Redmond, Aaron Faumui, Nusi Malani, Olasunkonmi Agunloye
Outlook: Alonso and Atariwa will likely see time at defensive end, while Carter and Redmond will man the defensive tackle position. Keep an eye out for Faumui off the bench. He opted out of the 2020 season but possesses the athletic gifts needed to find success at defensive end.
Defensive line groups often rotate players during games, giving more than a handful of guys an opportunity to shine. Coaches expect a big season from Alonso, who thrived during offseason workouts and has started 27 games in four seasons at UVa.
Linebackers
Starters: Noah Taylor, Nick Jackson, Elliott Brown, Hunter Stewart
Backups: Josh Ahern, T.C. Harrison
Outlook: Taylor and Jackson enter the season as known commodities. They're talented and productive and have NFL potential. The duo recorded 149 tackles last fall. Brown possesses experience and position versatility, which figures to earn him a starting position.
Stewart, Ahern and Harrison could split reps, depending on production at the position. With Charles Snowden and Zane Zandier gone, UVa needs a pair of players to step up with good seasons alongside Taylor and Jackson.
Cornerbacks
Starters: Nick Grant, Darrius Bratton
Outlook: Hayes, a North Dakota State transfer with 52 game appearances, should see time this season. Grant and Bratton have been around the Virginia program for longer and have game experience. A recent injury has caused Hayes to miss time during preseason camp. UVa hopes he's ready for the season opener.
UVa coaches want to see the cornerback position take a step forward this fall. The entire secondary struggled, and Grant has been on the losing end of a handful of one-on-one battles in recent seasons. Better cornerback play is critical for the Cavaliers' ACC Coastal chances.
Safeties
Starter: Joey Blount, De'Vante Cross
Backups: Anthony Johnson, Coen King, Antonio Clary
Outlook: Cross fits naturally at safety, and he's back after a few stints at cornerback. Blount, when healthy, is a top-tier ACC performer. UVa's safeties need to stay healthy this fall, and if they do, it could be a position of strength.
Johnson, a Louisville transfer with 32 career games played and five starts, is a big personality in the locker room and a hard-hitting defender on the field. He adds depth and competition that makes the position group better.
Kicker
Outlook: Duenkel boasts the stronger leg, which makes him an ideal starting candidate. He's served as the team's kickoff specialist previously, and he's ready to showcase his ability as a field-goal kicker. While relatively unknown, Duenkel's leg strength makes him a potential weapon if he's accurate.
Punter
Outlook: Finn comes to UVa from Florida, where he started for the Gators. With Finn leading the way last season, the Gators were third nationally in net punting. He booms the ball, and should be able to adequately replace Nash Griffin.
Long snappers
Starters: Danny Caracciolo, Tucker Finkleston
Outlook: Caracciolo handled long-snapping duties on all field goals last season, while Finkleston served as the long snapper for punts. Finkleston is enjoyable to watch on punt coverage, as he works hard to get down the field and cover kicks. UVa likes its experience at these positions.
Returners
Starters: Billy Kemp IV, Perris Jones, Mike Hollins
Backups: Artie Henry, Antonio Clary, Demick Starling, Ronnie Walker Jr.
Outlook: Kemp IV served as the primary punt returner last fall, and he's expected to win the job this season. The kickoff return position is more up in the air, but Jones and Hollins recently drew praise from special team coordinator Ricky Brumfield.
He likes their chemistry at the position. There are legitimate questions about UVa's kickoff return unit, which thrived when Joe Reed held the kickoff return job. Without him, the group took a noticeable step back in 2020 without one clear-cut kickoff return star.