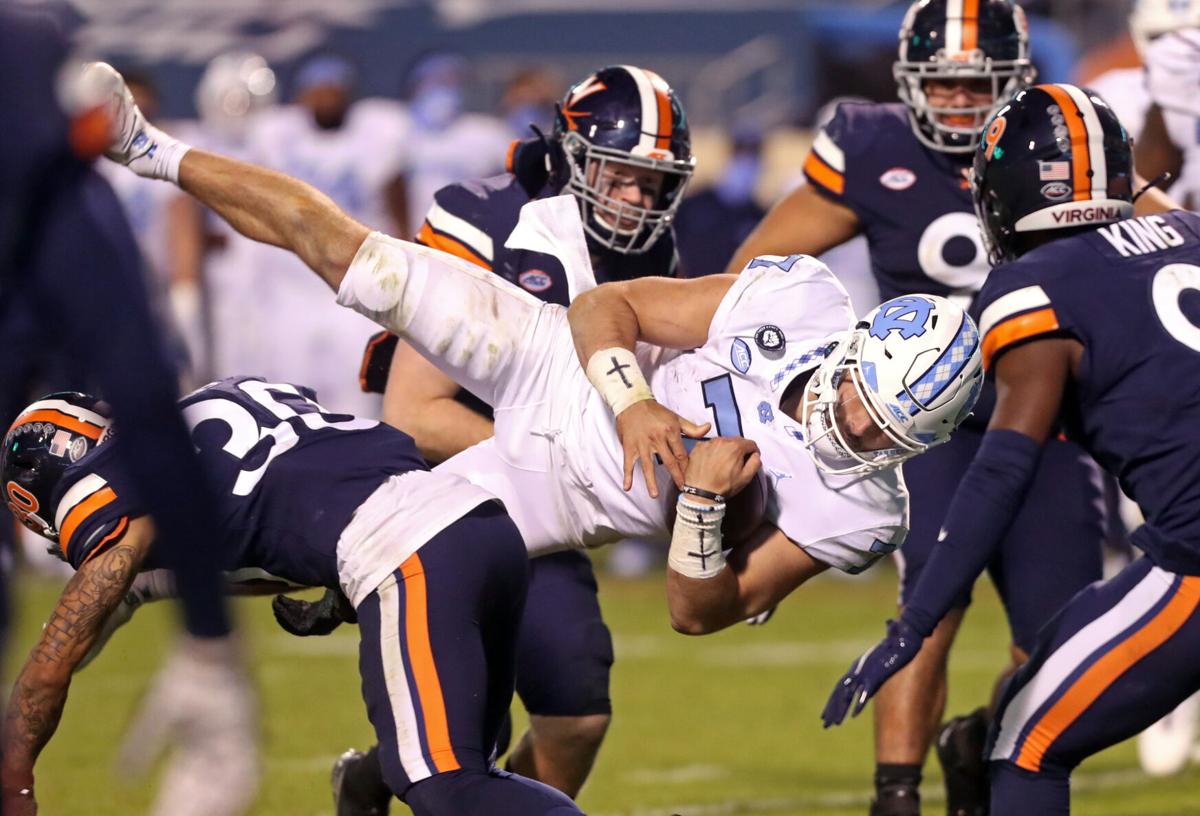 The Virginia football team jumped directly into conference play in 2020.
That won't be the case this fall.
The Cavaliers will receive, at least on paper, a pair of potential tune-up home games against lesser foes before diving into a challenging ACC schedule.
Let's take a closer look at Virginia's schedule this fall.
William & Mary, Sept. 4
Don't expect a repeat of 2016, when Bronco Mendenhall and UVa fell to an in-state FCS team. This UVa team is much improved since then, and William & Mary doesn't compare to the 2016 Richmond team.
The Tribe have a good quarterback in Hollis Mathis, but he's battled an injury this offseason and might be rusty or less than 100% come Week 1, if he's able to play at all. William & Mary is projected to finish 11th out of 12 CAA teams this fall after it went just 1-2 during the spring season.
Even with plenty of returning players, Mike London's team appears well outside the CAA title chase. The Tribe would need a near-miracle to upset a Power Five team, especially one as solid as Virginia.
Illinois, Sept. 11
While Illinois won't need a miracle to upset UVa, it's clear the Illini will enter the Week 2 contest as an underdog. Bret Bielema's first season leading Illinois figures to include plenty of growing pains.
Illinois went just 2-6 last season, and it's expected to be one of the Big Ten's worst teams this season. The team's starting quarterback job is far from secure, and the program simply has less talent than conference peers. In time, Bielema may very well make Illinois a quality team. In early September, however, UVa should be a strong favorite.
At North Carolina, Sept. 18
After easing into the season, UVa hits the road for a massive ACC Coastal Division showdown in Chapel Hill. The Cavaliers won the division in 2019, while the Tar Heels are the 2021 preseason favorite to win the division.
Sam Howell leads North Carolina's offense, which may frighten UVa's defensive coaching staff. Howell lit up Virginia in 2019 and 2020, throwing for 796 yards and eight touchdowns across the two games. He didn't throw an interception in either game, although UVa defeated UNC in both games.
Mack Brown's Tar Heels hope to contend for the ACC title and a College Football Playoff appearance this fall. UVa has a chance to play spoiler early in the season.
A win sets the Cavaliers up well to defend the Coastal. A loss essentially eliminates any margin for error the rest of the conference season.
Wake Forest, Sept. 24
The Demon Deacons enter the season with an experienced quarterback in Sam Hartman. Wide receiver Jaquarri Roberson earned preseason All-ACC honors, and he's a dangerous weapon for Hartman in the passing game.
Carlos Basham might be the team's most notable defensive departure, and the talented defensive lineman will be missed. The Demon Deacons should be strong offensively. It's the defense that figures to lag behind ACC peers.
Wake Forest defeated UVa 40-23 last season, taking advantage of a Virginia team without its starting quarterback. The Demon Deacons outscored the Cavaliers 20-3 in the second half.
This Friday night home game feels critical for Virginia. Sandwiched in between two challenging road conference games, beating Wake Forest ensures a respectable September for the Wahoos.
At Miami, Sept. 30
It wouldn't be a Virginia football season without a trip to Miami.
For the third consecutive year, the Cavaliers will face the Hurricanes on the road. It's not an ideal task, given Miami's returning roster. Quarterback D'Eriq King's health is a question after an injury in the team's bowl game, but if he's 100%, the Hurricanes' offense operates efficiently.
Safety Bubba Bolden headlines the defense. It's a unit that head coach Manny Diaz will oversee more closely this fall in hopes of improved production.
UVa hasn't won in Miami since 2011. Accomplishing that feat this season requires beating the team picked to finish second in the Coastal. The Thursday night game will be in the national spotlight, airing on ESPN.
At Louisville, Oct. 9
Scott Satterfield's squad is pegged to finish sixth in the ACC's Atlantic Division, but the Cardinals aren't a pushover. UVa is 0-4 on the road in the all-time series against the Cardinals, and Louisville returns Malik Cunningham at quarterback. Satterfield's group holds the roster pieces to surpass preseason expectations. Kei'Trel Clark is one of the best cornerbacks in the ACC, and he'll lead Louisville's secondary against UVa's talented group of wide receivers.
After a 4-7 season last year the Cardinals want more this fall. It won't be easily attainable, and Louisville will likely be a middle-of-the-road ACC team when the season concludes.
This is a winnable game for UVa, but playing it on the road adds intrigue.
Duke, Oct. 16
On paper, this is UVa's easiest conference game. It's at home, and the Blue Devils are projected to finish last in the Coastal.
Mataeo Durant gives the Blue Devils a dynamic player at running back, but it's unclear who offensively can help Durant make Duke a decent offense. It could be a long season for head coach David Cutcliffe and company.
Duke has yet to beat UVa with Mendenhall leading the Cavaliers. Virginia won 38-20 last season.
Georgia Tech, Oct. 23
Geoff Collins' third season as head coach figures to include improved play. Unfortunately for the Yellow Jackets, the schedule is tough. Playing at Virginia in October is one of many challenging matchups.
October seems like the easiest month on Virginia's schedule, although Georgia Tech presents a sneaky challenge. If Jeff Sims takes a step forward at quarterback, the Yellow Jackets could be a tough out. He ran for nearly 500 yards last season, reaching the end zone on the ground six times.
He completed just 54.9% of his passes, however, throwing 13 interceptions. Sims' passing ability is evident — he had four games with two or more touchdown passes in 2020 — but he needs to limit turnovers and increase consistency.
Georgia Tech should take a step forward across the board. The Yellow Jackets should be in the mix for bowl eligibility this year, and they'll need a couple upsets to secure those six wins. Could they upset the Wahoos?
At BYU, Oct. 30
After a special 2020 season, BYU loses significant talent. Stud quarterback Zack Wilson now plays for the New York Jets, leaving the Cougars looking for a replacement signal caller. Defensively, a handful of standouts from 2020 moved on following the season.
This week figures to center mostly on storylines.
Mendenhall's first return trip to BYU will be emotional for him and several staff members. On the field, UVa should be the better football team. Managing the emotions and off-field distractions will be critical for the Cavaliers to have success against the Cougars.
Notre Dame, Nov. 13
An extra week to prepare for Notre Dame helps the cause. Playing the game at Scott Stadium also helps UVa's chances of winning.
The Fighting Irish should be decent this season, but the roster doesn't look like a College Football Playoff contender. Jack Coan, an experienced Wisconsin transfer, is the team's starting quarterback. Brian Kelly remains one of the best coaches in college football, but Notre Dame isn't quite as loaded as last fall. If UVa plays well in the first two months of the season, this game should draw a capacity crowd and major interest. It's a game the Cavaliers can win.
At Pittsburgh, Nov. 20
It's the "Year of the Quarterback" in the ACC, and Kenny Pickett is one of many experienced and talented quarterbacks slated to face UVa in 2021. Sophomore wide receiver Jordan Addison hopes to build off a stellar freshman season.
Pitt figures to perform well offensively. If the defense can play well despite losing players like defensive end Patrick Jones II, the Panthers could surprise in the Coastal. This contest ends a brutal five-week stretch for Pitt, which faces Clemson, Miami, North Carolina and Virginia during the span. A game with Duke offers a winnable game in the middle of that action.
For UVa, this game brings a mental test. The Wahoos can't overlook the Panthers, even after a matchup with Notre Dame and before a showdown with Virginia Tech.
Virginia Tech, Nov. 27
After an emotional 39-30 win over the Hokies in 2019, the Cavaliers were embarrassed 33-15 in Blacksburg in 2020. Mendenhall's squad hopes to rebound this season, taking down the team projected to finish third in the Coastal.
Braxton Burmeister leads Virginia Tech at quarterback, and tight end James Mitchell earned preseason All-ACC honors. Khalil Herbert is gone at running back, but the Hokies figure to place a heavy emphasis on the running game.
Defensive end Amare Barno is a matchup nightmare, and defensive back Chamarri Conner is one of the best secondary players in the league. Depth is a question for the Hokies at the start of the fall season. A handful of key injuries could make Virginia Tech an easier late-season matchup for opponents. In all likelihood, UVa will need a good showing to retake the Commonwealth Cup.