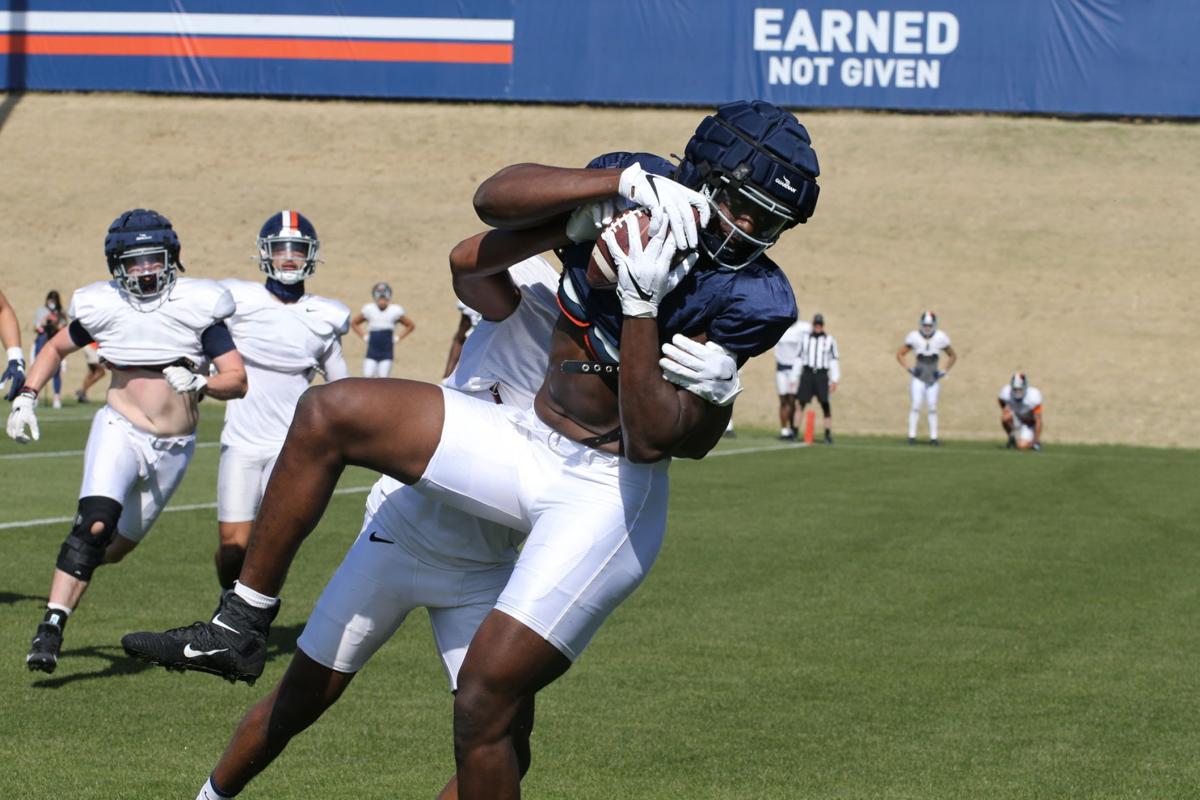 Jelani Woods wasn't a typical high school quarterback.
Woods, who stands at 6-foot-7, ran over defenders and used a powerful arm to lead Cedar Grove High School to a Georgia state championship in 2016. He compared his playing style to that of Cam Newton, a former Auburn quarterback and the 2015 NFL MVP.
"He was a slower Cam Newton," Jimmy Smith, his high school head coach and the current running backs coach at Arkansas, quipped.
While Woods won't be winning the Heisman Trophy as a quarterback like Newton, his love of contact hasn't faded since high school. His position, however, has changed.
The Oklahoma State transfer will start at tight end for UVa this fall, and he's expected to be an incredible weapon for the Cavaliers. He moved to tight end in 2017 and reeled in 31 catches for 261 yards and four touchdowns in three seasons with the Cowboys.
If Woods lives up to expectations, he might surpass his career receiving totals in one season at UVa.
Tony Poljan, a similarly sized tight end who came to UVa as a graduate transfer like Woods, caught 38 passes for 411 yards and six touchdowns for Virginia last fall. Offensive coordinator Robert Anae seems intent on making tight end a more prominent option in the passing game moving forward, and Woods figures to be the beneficiary of that mindset.
"He can do it all," starting quarterback Brennan Armstrong said. "Someone that is dynamic, fast, can go up, catch it, be a bully in the middle of the field. I'm excited to see what happens on the field come the first game."
At 265 pounds, Woods provides value in the running game as a blocker. He looks more like an offensive lineman than a wide receiver.
"I love dominating guys," Woods said. "I love putting guys in the dirt. I mean, catching is just more of a showboat thing. I kind of like that, too."
The powerful tight end can't showcase the full extent of that physical blocking during preseason workouts, but he's eager to block for Armstrong and the team's stable of running backs when the season begins.
"We didn't do it too much in camp because that's one of the rules, you can't put guys on the ground, but I came close a couple times," Woods said. "I had to resist it. It's like a little urge."
Grant Misch, a redshirt junior, gives UVa another tight end with solid blocking skills. The experienced tight end only has one reception in his career — it went for a touchdown — but he thrives in the running game and figures to see action this season.
Redshirt freshman Joshua Rawlings and true freshman Jack Witmer might be hard-pressed to earn significant time on offense this season, but both youngsters were coveted recruits with impressive blocking and receiving traits.
It's Woods, however, who headlines the position group.
On the field, Woods plays like a man among boys. He's physical and competitive with as much love for blocking as he has for receiving.
Away from football, Smith had nothing but positives to say about the former high school quarterback. He strongly believes UVa fans will love Woods' personality and character.
"We had some kids from the inner city, and I think he was a good example of what a lot of people needed to see," Smith said. "He's just a great kid. I know he'll do great things where he's at. I'm proud of him, man. I'm really proud of him."