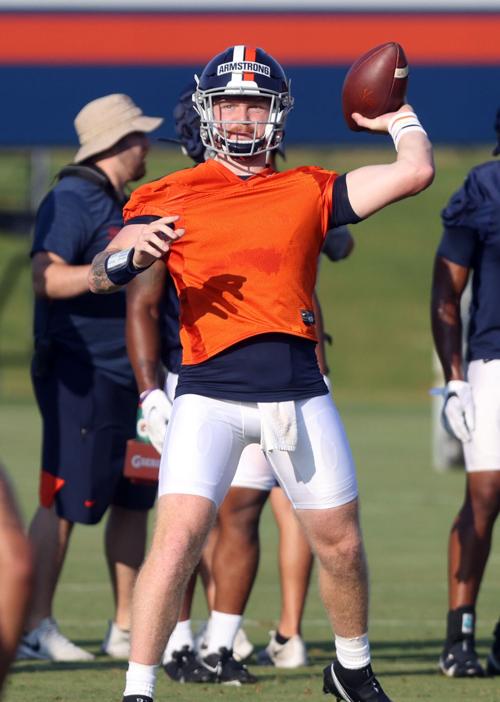 Ahead of the 2020 season, Brennan Armstrong competed just to become Virginia's starting quarterback. Entering this fall, Armstrong is the unquestioned starter, and a player UVa coaches and players believe will leave a lasting legacy in Charlottesville.
"Man, I'm expecting big things from him, and I think he's going to be one of the best quarterbacks to go down in program history," said wide receivers coach Marques Hagans, a former Virginia quarterback. "If we do what we're supposed to, he'll have a chance to have a really special career and a special season."
In his first season as a starting quarterback, Armstrong threw for 2,117 yards and 18 touchdowns in nine games. He also added 552 rushing yards and five touchdowns, racking up 61.3 yards per game with his legs.
He showcased the athleticism and arm strength that make Hagans' projection possible.
Armstrong also looked like a first-year starter at times, throwing two interceptions in each of his first three starts. He finished the season with 11 interceptions and only completed 58.6% of his passes.
The quarterback pegs decision-making as the area his game progressed most during the spring and early fall practices.
"I just know where the ball should go," Armstrong said. "I don't get flustered if maybe my one, two option isn't there anymore. I think that's huge. If my one, two isn't there I can get to my three, move out of the pocket, find something, not try to force something."
Mistakes, however, are inevitable for quarterbacks.
When Armstrong does make a miscue, quarterbacks coach Jason Beck wants his fiery leader to dial back the emotion. He knows Armstrong will always be an intense competitor, but he wants the redshirt junior to know when to leave a mistake in the past and remain an upbeat leader on the sidelines.
"When he messes up, he's just pissed," Beck said. "It's like he's ready to punch somebody."
Wide receiver Dontayvion Wicks jokingly refers to Armstrong as well-known MMA fighter Conor McGregor, in part due to Armstrong's red hair and beard. The fiery attitude also matches McGregor, and Beck wants to see his quarterback tone down the emotions in spots.
"You love the passion, the energy and wanting to be great," Beck said. "It's just a matter of moving on to the next play."
If Armstrong can remain level-headed and limit mistakes, UVa's offense has a chance to be special.
The Cavaliers return an experienced offensive line and dynamic skill players like Wicks, Keytaon Thompson and Billy Kemp IV. The team also added Jelani Woods, a 6-foot-7 transfer tight end expected to be among the best players on the roster.
The development of a traditional running game could help keep Armstrong healthy. UVa's quarterback missed about six quarters of action last fall due to a concussion suffered in the N.C. State game. The Cavaliers lost to the Wolfpack and Wake Forest the following week with Armstrong sidelined.
If Armstrong goes down, the next man up this season will likely be a freshman.
The backup quarterback competition is "wide open," according to Beck. Redshirt freshman Iraken Armstead, who also played wide receiver at times last season, is battling with true freshmen Jacob Rodriguez and Jay Woolfolk for the backup job with Thompson focused on playing wide receiver.
Thompson spends most of his team practicing with the wide receivers, but has more experience at quarterback than UVa's underclassmen. He played quarterback at Mississippi State and figures to take snaps at quarterback during game action in specific packages.
Armstead holds the most collegiate experience among the trio of freshmen, having spent last season with the Wahoos. His previous collegiate game experience gives him a leg up over his peers.
Rodriguez seems to hold a slight edge over Woolfolk in the early stages of fall camp because he arrived to UVa early and completed spring ball with the program. Woolfolk, who will also play baseball at Virginia, is taking in as much as he can in his first few practices. Beck is impressed with Woolfolk and others, but there's still a learning curve.
"When you first get here, whether that's mid-year or now, it's like you're drinking out of a firehose," Beck said. "I mean, it's just overwhelming."