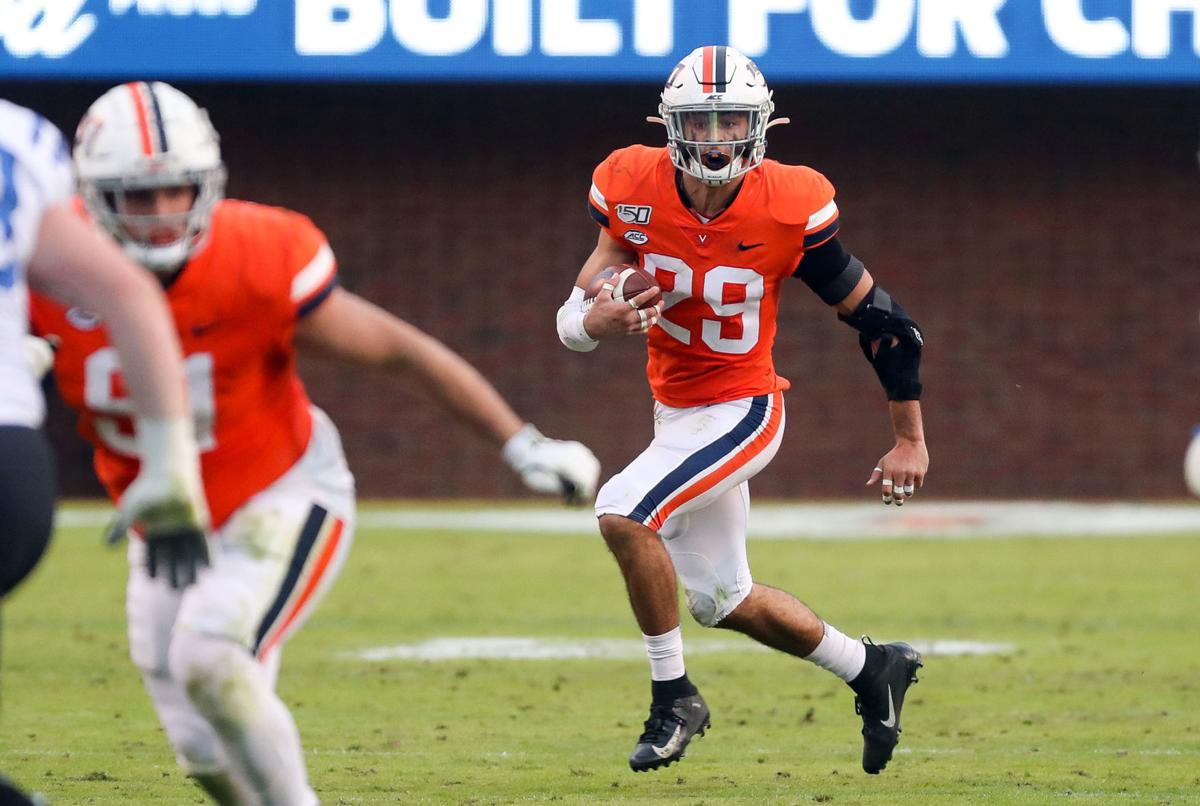 Virginia blasted Duke 48-14 last fall. The Cavaliers forced five turnovers, including two via interception, and held the Blue Devils to an abysmal 118 passing yards.
"The Havoc 'Hoos were out again in the spooky season of October," safety Joey Blount said after the victory.
Despite losing Bryce Hall to a season-ending injury, Bronco Mendenhall's team showed what it can be defensively when it's at its best. When UVa's secondary plays well, the Cavaliers can dismantle foes.
The same should be true in 2020-21. Given the returning talent along the defensive line and at linebacker, UVa's defense should be solid. If the secondary can raise its game and play at an elite level relative to its ACC foes, the Cavaliers should have one of the best defenses in the conference.
If it can't, we saw how many points (98 combined, for those who missed it) the Cavaliers gave up in losses to Clemson and Florida at the end of the 2019 season.
Let's take a closer look at the players expected to contribute in the secondary when UVa next takes the field.
Returners
Blount, a free safety with excellent tackling ability and good ball skills, is one of the team's headliners in the secondary. Also look for key contributions at safety from De'Vante Cross and Brenton Nelson.
Cross is versatile enough and big enough to play both safety and cornerback if needed. He's an impactful player who seemed to improve with increased time on the field in relief of Hall a season ago. Losing spring ball and potentially some summer practices certainly won't help his development, but if he enters the season confident and aggressive, he's a solid addition.
Nelson's biggest issue is health. He's one of the smaller players in the secondary, but Nelson has a knack for the ball headed into his senior season. All three of those safeties are seniors, which gives UVa great experience at the back of its defense.
At cornerback, some questions linger. Nick Grant is the lone senior at the position. While Grant is solid, he struggled mightily in the ACC Championship Game against Clemson, and there are some questions about how he matches up against NFL-caliber talent. Regardless, he's capable of earning a starting role at corner.
Darrius Bratton, a junior, missed last season with injury and should compete for time. Heskin Smith, who also goes by Shawn, is a junior with meaningful experience at the cornerback position. Jaylon Baker and Coen King also saw reasonable playing time a season ago.
Departures
Well, there's Bryce Hall.
Hall was drafted in the fifth round of the 2020 NFL Draft and was regarded as a top-100 talent before his season-ending injury. Losing Hall hurts, but the Cavaliers lost Hall on the field halfway through last season, so it's an adjustment they've made. That helps, but losing a top-tier NFL talent at cornerback isn't easy to replace.
The team also loses Chris Moore, who opted to transfer.
Losing Hall hurts the most, as the defense took a noticeable step backward toward the end of the season without a clear No. 1 corner.
New additions
Elijah Gaines, Donovan Johnson and Dave Herard join UVa as freshmen defensive backs. There's reason to like all three players, but it's going to be a challenge for any of them to see meaningful snaps in their first seasons.
Given UVa's returning talent and experience in the secondary, some of the freshmen could redshirt. Gaines is a particularly interesting product and Penn State recruited him heavily. He could develop into a major contributor in coming seasons.
Johnson was recruited heavily by Arkansas, which tried to make a late push to land him. He stuck with UVa.
"With Donovan, there's all kinds of interest with him from the beginning, through the middle, through the very end, and he didn't waiver, which endears him to me," Mendenhall said in December.
All three players are impressive athletes.
2020 outlook
UVa's secondary has questions. Can the group respond to losing Hall and become one of the better units in the ACC? Who is the No. 1 cornerback?
There's talent and experience in the defensive backfield. The position group needs to turn those into consistently success performances against the top teams in the league. North Carolina, Clemson and Virginia Tech all moved the ball effectively against UVa, especially through the air.
If UVa wants to win the Coastal Division, it needs better secondary play.