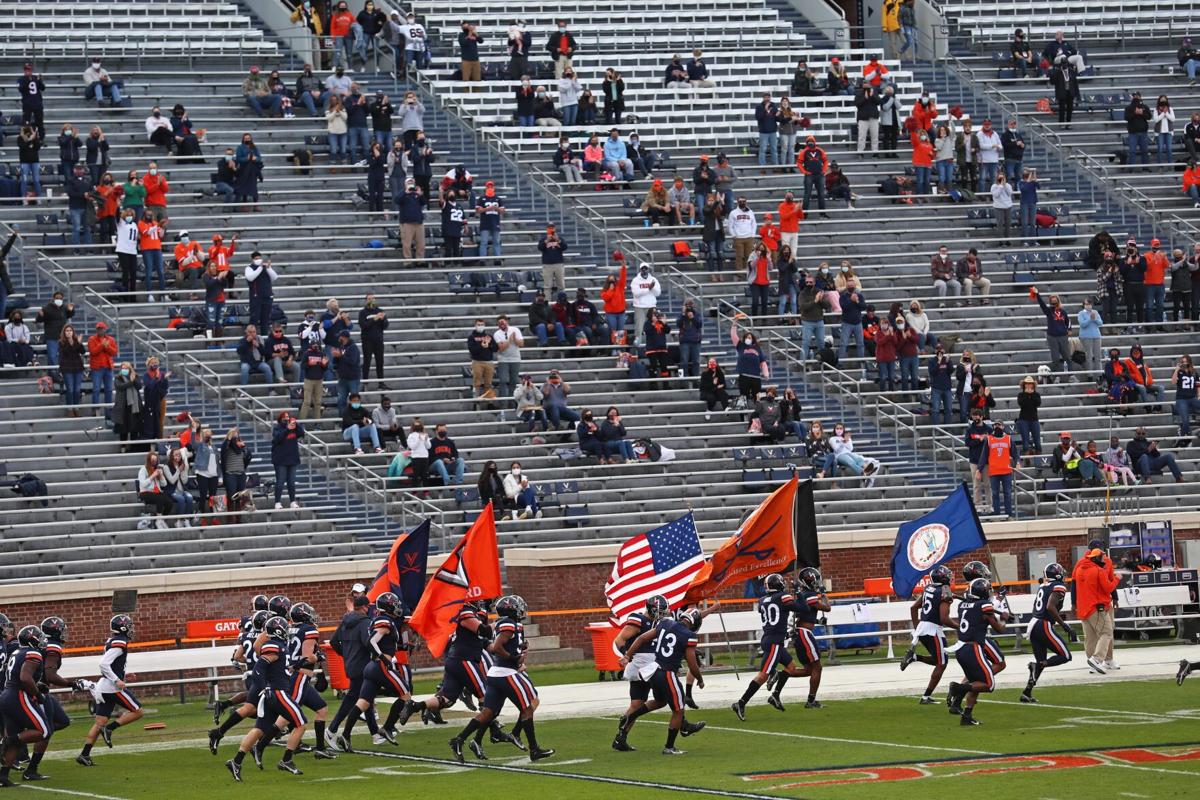 A 31-17 win over Louisville moves the Virginia football team (3-4, 3-4 ACC) to within one game of .500 despite starting the season 1-4.
Bronco Mendenhall and the Wahoos host a 1-4 Abilene Christian team this weekend, entering the game as a massive favorite. A win would mark three consecutive victories for the Cavaliers.
Mendenhall's group liked the way it played Saturday when it beat the Cardinals, and it's hoping to build off the quality showing this Saturday.
"I think it was a complementary football approach that helped us move forward through that game," Mendenhall said. "Anxious now to take on the next opponent as we move down the stretch of the season."
Saturday's contest gives UVa its first – and only – game this fall against a nonconference opponent. Abilene Christian, an FCS foe, sits at 1-4 on the season. The Wildcats last played on Nov. 7, falling to Angelo State 34-21.
The Cavaliers make it a priority to stay focused each week, regardless of the opponent.
"There's very little attention that we put on the next opponent," Mendenhall said. "The focus is only on us."
That mindset should come in handy for the Wahoos this week.
On paper, Virginia enters Saturday as a massive favorite. Betting odds list UVa at roughly a five-touchdown favorite Saturday against the Wildcats. The spread makes sense, given UVa's recent play and Abilene Christian's struggles this fall.
Regardless of what outside experts believe, the Cavaliers enter this week of preparation attempting to stay focused on the game and what's needed to safely play Saturday.
"We're both coming into the game with a challenge up front of COVID and then you have the challenge of scheme and playing hard and practicing hard during the week leading up to the game," tight end Grant Misch said.
On paper, the challenge this week seems easier, but the Wahoos aren't looking over the Wildcats.
If the Cavaliers remain focused and execute well Saturday, they'll see plenty of opportunities for success. Abilene Christian allows an average of 246.8 rushing yards per game, and it allowed over 400 yards rushing in its most recent performance.
That's good news for a UVa squad still seeking its first 100-yard rusher this fall.
Attendance decrease
UVa cheerleaders made an appearance at Scott Stadium in Virginia's win over Louisville. It marked the first time they attended a game all fall.
Unfortunately, the group's visits may be short-lived.
Recent guidance from the Commonwealth of Virginia will limit attendance at sporting events to a maximum of 250 people. The change – the previous maximum attendance was 1,000 people – comes as COVID-19 cases spike across the country and in Virginia.
It's unclear exactly how the change will impact who attends UVa home football games, but it's likely the cheerleaders and some family members or friends of players and coaches will not attend games the rest of this fall as UVa reduces its previously allowed capacity by 750 people.
ACC honors
Virginia linebacker Noah Taylor recorded five tackles in Saturday's win over Louisville. He also snagged an interception and returned it 85 yards for a touchdown.
Taylor's standout performance earned him ACC Linebacker of the Week honors on Monday. The last time UVa played – a 44-41 win over North Carolina – Charles Snowden won ACC Linebacker of the Week for his four-sack performance against the Tar Heels.
Wide receiver Lavel Davis Jr. also earned ACC honors, winning Rookie of the Week accolades. He reeled in four receptions for 74 yards and a touchdown in the victory over Louisville. It's the second time this fall Davis has earned the honor.
Keytaon Thompson update
One of UVa's most dynamic offensive weapons missed Saturday's game against Louisville. Keytaon Thompson, who the Cavaliers use at quarterback, running back and wide receiver, will be available against Abilene Christian.
Mendenhall declined to give much detail on why Thompson missed Saturday's game, though.
"I expect him to be back and available," Mendenhall said. "I won't comment further on why he was not available. That's a private matter between he and I, but we do expect him back and starting to practice with the team this evening."
Be the first to know
Get local news delivered to your inbox!