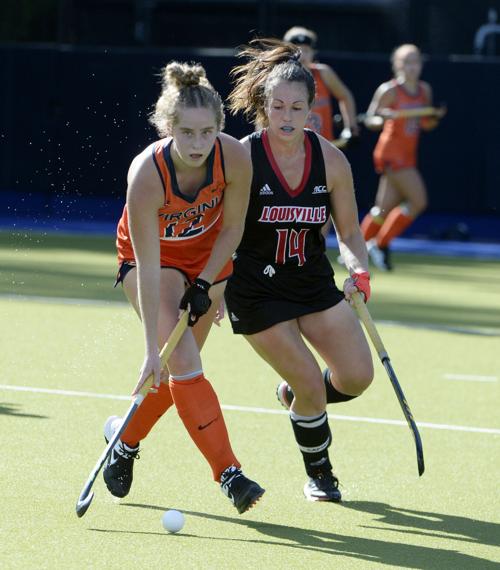 The Virginia field hockey team concluded its 2020 fall season with a 5-2 loss to top-seeded Louisville on Friday in the ACC Tournament semifinals in Chapel Hill, N.C.
The Cavaliers conclude their fall season with a 4-7 record. Three of those losses came to the Cardinals, who improved to 8-1 with the victory and advanced to the ACC Tournament championship game.
Sophomore midfielder Adele Iacobucci and junior striker Peyton Tollaksen each scored a goals for Virginia.
It didn't take long for the Cardinals to get on the scoreboard in Friday's semifinal matchup. Aimee Plumb's third career goal gave Louisville to a 1-0 lead less than two minutes in.
Iacobucci tied the game for Virginia at the 5:45 mark of the first quarter, firing a shot from the right side that found the back of the cage. Neither team scored again in the first half, leaving the match tied at 1-1 at intermission.
Louisville took control of the match with a three-goal blitz in the first nine minutes of the second half.
Julie Kouijzer started the Cardinals' run with an assist to Katie Schneider, who fired in a short-range shot for the tie-breaking goal. Less than three minutes later, Madison Walsh scored her third goal of the season on a shot from the right side to push Louisville's lead to 3-1.
Margot Lawn continued the onslaught with a little more than six minutes remaining in the third period, scoring off an Alli Bitting assist to give the Cardinals a 4-1 advantage. Charlie van Oirschot added the fifth goal for the Cardinals in the opening minutes of the fourth quarter for Louisville's final goal.
Tollaksen closed out the scoring with her first goal of the season in final minutes, scoring on a shot after picking up a rebound off a shot by Greer Gill.
Louisville finished with a 13-6 edge in shots and outshot the Cavaliers 8-0 in the second and third quarters. The Cardinals also did a good job of limited penalty corner opportunities. Virginia did not get its first penalty corner until 3:45 remaining in the fourth quarter.
Junior goalkeeper Lauren Hausheer started the game in goal for Virginia, allowing four goals and making one save. She was relieved by sophomore Taylor Henriksen, who played the final 21:13 minutes, allowing one goal while making three saves
Louisville's Hollyn Barr finished by three saves.
Be the first to know
Get local news delivered to your inbox!