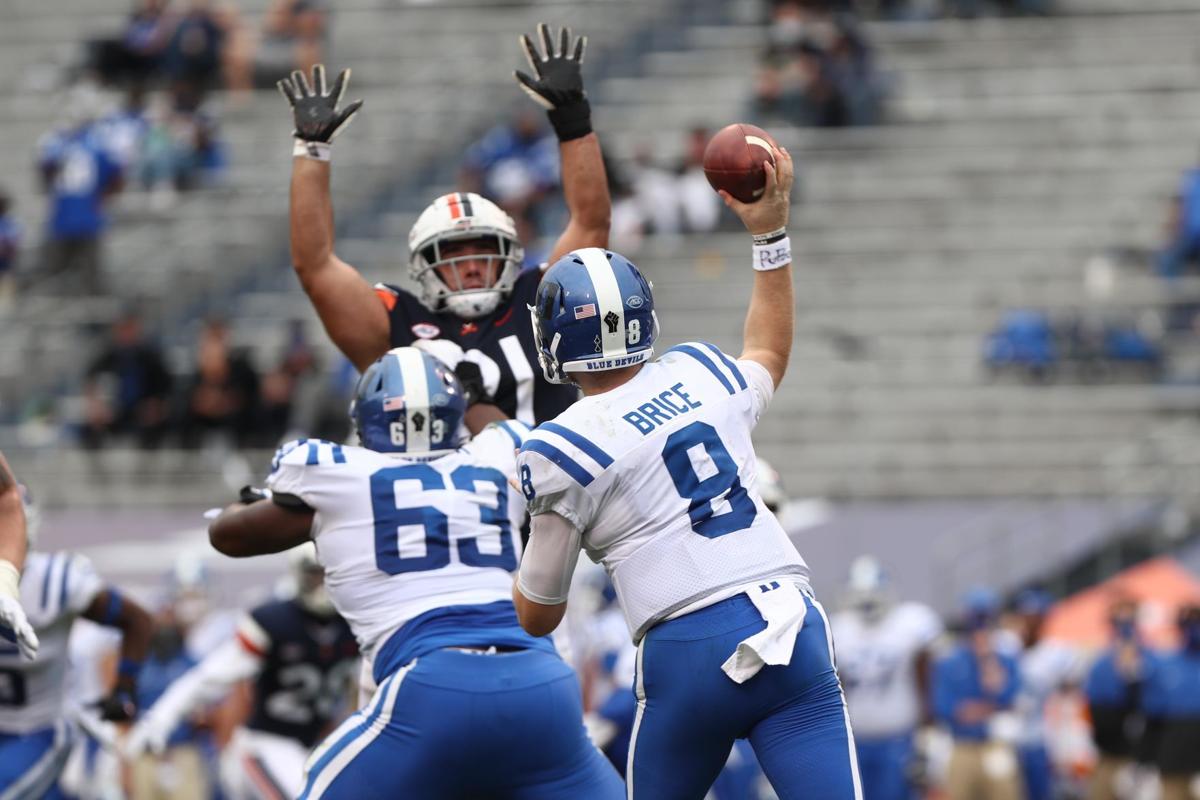 Groups of distanced seatbacks lined the stands, and periodic announcements reminded fans to wear masks.
The band was nowhere to be seen, and the student section sat empty.
Saturday's football game between Duke and Virginia felt like a modified spring game with fans thoroughly invested in the outcome of the game. Protocols related to COVID-19 forced UVa to place a maximum attendance limit of 1,000 people on the season opener in Scott Stadium.
The atmosphere paled in comparison to last season's ACC home opener, when UVa scored 21 fourth-quarter points to shock Florida State 31-24 in front of 57,826 people. Eventually, thousands of those people poured onto the field in celebration of the victory.
While there was a 21-point fourth quarter from the Cavaliers again on Saturday, the atmosphere wasn't nearly the same.
This year, fans were distanced. Tailgates didn't line the streets prior to the game. The noise mimicked that of a scrimmage, rather than an ACC contest.
Those in attendance, however, were stoked to be there.
Bronco Mendenhall was, too.
"Wow, what a journey it's been just to get to where we can play football," Mendenhall said. "It was a pretty surreal experience. There were many times throughout the game where I just couldn't believe we were playing and that it counted and that it was for real."
With families of players and coaches allowed into the stadium, the fans watching had a deep personal rooting interest in the event. Much like Mendenhall, they wanted desperately for the Cavaliers to win.
A group of nine fans, family members of Zane Zandier, rocked custom-made No. 0 Zandier shirts. Others sported the jersey of their son, brother or cousin suiting up for the Wahoos.
The Zandier family had plenty to celebrate. Their favorite player finished with a game-high 15 tackles.
"Honestly, it wasn't too bad," Zandier said of the atmosphere. "It was definitely a little different. It was quieter. You could hear every call being made, and I think that worked out pretty good for us. I could see my family, and for me that's really all that matters."
Starting quarterback Brennan Armstrong echoed those comments. While UVa's defense heard every call well, Armstrong's thunderous clap helped create a few offside penalties using his hard count.
The lack of fans didn't faze the first-year starter.
"You don't really notice it, you're pretty locked in on what's going on with just the football aspect," Armstrong said. "Lot of music was played, kept the emotions up. It was fun. It didn't really bother me too much."
Virginia stresses sideline engagement during games. That's been a focus this preseason.
With an engaged bench and a few hundred rowdy family members, the Cavaliers increased their Scott Stadium winning streak to nine games.
"Obviously it's fun playing in front of all those fans, but when it gets down to it, it's still football," wide receiver Terrell Jana said. "Our big thing is our culture. If we can translate that to no fans to a thousand fans to a bunch of fans, whatever it is, we'll be good."