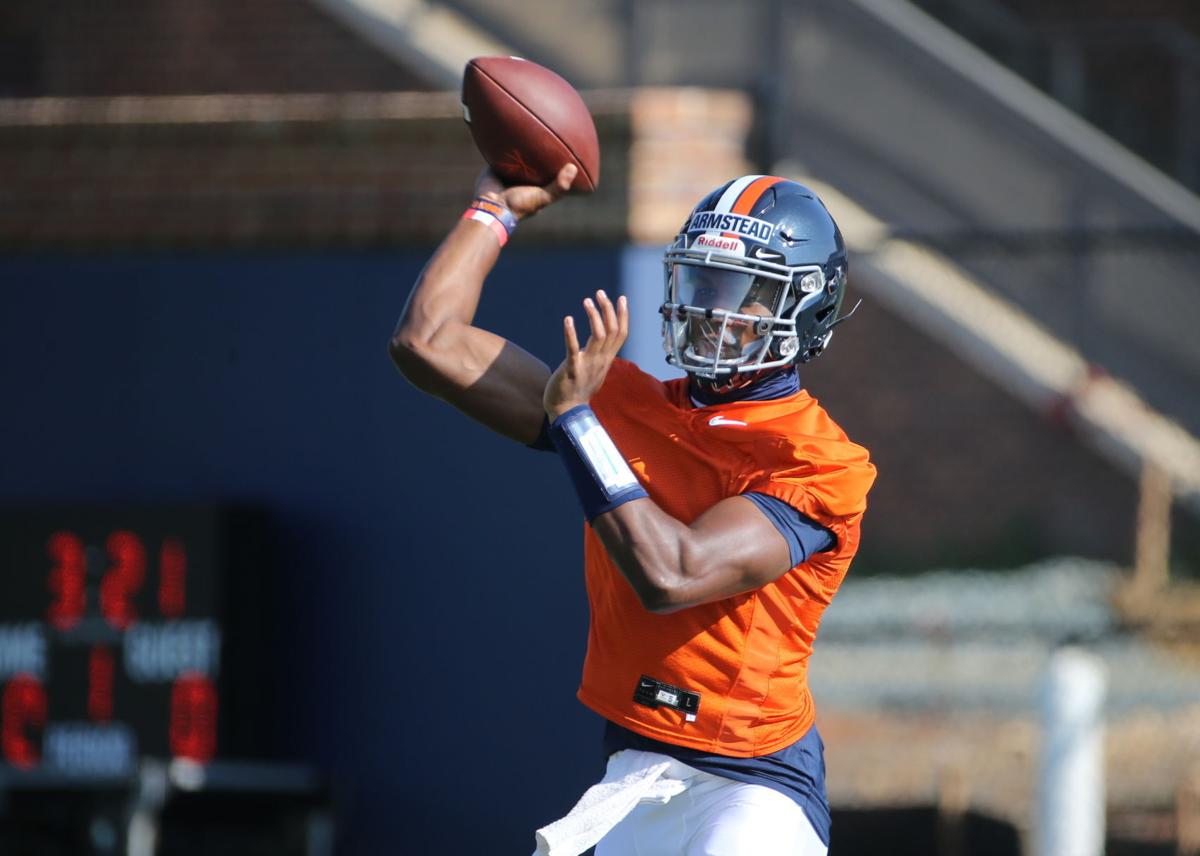 When Virginia announced its recruiting class for the 2020 early signing period in December, head coach Bronco Mendenhall raved about Ira Armstead. He felt the Cavaliers found an unheralded gem in the quarterback from Indiana.
"We love his length, we love his athleticism, we love his measurables," Mendenhall said of Armstead.
UVa's head coach even compared Armstead to Bryce Perkins, days before Perkins put together an electrifying performance in an Orange Bowl loss to Florida.
Even with comparisons to Perkins by Mendenhall, few top-tier FBS programs showed interest in Armstead. Rivals ranked him as a two-star prospect, and Virginia was the only Power 5 squad to offer him a scholarship, according to the site.
Several of the teams pursuing Armstead were squads at the FCS level. The FBS teams showing interest play in the MAC.
Virginia entered the recruiting fold as the best team, at least in terms of recent on-field performance, pursuing the quarterback. Armstead selected UVa, giving himself a chance to showcase his talents at the ACC level.
Armstead arrived at Virginia this past winter, but missed spring ball with the rest of his teammates due to COVID-19. Since returning to Grounds with the team this summer, Armstead has showed coaches why they fell in love with his game in the first place.
Listed at 6-foot-3 and 210 pounds, Armstead possesses tremendous rushing ability and athleticism for a quarterback. The arm strength is there, too.
"He was a mid-year [enrollee] but we didn't get obviously any work with him in the spring, but he's a really athletic player and has good arm strength," quarterbacks coach Jason Beck said. "He still [has] a ton to learn, a ton to adjust to, but he has the tools to be able to develop into a really good quarterback at this level."
Understandably, the newcomer needs to learn the offense before competing for game reps at the position, but Virginia coaches like Armstead. Mendenhall went out of his way to praise Armstead during a Thursday media session, saying "Ira has been better faster than what we anticipated."
Learning offensive coordinator Robert Anae's scheme remains the biggest challenge facing Armstead this preseason. Athletically, the Wahoos love what the freshman brings to the field.
During his final two high school seasons, Armstead rushed for more than 1,700 yards and found the end zone with his legs a whopping 26 times. Much like Perkins, Armstead can turn a broken play into a long gain.
Impressively, high school highlights also show Armstead tossing an accurate deep ball. He's a big play waiting to happen.
"He's long and he's tall and he's fast and he's dynamic and he's productive and he's elusive," Mendenhall said. "And he's catching up in terms of playing the position of quarterback, and he's catching up in terms of the scheme. He's catching up in terms of his assignments. But wow, the other parts are really impressive."
Fortunately for Armstead, there's time to develop.
Brennan Armstrong won the starting quarterback job this fall, and he's a redshirt sophomore. While there's no guarantee Armstrong retains the job for three seasons, there's a scenario where Armstead waits his turn for three years before gunning for the starting job.
A redshirt is a possibility for Armstead, but that doesn't mean he won't take the field in 2020. Positive COVID-19 tests and injuries could lead to Armstead playing at quarterback. His athleticism also means he's a prime candidate to practice at other positions should depth be an issue late in the season as UVa attempts to navigate a stretch of 10 games in 10 weeks.
Mississippi State transfer quarterback Keytaon Thompson may also practice at other positions given his athleticism and role as a backup.
Mendenhall loves Armstead's athleticism. In what's expected to be a strange college football season, UVa fans may see a glimpse of Armstead's talents earlier than originally expected.
If not, the Indiana quarterback will attempt to follow Armstrong's path of serving as a backup quarterback and learning the offense. In a few years, UVa fans may see the starting role passed from Armstrong to Armstead.
Be the first to know
Get local news delivered to your inbox!