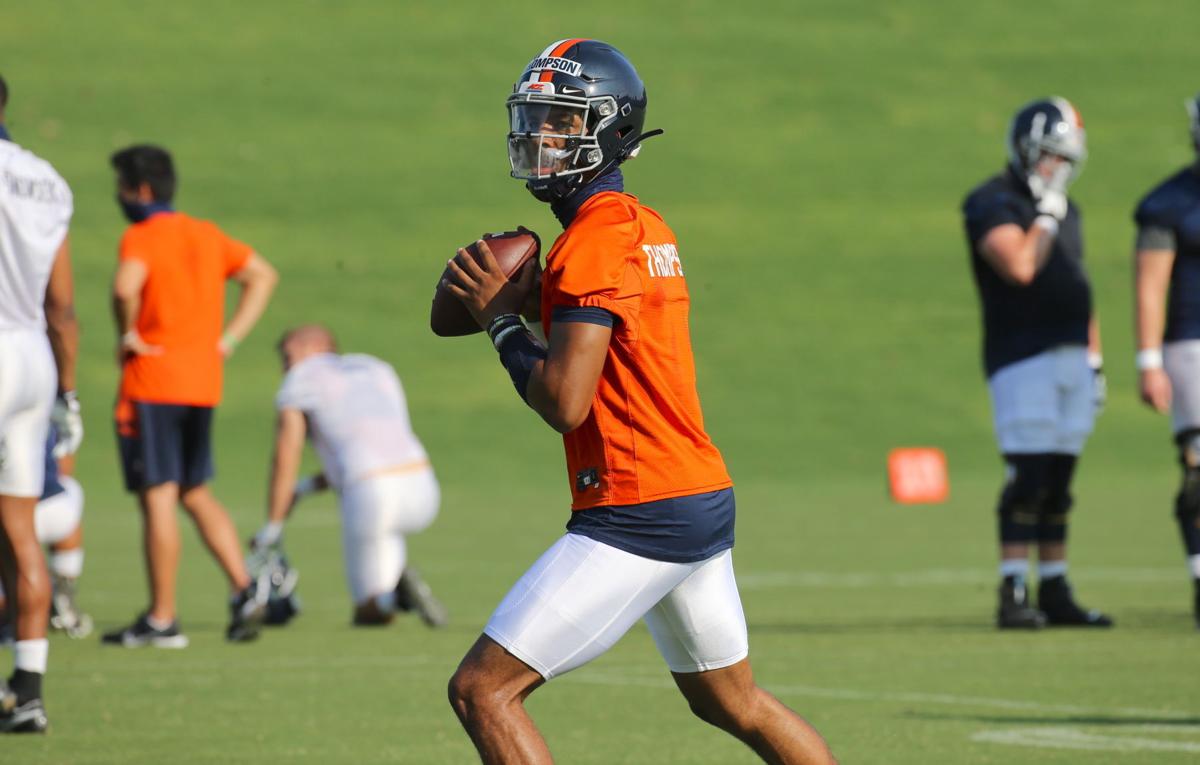 Bronco Mendenhall wants his players to earn their standing on the Virginia football team.
Players compete for everything, from starting roles to the right to select their jersey number. Since Mendenhall arrived in Charlottesville, competition has been the focus.
The offseason addition of Keytaon Thompson, a transfer quarterback from Mississippi State, served as a reminder of Mendenhall's affection for competition. Brennan Armstrong seemed destined to become the team's starting quarterback once Bryce Perkins graduated and went to the NFL.
Thompson's arrival generated a competition.
Armstrong still won the starting gig, but Thompson's competitive drive and skill set stood out to his new teammates and coaches.
"Keytaon pushed that thing a couple of weeks, and I think he garnered respect from the team in the process," UVa offensive coordinator Robert Anae said of the quarterback competition.
Mendenhall liked the competition, and even with Armstrong as the starter, likes what Thompson brings to the field. The Wahoos want Thompson on the field this fall.
At Mississippi State, Thompson rushed for 672 yards on 99 carries. He turned 10 of those 99 rushing attempts into touchdowns. He averaged 9.4 yards per carry in 2018, taking 24 rushes for 226 yards.
In a 2018 win over Stephen F. Austin, Thompson recorded seven total touchdowns. Five game through the air, while he added 109 rushing yards and two scores with his legs.
While he didn't receive any carries in 2019, Thompson did secure one reception for eight yards toward the end of last season. When on the field, Thompson made plays for the Bulldogs.
Accuracy as a passer hurt Thompson at times, but he's an explosive athlete.
"Keytaon, an amazing athlete," Mendenhall said. "Big and strong and physical and very good with the ball in his hands as a runner and more dynamic in that capacity. Brennan, probably more well-rounded from all parts of quarterback play and so more options and more versatility would probably be the best way I would describe it, but really impressed with Keytaon as well."
It's clear from recent interviews with offensive coaches that Armstrong offers UVa the best chance to win football games this fall. The left-handed quarterback knows the offense well from his previous seasons behind Perkins learning the system. He's developed chemistry with the wide receivers, and he's dynamic enough with his legs to pick up first downs rushing.
Armstrong isn't Perkins, but he's a solid quarterback with quality athleticism and a superb understanding of UVa's offensive system. A strong arm, good accuracy and sound field vision put him over the top as the team's top quarterback.
With Armstrong earning the first-team reps at the quarterback position, it creates an opportunity for Thompson to earn snaps in other ways.
The dynamic athlete could line up out wide as a receiver. He may become Virginia's wildcat quarterback, coming onto the field in select situations for running plays out of the shotgun.
It's unclear how Thompson might work into UVa's offense, but the Cavaliers want him on the field. With questions at both running back and wide receiver, it wouldn't come as a shock to see Thompson take the field in the season opener against Virginia Tech, even though he's not the starting quarterback.
UVa needs offensive playmakers. Thompson is one. It's up to the coaches to find ways to put Thompson on the field even with Armstrong being the team's best option under center.
"From our standpoint, dang, that would not be a good idea if one of our better athletes was standing next to me with a clipboard," Anae said. "We're looking for opportunities to get him on the field and to get him involved."
Be the first to know
Get local news delivered to your inbox!