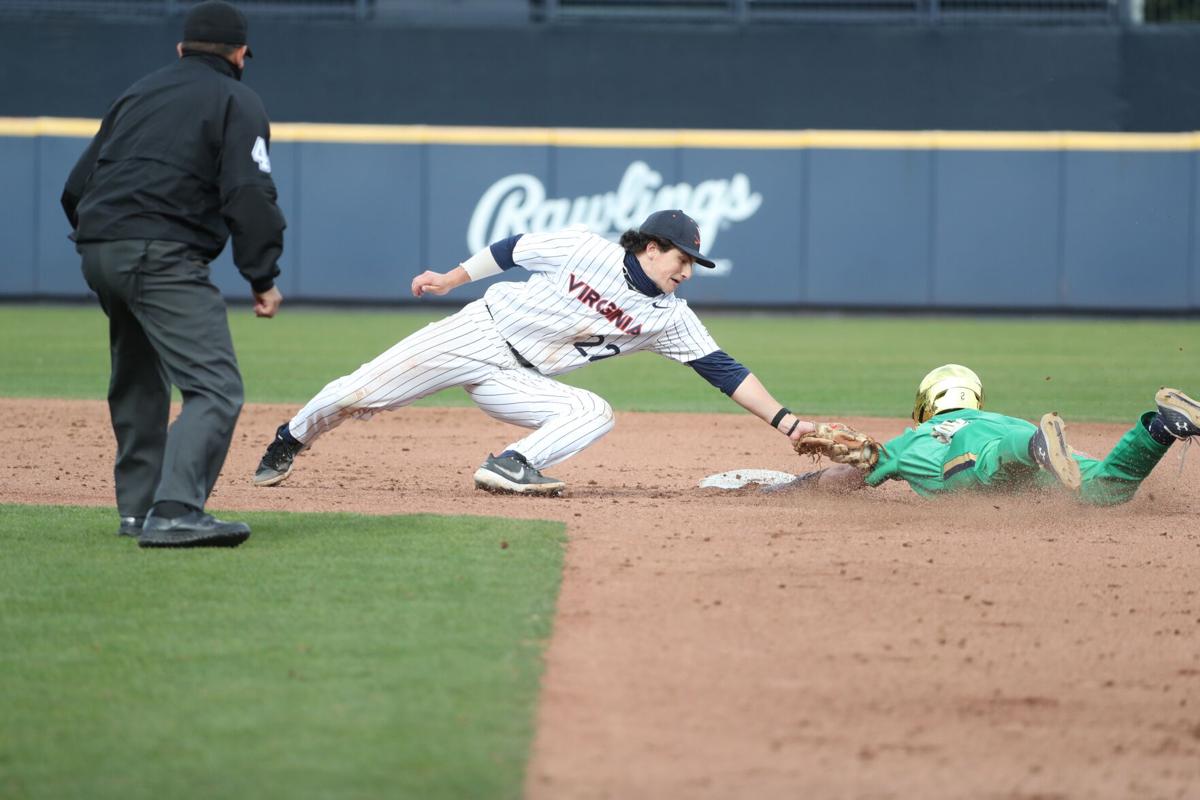 For the third consecutive weekend, the Virginia baseball team heads into Sunday looking to avoid a sweep.
Brian O'Connor's team fell to No. 25 Notre Dame 12-4 on Saturday at Disharoon Park. Virginia (7-7, 2-6 ACC) also lost to Notre Dame (6-2, 6-2 ACC) on Friday, falling 10-5 in the first game of the series.
"I've done a horrible job, candidly, of preparing this team," O'Connor said. "I'm the coach. I accept full responsibility for it. It's not the players' fault, it's my fault."
O'Connor doesn't believe his team has been as competitive as needed in its first 14 games this spring. He says consistent competitive spirit and fight has been lacking. The Cavaliers were competitive in the early going Saturday, but they were undone by a five-run fifth inning from the Fighting Irish.
UVa's usually sound pitching was erratic and subpar Saturday, failing to corral Notre Dame's offense. The pitchers also struggled Friday.
Notre Dame struck first Saturday, pushing two runs across in the top of the third and one in the fourth to take an early 3-0 lead. Virginia starter Griff McGarry, who struck out six consecutive batters after allowing a leadoff double to open the game, struggled in the third and fourth innings. He left the game after 3 2/3 innings, having allowed three runs while tossing 82 pitches.
After the outing, McGarry stressed patience while acknowledging the need for increased consistency individually and as a team.
"I don't think it's anything to worry about yet," McGarry, a senior, said of the team's 2-6 ACC record. "We still have a long season."
UVa bounced back from Notre Dame's initial push, piling up three runs in the bottom half of the fourth inning.
Senior outfielder Alex Tappen, sophomore outfielder Chris Newell and freshman infielder Jake Gelof all delivered RBIs in the fourth. Tappen's RBI double to start Virginia's scoring broke his 22 at-bat hitless streak to start ACC action.
"The important thing is to just not get frustrated because that's baseball," Tappen said, "you're gonna have those types of stretches."
The good vibes were short lived.
Notre Dame scored five runs in the top of the fifth inning. The Fighting Irish took advantage of five hits and a throwing error by senior third baseman Devin Ortiz. Notre Dame junior outfielder Brooks Coetzee punctuated the frame with a two-run home run over the right field fence. The lefty's launch put the Irish up five and quieted UVa's dugout, which was fiery after the fourth inning.
John Michael Bertrand silenced Virginia's bats after the team's outburst in the fourth inning. A graduate transfer from Furman, Bertrand tossed seven innings, allowing just three runs and five hits. He walked one and struck out four.
The Fighting Irish extended their lead in the seventh, scoring twice thanks to a pair of UVa errors. Two singles, including an RBI base hit from sophomore infielder Jack Brannigan, made the lead 10-3.
Notre Dame's lead swelled to 12-3 in the ninth. A wild pitched scored one, and Brannigan delivered another RBI single to cap Notre Dame's scoring.
Freshman catcher Kyle Teel smacked a no-doubt home run over the right field fence in the bottom of the ninth, giving UVa its fourth and final run.
Virginia turns to junior right-handed pitcher Mike Vasil on Sunday. The MLB prospect helped UVa avoid series sweeps in each of the team's first two conference weekends.
"We've been in this position three weekends in a row where we've lost the first two games, and we've played pretty well on Sunday," O'Connor said, "so hopefully we can come with that kind of fight tomorrow."