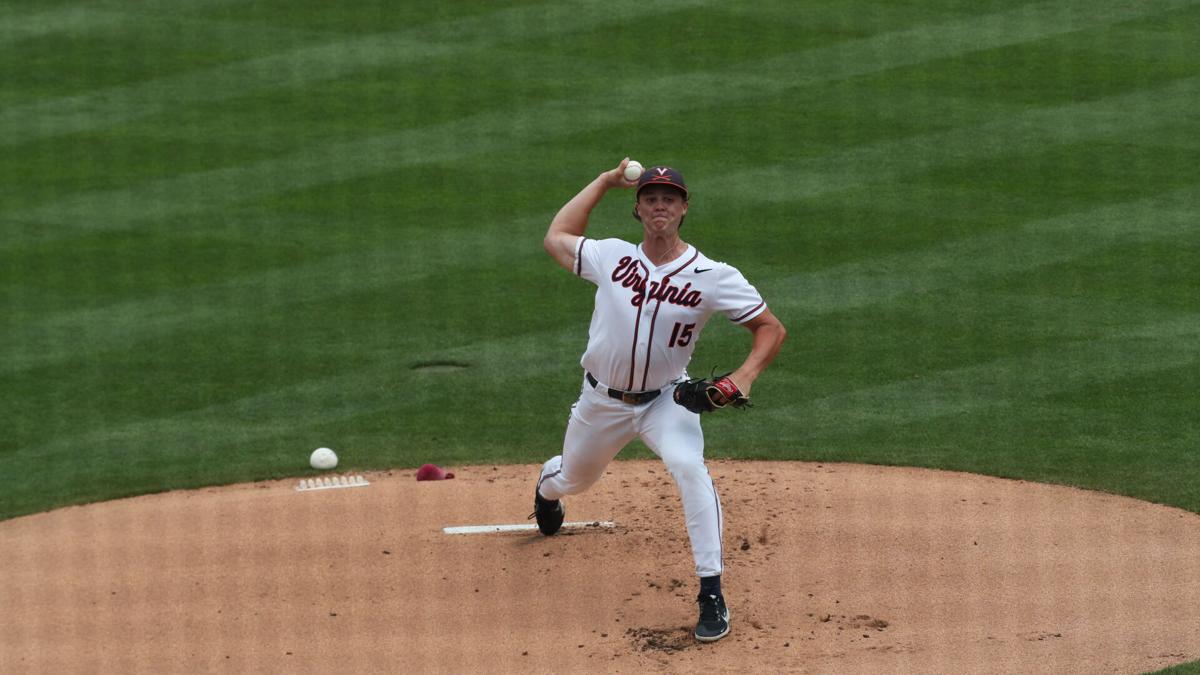 COLUMBIA, S.C. — With all three of its usual weekend starters unavailable, the Virginia baseball team needed someone to step up in a win-or-go-home game.
Sophomore Matt Wyatt delivered the best outing of his collegiate career on the biggest stage of his baseball life.
"In everybody's career, guys that end up being great, there's a game, a day that they step forward and emerge … and that was Matt Wyatt's opportunity today, and he seized the moment and stepped up for his team," head coach Brian O'Connor said.
Behind five shutout innings from Wyatt and early offense, UVa defeated South Carolina 3-2 to keep its season alive.
The Cavaliers advanced to play Old Dominion, the top-seeded team in the Columbia Regional, in the regional final on Sunday night. The game was delayed by weather and ended after press time.
It's Virginia's first regional final appearance since 2015.
In the first five innings, UVa (31-24) controlled the game. The Cavaliers scored first on an RBI single from senior Devin Ortiz. He drove in sophomore Max Cotier who reached on a walk and advanced to third on a hard-hit single from freshman Kyle Teel.
Virginia's lead doubled in the second inning when Alex Tappen lifted a ball to left field. The ball stayed in the air and drifted out of the park, giving the Wahoos a 2-0 edge.
A pair of doubles from Teel and junior Nic Kent plated another run in the third, giving the Cavaliers a 3-0 lead. With the run, the Cavaliers had scored runs in 10 of their last 11 innings dating back to the Jacksonville game.
As the offense performed, Wyatt was pitching the game of his young collegiate career.
"I kind of found the zone pretty quickly and trusted my guys behind me," Wyatt said. "I knew if I put it in the zone, they were gonna make the plays."
The sophomore faced a South Carolina lineup that scored four runs on Andrew Abbott in 5 2/3 innings. Against Wyatt, the Gamecocks couldn't muster a run in five innings.
Wyatt allowed a handful of hard-hit balls, but many were drilled directly at defenders. One was smacked at Wyatt himself in the top of the second with two outs. He caught the line drive off Colin Burgess' bat and stared down the South Carolina catcher as he returned to the dugout.
While the Gamecocks hit a few balls hard, nobody reached second base against Wyatt. He tossed a career-high five innings, and his eight strikeouts also set a career-best mark.
"This game was won by him rising up and giving us five innings," O'Connor said. "He was terrific."
Once Wyatt left the game, South Carolina came to life.
Blake Bales, a senior who was unavailable for the opening game of the regional, came in to face two batters. He recorded a strikeout before a four-pitch walk. Following the walk, he stepped off the mound, visibly frustrated.
O'Connor and a trainer came to the mound and Bales' day was done.
Zach Messinger entered, and South Carolina did well to hit the junior. He allowed the inherited runner to score in the sixth and struggled in the seventh.
South Carolina led off the seventh with a solo home run to left off the bat of Brennan Milone. With the hit, the crowd of 4,320 started to make noticeable noise.
Back-to-back singles brought some fans to their feet, as they sensed a potential go-ahead rally. Instead, UVa received a key break.
Joe Satterfield ripped a ball directly back at Messinger, who nearly caught it. Instead, the ball popped out of his glove and landed next to his feet. He grabbed it, threw softly to third base where Zack Gelof made a jumping catch. Gelof touched third and fired to second for the double play.
"This time of the year at championship time, you've got to be good, but you have to have a little bit of good fortune," O'Connor said.
After another single, O'Connor went to Stephen Schoch. UVa's closer delivered a three-pitch strikeout to end the threat.