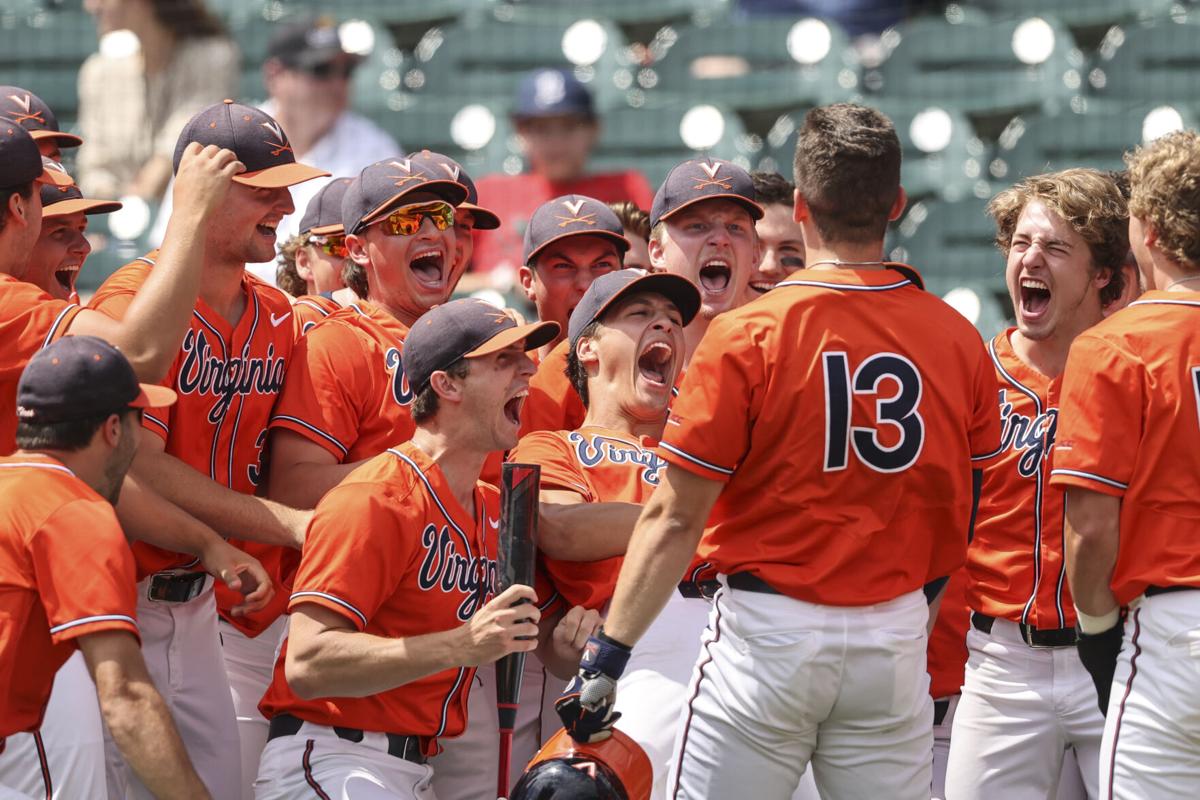 Notre Dame's John Michael Bertrand hadn't allowed multiple home runs in a start since 2019, when he played for Furman.
On Friday, the first team All-ACC pitcher gave up three long balls to Virginia in a four-batter stretch during the second inning.
The Cavaliers jumped all over the Fighting Irish's ace with a five-run second inning, and senior lefty Andrew Abbott quieted No. 1 seed Notre Dame's bats in a dominant 14-1 win. The eighth-seeded Wahoos win Pool A of the ACC Tournament as a result, and they're headed to Saturday's ACC semifinal against No. 9 seed Duke.
"Our guys, really they're not trying to make a statement, they're just trying to play great baseball and trying to win a championship," UVa head coach Brian O'Connor said. "But Notre Dame is a top 8 national seed, no question next weekend … and to be able to come out and do what we did is satisfying and it's exciting for what we can do into [Saturday]."
After a relatively uneventful first frame at the plate, UVa's offense caught fire in the second inning.
Senior Devin Ortiz was drilled by a Bertrand pitch. That mistake was followed by a handful of pitches in the middle of the zone.
Junior Nic Kent homered to left field to put the Cavaliers up 2-0. Senior catcher Logan Michaels followed up with a double down the left-field line. Alex Tappen, a senior who started in left field for the first time this spring, launched a two-run homer to left.
With UVa up 4-0 and Bertrand leaving off-speed pitches over the heart of the plate, freshman Jake Gelof entered the batter's box and demolished an 0-2 pitch over the left-field wall and Virginia led 5-0 as players in the dugout bounced around with excitement. The home run was the first of Gelof's collegiate career.
Bertrand's day ended in the second inning. He was unable to record an out in the inning before being pulled.
"It seemed like his stuff was alright today, but we just kind of punished the mistakes," junior Zack Gelof said. "He was leaving the off-speed pitches up in the zone, where his success is kind of the fastballs and the off speed out of the zone."
After adding a run on an RBI single from Ortiz in the fourth, UVa used another home run to grow its commanding advantage. Zack Gelof, perhaps not wanting to be shown up by his younger brother, ripped a three-run home run over the left field fence in the top of the fifth inning.
The junior says he and Jake homered in the same game back in high school, but this performance from the brothers tops that.
"I would say in the ACC Tournament, must-win game … I think it's a little bit better," Zack Gelof said.
UVa led 9-0, and the edge felt insurmountable with Abbott on the bump.
The first team All-ACC pitcher tossed 6 1/3 shutout innings, allowing five hits and a walk. He struck out nine and joined Danny Hultzen as the second UVa pitcher to strike out 300 or more batters in his career.
In his last four starts, Abbott has not allowed an earned run over 27 1/3 innings. He's allowed just 12 hits and six walks during that span while tallying an impressive 44 strikeouts.
He easily won what was billed as a pitching duel between him and Bertrand.
"I'm just telling myself that I'm better than every team that I face," Abbott said. "I'm just trying to be a bulldog on the mound."
He's also received tremendous run support in recent weeks. In Abbott's past five starts, Virginia is 5-0 while the Cavaliers have scored 65 runs.
"As a team we kind of joke about it because I think the beginning half of the year we gave him almost no run support at all," Zack Gelof said. "I think we're just tunneling it all in at the back half of the season."
Virginia added a handful of insurance runs in the top of the ninth. The Cavaliers plated five runs, including two on an RBI hit from Zack Gelof. The Gelof brothers combined to go 5-for-8 with two home runs, three walks, four runs scored and six RBI.
Notre Dame finally scored in the bottom of the ninth, using an RBI single from freshman catcher Danny Neri to avoid the shutout. UVa limited the damage to one, winning 14-1 in dominant fashion.
Sixth-year senior Stephen Schoch pitched 2/3 of a scoreless inning for UVa. Senior Matt Wyatt allowed the one run over two innings, but he also struck out five batters and showed impressive flashes.
UVa's bullpen is fresh entering Saturday's game against Duke.
The Blue Devils, like UVa, are red-hot. They've won 10 games in a row and turned a lackluster season into a postseason-worthy resume.
"They're playing as hot as anybody in the country, and they have very much a veteran team like we do," O'Connor said. "I expect it to be a great matchup tomorrow at 1 o'clock."