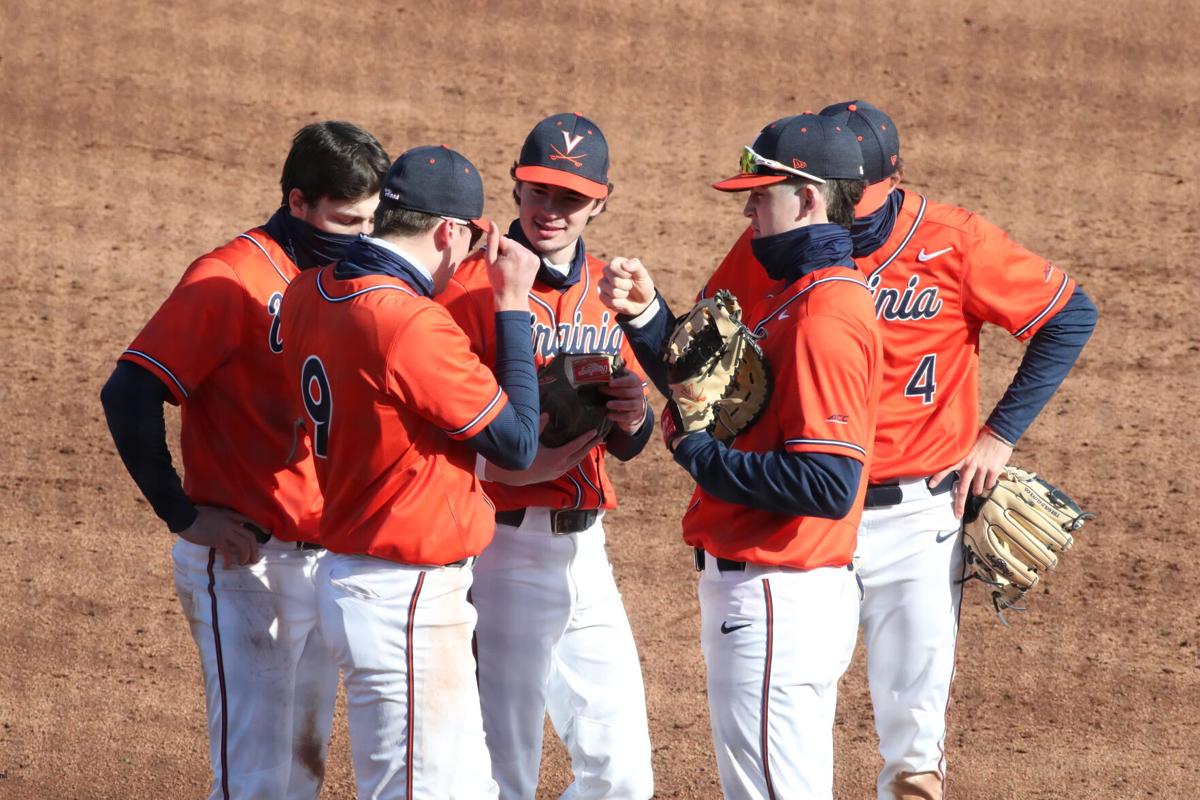 Virginia baseball coach Brian O'Connor was honest with his team immediately following a 6-5 loss to Georgia Tech that dropped the Cavaliers to 4-12 in ACC play at the beginning of April.
He told the group their backs were against the wall and laid out the situation facing his team.
"It was a very, very honest, candid conversation," O'Connor said. "Kind of a one-way conversation, honestly."
In O'Connor's estimation, UVa needed to win every remaining ACC series, including the one against the Yellow Jackets. If the Cavaliers could hit that goal, they'd finish 18-18 in the ACC and put themselves in position to make the NCAA Tournament for the first time since 2017. If they failed to win a series the rest of the season, they'd need to make it up with a sweep.
O'Connor's honesty put the Cavaliers' precarious situation into perspective, and the team embraced the challenge. Virginia won the final two games against Georgia Tech, and it has won three of its next four ACC series.
"I think actually having that conversation out in the open stopped the panic from ever happening," Virginia pitching coach Drew Dickinson said, "because if you just let it fester and nobody talked about it, it would have ended very poorly."
Heading into the final two ACC weekends of the spring, Virginia (22-21, 13-17 ACC) needs to go 5-1 to reach the 18-18 mark in conference play. That would help secure an NCAA Tournament berth for a team that Baseball America projects as one of the last four teams in the field as of Wednesday.
This weekend against Wake Forest (17-23, 7-19 ACC), the Cavaliers are gunning for a sweep to make up for a lost series to Louisville.
Despite Wake Forest's subpar conference record, taking the series and potentially earning a sweep will be a challenge. The Demon Deacons, in part due to a relatively small home ball park, lead the ACC with 75 home runs. Four Wake Forest players have at least 10 homers, including junior Bobby Seymour who ranks second in the ACC with 18. There's legitimate power throughout the lineup, even if the home stadium inflates the numbers.
Both Dickinson and O'Connor compared Wake Forest to Duke in terms of approach at the plate. UVa won a series against the Blue Devils this spring, but Duke blasted eight home runs. Despite the frequent long balls, Duke scored just 13 runs across the three games.
"Personally, I like pitching to teams like that," Dickinson said. "They don't steal bases, they just try to swing it, and I think you can pitch to that. If you're a pitcher, you don't have to worry about, 'Oh, they're gonna be hit and run or they're gonna be bunting, maybe stealing.' No. It's just station-to-station baseball."
Dickinson and company feel confident about the Cavaliers' weekend rotation. Senior Andrew Abbott handles Friday duties, while junior Mike Vasil is the team's current Saturday starter and sophomore Nate Savino closes out the weekend on Sunday.
Savino, a highly regarded prospect, has worked his pitch count up over the course of the spring. He's gained confidence and starred in his last outing, tossing seven innings of one-run baseball to clinch a series win at Virginia Tech. The emergence of Savino, especially considering the struggles of senior Griff McGarry, has given the team a major boost.
"If a series is 1-1 going to Sunday, which seven times out of 10, eight times out of 10 it is, I'm like, 'Wow, we have a dude on the mound,'" Dickinson said. "A lot of other teams are TBA or trying to figure out what they're going to do. We have a guy sitting there ready to go."
Unlike early April, Virginia's confidence is growing. The team is 9-5 since O'Connor's direct conversation. A 5-1 record in the final two weekends would give Virginia a 14-6 ACC record following its abysmal 4-12 start to conference play.
It's possible with a home weekend against Wake and a series finale against a Boston College team with a 9-21 record in ACC action.
UVa understands the stakes against Wake Forest. The Cavaliers have known what they've needed to do since April 1.
"They just want to play good baseball and that's what we're focused on," O'Connor said. "I don't want to continue to talk and talk about how many wins does it take and things like that. They know that we've got to first and foremost play good baseball and win series and then take it from there and we get what we earn."