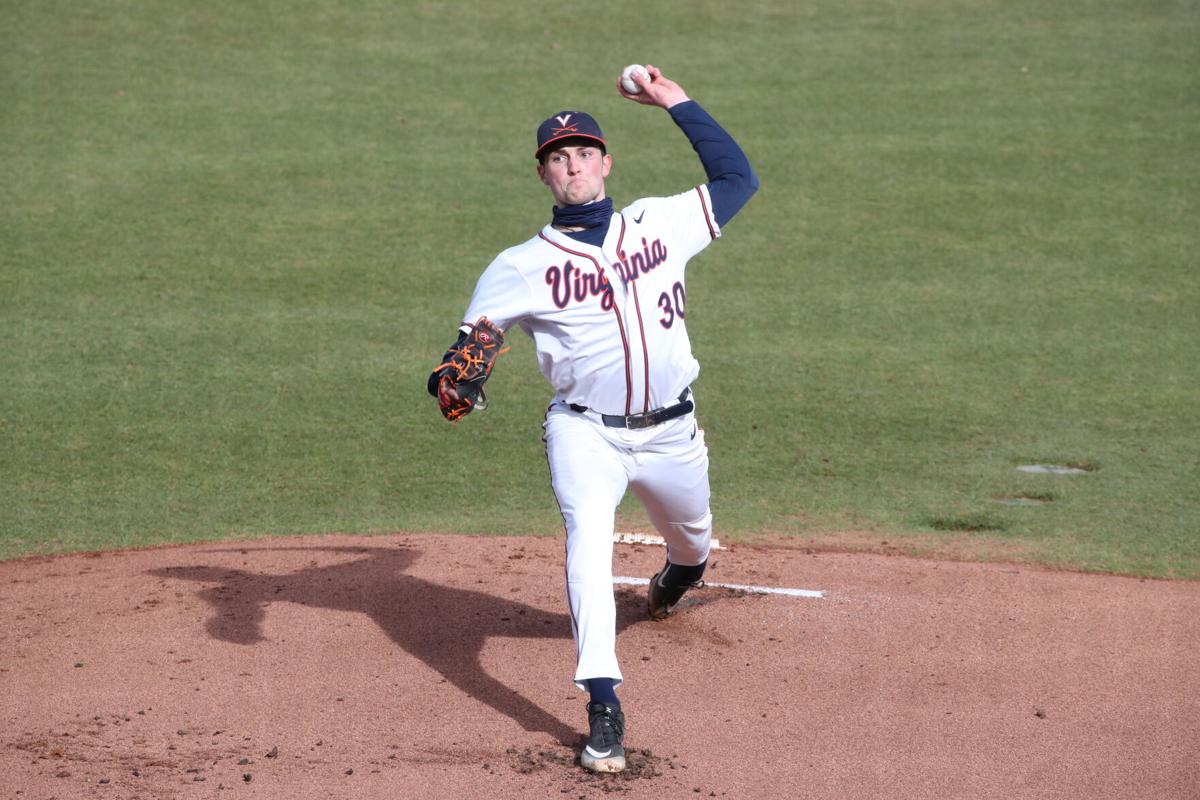 Brian O'Connor wanted his lineup to string together consistent at-bats after minimal offensive output during the opening weekend of ACC play.
The Virginia baseball coach's request was met by his team Tuesday as they tallied 11 runs and 11 hits in an 11-1 victory over George Washington. After scoring six runs in three games at UNC, the Cavaliers' bats heated up against the Colonials.
"Obviously to give yourself a chance to put crooked numbers up is huge," O'Connor said. "A lot of times those happen with either a home run or driving in runs with two outs. Certainly excited to see we scored at least a run in six out of the eight innings."
Six of the team's RBIs came with two outs.
In its first game of the spring, George Washington came out rusty. The Colonials allowed two runs in the first inning, and UVa didn't even record a hit. A pair of walks and errors helped push two UVa runners across the plate.
Eventually, UVa earned the runs it scored.
Virginia extended its lead to 3-0 after two innings when sophomore infielder Max Cotier's infield single scored sophomore outfielder Chris Newell from second base. Newell hustled on contact with two outs, and GW junior second baseman Noah Levin made a diving stop as he moved toward center field. Even though Levin stopped the ball, Newell's speed beat the slightly inaccurate throw home.
"With Chris, if you put it in play, he can really score from anywhere," Cotier, who moved up to the No. 2 spot in Virginia's batting order Tuesday, said.
On the mound, sophomore left-handed pitcher Nate Savino excelled early. He was perfect for UVa through three innings.
George Washington finally found some success off Savino in the fourth inning. The Colonials strung together a pair of singles, advanced bases on a passed ball and pushed a run home on a sacrifice fly by senior outfielder Domenic Boselli.
Brendan Rivoli responded for the Wahoos, ripping a triple down the first base line. Newell drove the senior outfielder home with an RBI groundout to give Virginia a 4-1 lead four frames.
"I just think it's a rally around the barrels kind of thing, where everybody is just kind of coming together and putting good swings on it, and that's contagious," Rivoli said of the offensive improvement. "As long as we can keep doing that, we'll be all right."
Savino's day ended in the fifth inning. He tossed 4 2/3 innings, recording four strikeouts and allowing four hits as well as an unearned run. Sophomore Matt Wyatt relieved Savino, working out of jams in both the fifth and sixth.
Virginia led 6-1 after five innings. Seniors Logan Michaels and Alex Tappen both tallied RBIs in the fifth, helping UVa capture a more comfortable lead over the Colonials.
Cotier drove Newell home yet again in the seventh inning, slapping a single to center field to score Newell from third base. Three more runs came in the inning, including two on an RBI double to right field from junior infielder Zack Gelof.
Freshman Kyle Teel — who came into the game in the sixth inning — also drove in a run on an RBI single, the first hit of his Virginia career. Rivoli smacked an RBI double in the eighth inning to cap off UVa's scoring.
"I was really impressed, Kyle Teel got his first two at-bats of the season, and I thought his approach, the way he looked in the batter's box was really good, excited to see that," O'Connor said. "Obviously, we're gonna need to have a good offensive ball club to really, really compete in this league, so I liked what I saw tonight."
UVa next plays at Florida State. The three-game weekend series starts Friday.