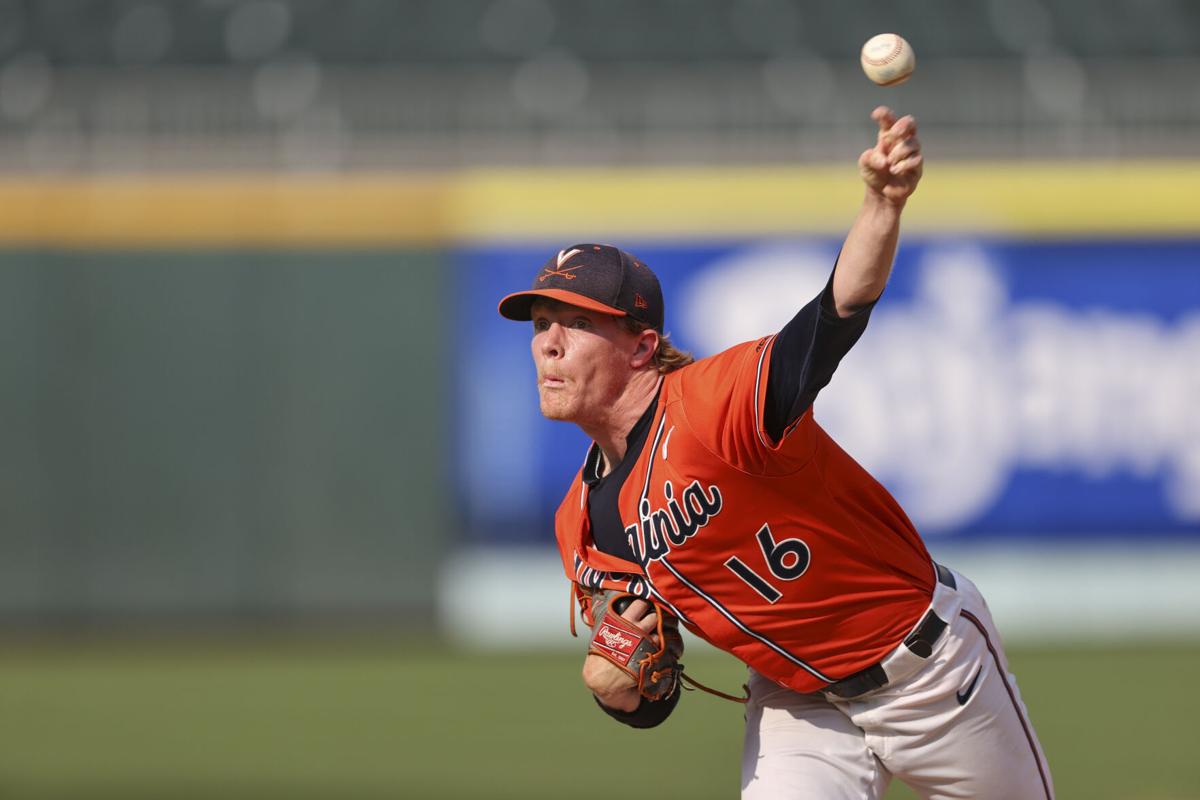 The Virginia baseball team didn't want its second ACC Tournament pool play game, a Friday matchup with top-seeded Notre Dame, to be meaningless. A 3-2 win over Virginia Tech on Tuesday squashed that concern.
"We took care of them, and we're ready to take care of Notre Dame," junior pitcher Zach Messinger said.
Beating the Hokies gives UVa a chance to advance to the ACC semifinals with a win over Notre Dame, keeping the Cavaliers in the hunt for their first ACC Tournament title since 2011. In-state rival Virginia Tech was relegated to playing a second pool play game that couldn't impact the tournament, one it lost to the Irish, 8-0, on Wednesday.
"I have coached too many teams in this format, this pool play, where we've played these games that didn't really count," head coach Brian O'Connor said.
Friday's game, which is scheduled to start at 11 a.m. in Charlotte, absolutely counts. The matchup pits two of the ACC's hottest teams against each other, and the loser will exit the tournament.
Notre Dame (30-10, 25-10 ACC) is the ACC's No. 1 seed after a dominant regular season. The Fighting Irish enter Friday on a five-game winning streak, with four of those wins coming against Virginia Tech. No. 8 seed UVa (28-22, 18-18 ACC) has won seven of its last eight conference games, and the Cavaliers won 14 of their final 20 regular-season conference games to finish 18-18 in the ACC after a 4-12 start.
"This is gonna be a grinder, dogfight," Notre Dane head coach Link Jarrett said. "It's gonna be a really good college game."
These teams met earlier in the spring, with Notre Dame sweeping UVa in Charlottesville. The Cavaliers looked lost in that series, losing all three games by five runs or more.
"Frankly, I think we're a completely different team than what we were against Notre Dame," Messinger said. "We're pitching really well. Our offense has come around to be a really scary offense, 1 through 9. We're excited. We're very ready. This is what we wanted, and I mean I can't wait for Friday morning."
Virginia came into the season expected to contend for an ACC title. In recent weeks, the Wahoos have shown that potential after their sluggish start.
At the plate, the Cavaliers found a rhythm, with four players batting .275 or better. While the team doesn't launch many home runs — the Cavaliers rank last in the ACC with 30 — the lineup produced down the stretch.
In 26 games since April 1, UVa's offense averages 6.6 runs per game. The Cavaliers have scored three or fewer runs just five times during that span. In 24 games prior to the start of April, UVa averaged 4.6 runs per game and scored three or fewer runs in 11 of those games.
Several contributors, from freshman Kyle Teel to senior Devin Ortiz, have been consistently productive in the back half of the season. Teel hit a two-run home run in Tuesday's win over Virginia Tech, his team-leading eighth long ball.
UVa's pitching has been strong all season, but recent dominance from senior left-handed starter Andrew Abbott has made the team even more dangerous. He pitched an inning in relief against the Hokies, but he's still expected to start Friday. Abbott hasn't allowed an earned run in his last three starts, and he entered the postseason leading the ACC with 126 strikeouts.
Notre Dame counters with an impressive ace of its own. Fifth-year senior John Michael Bertrand is 7-1 with a 2.77 ERA. He tossed seven innings and allowed three runs in a win against UVa earlier this spring.
Abbott and Bertrand both earned first team All-ACC honors earlier this week.
Behind Bertrand is the ACC's best defense. The Fighting Irish lead the ACC in fielding percentage, and the offense ranks in the top half of the ACC in slugging percentage, on-base percentage and stolen bases. Notre Dame is solid in every aspect of the game.
The Fighting Irish have an exceptional pitching staff, with a team ERA below 4.00, and they only used three pitchers against Virginia Tech. None of the guys threw more than 48 pitches. It's a must-win game, meaning both sides can be creative with how they use several high-level pitchers who should be fresh come Friday.
"It's going to take everybody in our arsenal to get this done," Jarrett said.
For UVa, there was excitement coming into the event knowing it would be in Pool A. The ACC Tournament began with a game against Virginia Tech, the team's in-state rival. A narrow victory set up an elimination game with top-seeded Notre Dame.
Virginia is exactly where it wants to be heading into Friday.