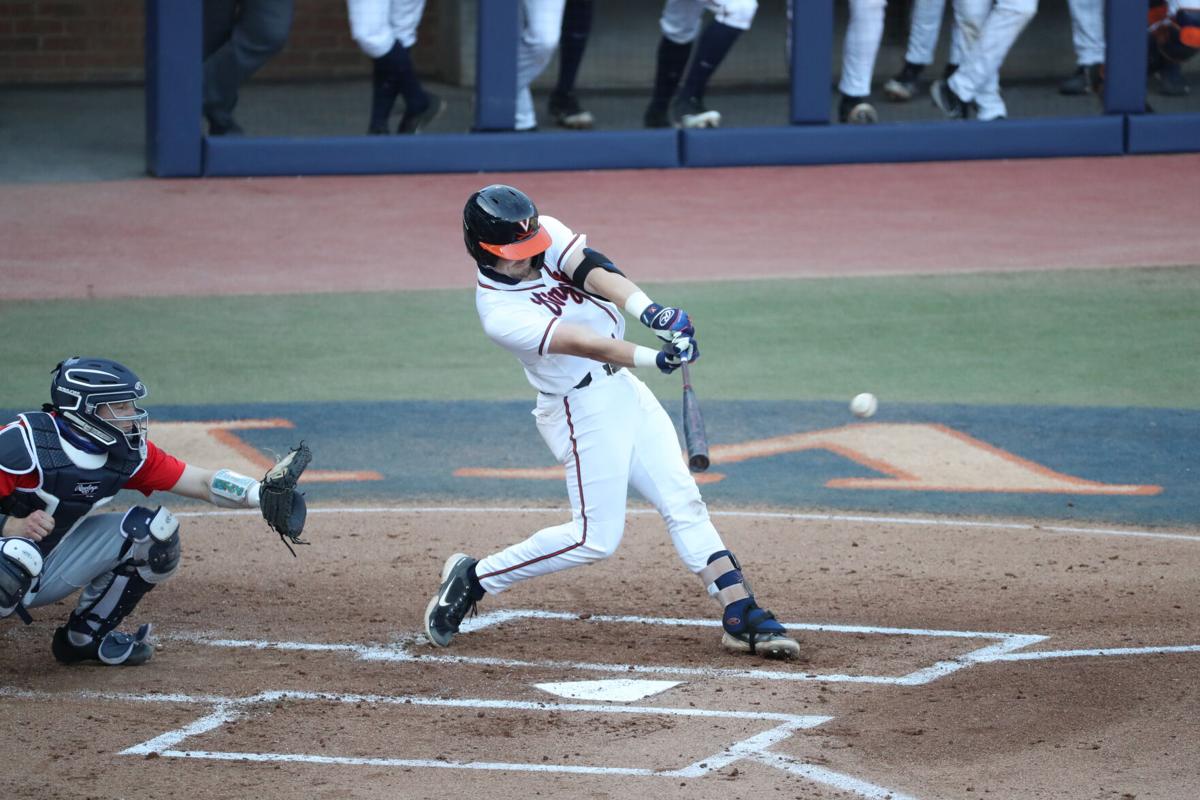 Virginia starting pitcher Nate Savino tossed just one inning Tuesday before exiting the game due to illness. Despite Savino's short outing, UVa's bullpen rallied together to toss the team's first shutout of the 2021 season.
"Sometimes you're concerned when you throw a bunch of different guys because you're concerned one of them goes out there, just can't find it and has a horrible outing," head coach Brian O'Connor said. "You could be in trouble, but when you're constantly keeping the next guy ready and somebody is not throwing strikes, boom, you shuffle the next one in there."
The Cavaliers (7-5, 2-4 ACC) defeated Richmond 7-0 on Tuesday, using great work from its seven pitchers and 11 singles to pick up another midweek victory.
"I thought it was a terrific collective effort," head coach Brian O'Connor said.
UVa started the game ideally, jumping out to a 2-0 lead after an inning. Savino, a left-handed sophomore, worked a scoreless first inning before exiting the game.
Offensively, Virginia strung together four singles to plate two runs. Senior outfielder Brendan Rivoli delivered the first RBI single of the contest, and he scored two batters later when freshman designated hitter Kyle Teel drove Rivoli home on a single.
Rivoli wore a small bandage near his right eye after taking a pitch to the face against Florida State on Friday. Despite the injury, the former high school hockey player hasn't let it impact him in recent games. He drove in the team's only two runs in a Sunday win and went 2-for-4 with an RBI on Tuesday.
After Savino's departure, junior right-handed pitcher Zach Messinger delivered an impressive showing in relief. With UVa's starter only able to go an inning, Messinger tossed three perfect frames to get the Cavaliers through the early innings.
"I like to see myself as one of those guys who can get us late into the bullpen, late into the game if we need to, get more innings in than some other bullpen guys," Messinger said. "I was just down there, ready for the call."
UVa increased its lead in the fourth inning with an RBI single from senior outfielder Marc Lebreux. The lead stayed at 3-0 in the top half of the fifth inning thanks to stellar defense from Rivoli.
With Richmond threatening with runners on first and second and a single knocked into left field, the Spiders seemed destined to add a run. Instead, Rivoli fired a strike in from left field and gunned Richmond outfielder Dan Leckie down at home. Leckie tried to score from second on the single.
"Before the ball was even hit to me I was like, 'OK ball hit on the ground I'm gonna have to throw it home here,'" Rivoli said. "Just came up and threw it as hard as I could to home plate. Luckily it was on line."
Senior right-handed pitcher Blake Bales used a strikeout to end the scoring threat.
Another RBI single from Teel put Virginia up 4-0 after five innings. The freshman finished the game 2-3 with a team-high two RBI.
The Cavaliers added three insurance runs in the seventh inning thanks to some help from the Spiders. The visiting team walked five batters in the inning, giving UVa free bases. Sophomore outfielder Chris Newell did drive in a run with a sacrifice fly in the frame, but the other two runs came from a walk with the bases loaded and a wild pitch.
Rivoli came close to putting UVa up 10-0, blasting a ball to the right field fence with two runners on in the bottom of the eighth inning. Richmond right fielder Austin Masel jumped up and robbed a potential home run.
"I couldn't believe it because this is our home field, and I don't think I've ever seen anybody jump as high as the fence in right field to catch a ball," Rivoli said. "As soon as I saw that, I was just straight in awe."
A 7-0 lead was more than enough for Virginia's pitching staff, which was up to the challenge all day. Seven pitchers combined for the shutout, allowing just four hits and three walks while striking out eight batters on the day.
UVa plays its first ACC home series of the season this weekend, welcoming Notre Dame to town for three games. Friday's first pitch is scheduled for 3 p.m.