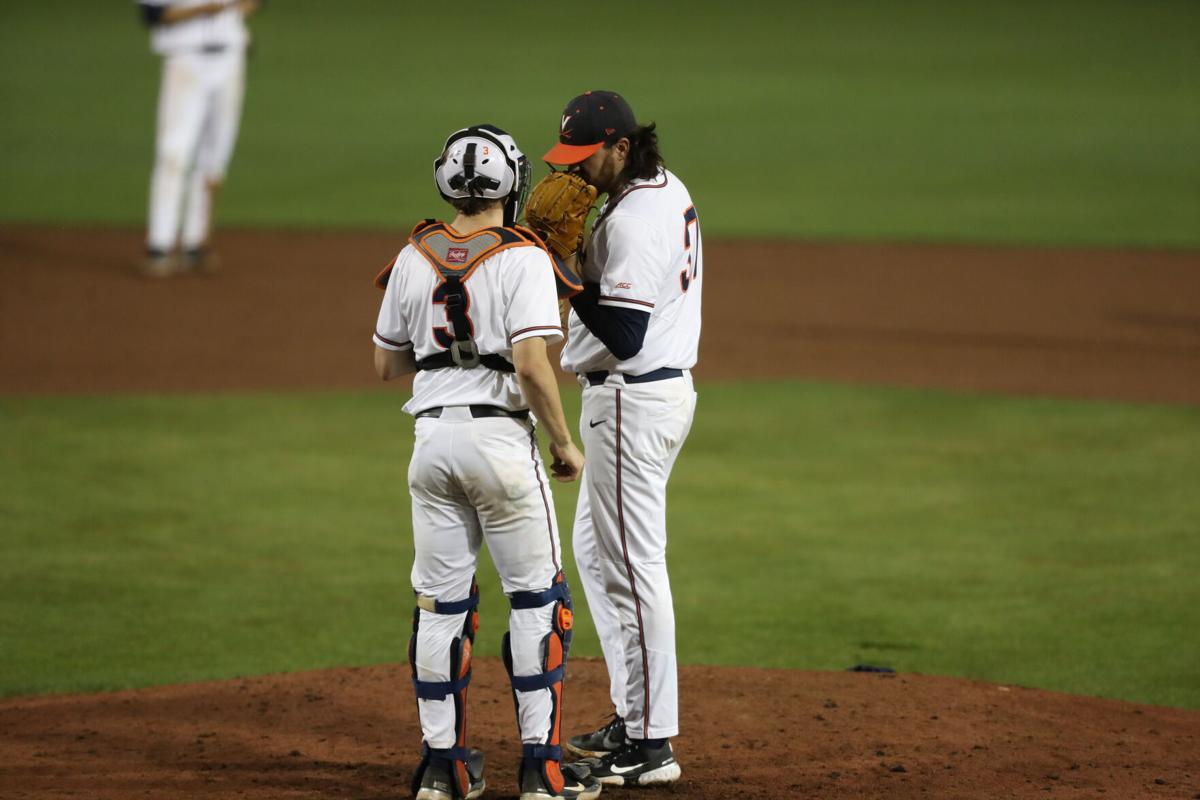 The Virginia baseball team was three outs away from entering a rare idle weekend with positive momentum. Instead, the Cavaliers threw away a 5-0 lead and suffered a 7-5 home midweek loss to VCU on Tuesday night.
"We win a couple of games, and we just can't get an extended winning streak," head coach Brian O'Connor said.
The Cavaliers, who won't play this weekend as they take final exams, were three outs away from building off an impressive stretch of wins. Virginia (22-21, 13-17 ACC) has won four of its last five ACC weekend series, and the Cavaliers avenged a midweek loss to Liberty last week with an impressive 6-5 win after trailing 5-0.
It seemed like UVa was ready to avenge yet another midweek loss — VCU beat UVa 5-3 earlier this spring — but instead the Cavaliers were on the wrong side of a big midweek comeback.
"That proves that we should've learned something from that game," O'Connor said of last week's thrilling win. "Liberty had chances to put us away and didn't and we hung around and won the game late, and that's what VCU did to us today."
Unlike the first meeting, when VCU led 3-0 after an inning, UVa struck first Tuesday. The Cavaliers put together a two-out rally, stringing together three singles with one runner already on base.
Singles from freshman Kyle Teel and junior Nic Kent both drove in runs to give the Cavaliers a 2-0 lead.
A two-out rally led the charge again in the third inning. Senior Brendan Rivoli led off the inning with a single. After two consecutive outs, including a Teel groundout that moved Rivoli to second base, Kent delivered his second RBI single of the game. Kent finished the game 3-4 with two RBI.
"My swing and my timing have felt really good the past few series," Kent said.
Senior Alex Tappen pinch hit for Marc Lebreux after VCU moved to a left-handed pitcher. The matchup set up well for Tappen, a right-handed hitter. He ripped a double to left field, scoring Kent and giving Virginia a 4-0 lead.
With the bats putting runs on the board, junior starting pitcher Zach Messinger kept Virginia in front. One of UVa's midweek starting options, Messinger tossed 4 1/3 innings against VCU in the meeting earlier this spring. He struck out 10 in that game, allowing just two hits and no runs.
Messinger kept fooling the Rams on Tuesday. He went five shutout innings, allowing four hits and striking out five.
"I've just been able to put it all together against VCU," Messinger said. "I'd like to put it all together against an ACC opponent."
VCU found offensive success after Messinger departed the game.
The Rams nearly scored off senior Kyle Whitten in the sixth inning. They had runners on first and third, but Whitten recorded a strikeout to end the threat. He gave a big fist pump on his way to the dugout.
UVa added a run in the sixth to grab a 5-0 advantage.
Things unraveled from there.
Virginia reliever Brandon Neeck had a day to forget in the seventh inning. He faced three batters, yielding a home run and a double to go with an error from Zack Gelof at third base. The error opened the frame and was quickly followed by the hard-hit home run and double. The home run, a two-run shot, came off the bat of freshman shortstop Connor Hujsak. After the double, O'Connor pulled Neeck.
Blake Bales came in to minimize the damage, but VCU plated the inherited runner on an RBI groundout from freshman standout Tyler Locklear to cut the Virginia lead to 5-3.
"We kind of opened the door in the seventh inning," O'Connor said.
Stephen Schoch entered the game in the ninth after a scoreless eighth from Bales. The usually steady closer was off Tuesday. He gave up a leadoff double, before recording two outs.
He'll hope to forget the rest of the night.
Schoch hit a batter and walked another to load the bases. Another walk scored a run. The big blow came when junior Liam Hibbits smacked a ball into the right-center field gap. The two-out double plated three runs, giving VCU a 7-5 lead that it wouldn't relinquish.
"That's how the game's gonna play out sometimes," Messinger said. "Not every day we're gonna be our best, and Schoch knows he wasn't his best tonight, and I guarantee you the next time Stephen's gonna be out there on the mound, he is gonna be his best and he's gonna get it done for us."
The Cavaliers return to action on May 14 when they host Wake Forest for the final home conference series of the spring.