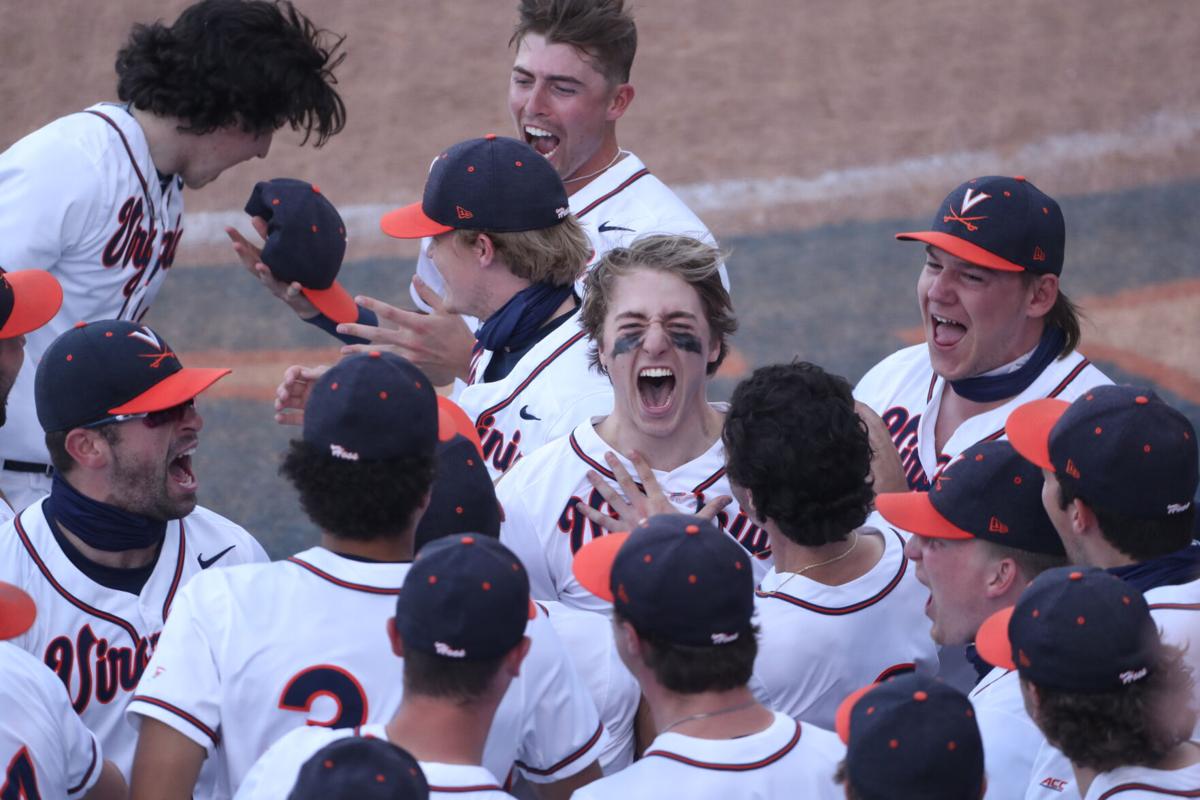 Five Liberty runs in the second inning brought back memories of the Virginia baseball team's 10-2 road loss to the Flames earlier this spring. In that March 24 contest, Liberty scored five runs in the first inning and cruised to an eight-run win.
On Tuesday in Charlottesville, the Cavaliers flipped the script.
Despite appearing overmatched through five innings, UVa scored runs in the sixth, seventh and eighth innings to complete a come-from-behind 6-5 win over its in-state foe.
"It shows a lot of character," freshman Kyle Teel said. "To not give up and to keep fighting is really awesome and something we need to continue to do."
Given Virginia's status on the NCAA Tournament bubble, the victory over a top-40 RPI team carries significant importance.
"They all matter, because when you win, you have a good, positive feeling about what's going on," Virginia head coach Brian O'Connor said. "We've talked a lot about learning how to win and this is one of those games that we found a way at the end of the ballgame. You got to have a few of these during the season because they don't all go as scripted."
Liberty (27-11, 11-1 ASUN) struck first off junior pitcher Zach Messinger. After cruising through the first inning, the Virginia starting pitcher's early performance quickly soured as he failed to record an out in the second inning. A single, walk and throwing error by Messinger on an attempted sac bunt loaded the bases with nobody out.
Liberty senior shortstop Cam Locklear knocked a ball directly over second base and into center field, scoring two. Junior right fielder Brandon Rohrer then singled down the left field line to add another run.
With Liberty up 3-0, O'Connor turned to senior reliever Matt Wyatt. Two runs scored with Wyatt on the mound, the second coming when second baseman Max Cotier booted a routine ground ball with two outs.
The Flames led 5-0 after two innings. All five runs were charged to Messinger, but only two were earned.
Virginia (20-19, 11-16 ACC) came close to scoring in the fourth inning when Teel drove a ball deep to left field. The ball would've cleared the fence if it wasn't for the glove of Liberty senior left fielder Aaron Anderson, who reached up and snagged the ball, robbing Teel of a home run and keeping UVa off the scoreboard.
Teel had his head down as he was motoring toward second. Postgame, the freshman said he didn't see the catch made, but headed to the dugout when he saw he was called out.
"Props to him," Teel said. "He made a great catch."
Liberty held a 5-0 lead after five innings.
Then, UVa's bats came to life.
Cotier singled to open the sixth. He was quickly driven in by senior outfielder Brendan Rivoli, who smacked a double to left-center field. Devin Ortiz followed with a hard-hit single that hit the left-field wall on the fly. Teel drove in Rivoli with an RBI groundout to second base.
Trailing 5-2 entering the seventh, the Cavaliers once again crafted a rally following the leadoff batter reaching base. Jake Gelof, a freshman, walked on four pitches. After a strikeout, Jake's older brother, Zack, singled up the middle to put runners on first and second.
Cotier came up next and put a ball into center field for a single. Liberty misplayed the ball, allowing the younger Gelof to score.
Rivoli singled to right-center field, scoring both Zack Gelof and Cotier to tie the game at 5-5. Rivoli went 2-4 with a team-high three RBI.
"Props to the guys in front of me getting on base all day," Rivoli said. "Zack Gelof going 3-for-4 and having a great day at the plate and putting himself in that position for me to drive him in. It starts with those guys in front of me getting on today, and I just tried to put the bat on the ball and good things happened."
UVa's hard-fought comeback was close to being spoiled in the eighth inning, when Liberty drew two walks off senior reliever Kyle Whitten. O'Connor turned to closer Stephen Schoch with one out and two on. Schoch recorded a fly out before loading the bases with Virginia's third walk of the inning.
He responded with a clutch, three-pitch strikeout.
UVa called on Wyatt, Schoch, freshman Luke Schauer and senior Kyle Whitten out of the bullpen Tuesday. The group combined to toss eight innings without allowing an earned run.
"I thought our bullpen did a pretty good job," O'Connor said. "Walked too many, I think we had eight walks, but we pitched around it pretty good … and Schoch was really good at the end."
Teel led off the bottom of the eighth inning. Much like the fourth inning, he hit a deep fly ball to left field. This time, however, the ball wouldn't be caught.
"As soon as I hit it I think I said, 'Come on, keep going,'" Teel said.
The baseball listened, crashing into the outfield bleachers as UVa players shot out of the dugout in celebration.
Schoch closed the door in the ninth with some drama, allowing a runner to reach second in part due to an error at second base. While Liberty put the tying run in scoring position, the reliever ended the game with a strikeout.
UVa returns to action Friday when it plays at Virginia Tech for a critical three-game series.