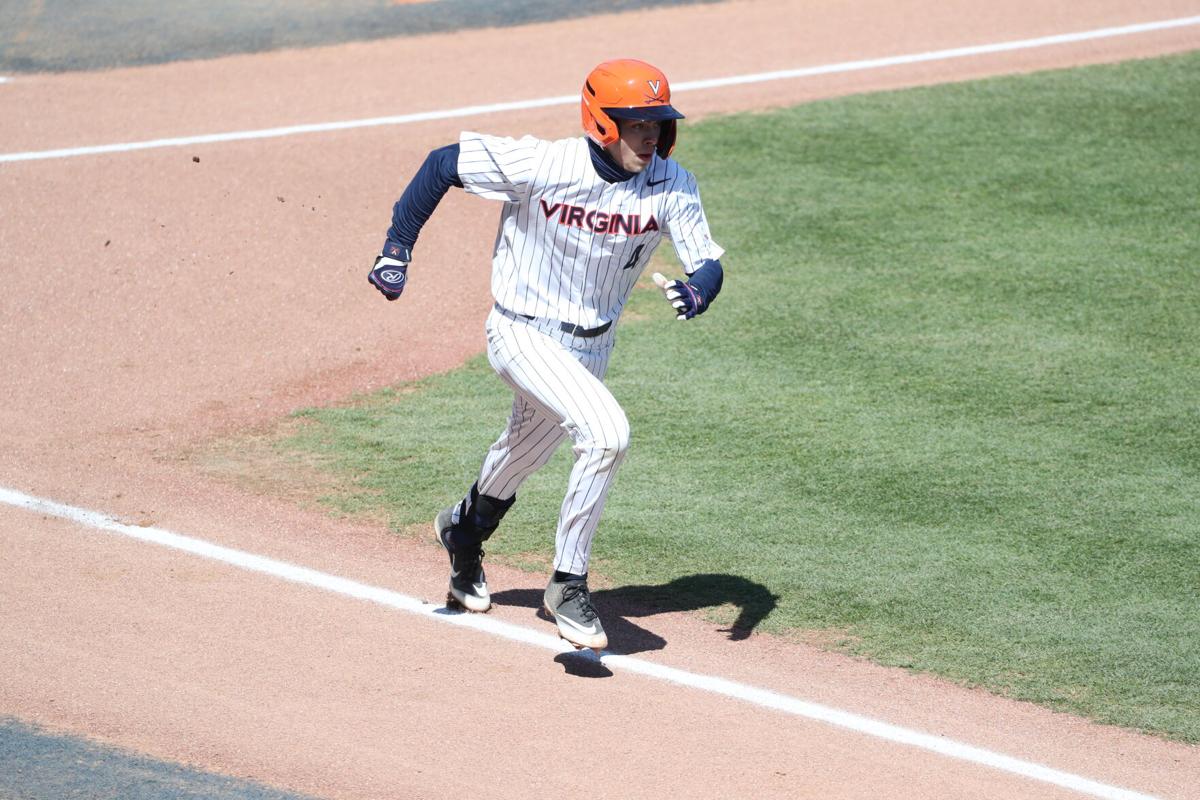 The Virginia baseball team welcomed a few hundred fans into Disharoon Park on Saturday afternoon for its series opener against Pittsburgh. While the environment felt much livelier than some games earlier this spring, the result was all too familiar for the Cavaliers.
Brian O'Connor's team suffered another hard-fought series-opening loss Saturday. The Cavaliers mustered just three hits and one run in their 2-1 loss to Pittsburgh on Saturday afternoon. Virginia (8-9, 2-8 ACC) fell to 0-4 in ACC series openers this spring, with three of those losses coming by two runs or fewer.
"It certainly gets frustrating," O'Connor, UVa's head coach, said. "When you're a competitor, whether you're a coach or a player, it's frustrating to not find a way to win that first one."
Pitt starting pitcher Mitch Myers tossed a complete game for the Panthers (10-4, 7-3 ACC), allowing just the three hits, a walk and a run. UVa struggled against the talented junior, who needed just 105 pitches to finish nine innings of work.
"It's not too often in college baseball anymore that your see somebody through a complete game," O'Connor said. "He was terrific. I tip my cap to him."
UVa started the game strong, taking an early 1-0 lead in the bottom of the third inning on a sacrifice fly from Nic Kent. The junior infielder drove home senior Devin Ortiz, who used a single and stolen base — both of which were aided by drops from the shortstop — to get into scoring position. Senior outfielder Marc Lebreux's groundout advanced Ortiz to third, and Kent knocked in the run.
The Cavalier bats went ice cold after that. Virginia didn't record another hit until the eighth inning.
While UVa struggled to score, Pitt's offense woke up after starting the game with three scoreless frames. The Panthers tallied runs in the fourth and sixth innings to take a 2-1 lead.
Redshirt senior infielder David Yanni launched a no-doubt home run to right field in the fourth inning, destroying the offering from UVa starting pitcher Andrew Abbott. The Panthers added a run in the sixth on a two-out RBI single from junior infielder Bryce Hulett.
Abbott left the game after pitching 5 2/3 innings. He allowed two runs, six hits and four walks. He struck out seven and ultimately took the loss.
"It stinks to lose, but you have to love winning more," Abbott said. "Once we get the taste of winning, once we get back in the swing, we'll get going."
Senior reliever Blake Bales came into the game for Abbott and pitched 3 1/3 scoreless innings. He gave up just one hit and one walk while fanning four.
UVa's pitching was strong, as it's been for much of this season. It's the hits and runs that have been tough to come by for Virginia.
"To keep an opponent down in this league to two runs is really, really hard to do," O'Connor said.
Two runs proved to be enough to earn a win for Pitt, as UVa earned just one hit — a single from sophomore infielder Max Cotier — in the final six frames. Cotier's single came in the eighth inning and he reached second base after a sacrifice bunt. A strikeout and groundout quickly ended the threat.
Virginia went down in order on just nine pitches in the final inning.
Senior Griff McGarry will take the mound for UVa on Sunday at 1 p.m. in the second game of the three-game series. The Cavaliers hope the right-hander can help them break their four-game ACC losing streak.
"Believe me, we're having great energy," Ortiz said. "We have guys picking each other up. It feels like we're gonna win this game, and it just hasn't been going our way. I think we just keep on fighting and eventually things will turn around in our favor and we'll do great things."