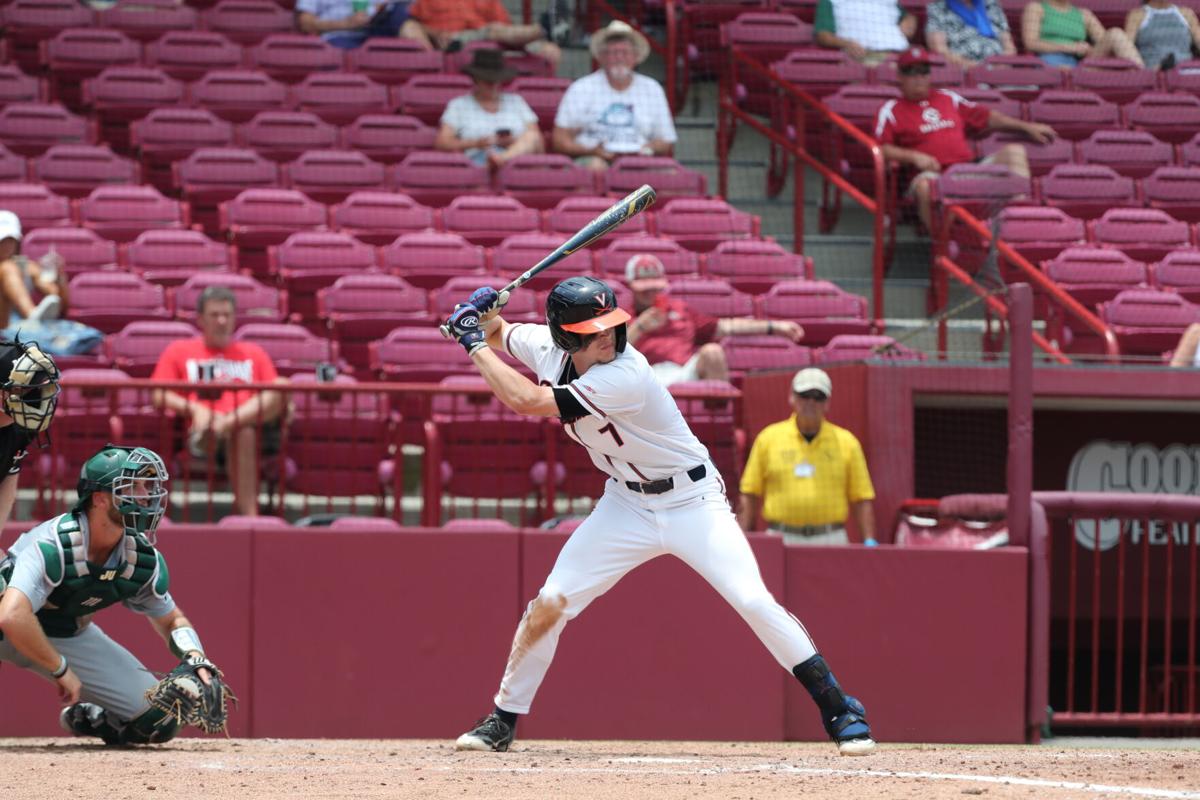 COLUMBIA, S.C. — Devin Ortiz tossed the bat with the kind of pizzazz reserved for the beginning of a home run trot. Though he was only advancing 90 feet, the reaction seemed justified.
Third-seeded Virginia used a big sixth inning to roll past No. 4-seed Jacksonville, 13-8, on Saturday in an NCAA Tournament elimination game at Founders Park. The frame lasted 10 batters, featured five runs, six hits — and one impactful walk.
Ortiz, UVa's designated hitter, came to the plate with none out and teammate Kyle Teel on first base. The Cavaliers were trailing, 7-6. What transpired was a 12-pitch at-bat against Dolphins reliever Christian Graham — including six foul balls — and a well-earned pass to first.
Virginia's dugout erupted.
"Everybody recognized that Ortiz was battling," said UVa coach Brian O'Connor. "It started off 0-2. And Devin hasn't been swinging the bat up to his standard, and so that at-bat flipped the switch for him personally, but also I just think it really ignited our team when you have a teammate in there that's fighting like that when your backs are against the wall in a must-win game."
Nic Kent followed Ortiz's marathon with an RBI double. Two batters later, Jake Gelof launched a two-run homer, punctuating the game-breaking inning.
"I was so excited that he won that at-bat," Teel said of Ortiz. "He battled that whole time. It fired me up, for sure. I think that was awesome. I think that fired the whole team up."
Record watch
It was a record-setting (or record-sniffing) day for the UVa offense.
With Ortiz's RBI single in the eighth inning, Virginia set a program record for hits in an NCAA Tournament game with 21.
Jake Gelof, who went 3-for-4 with a home run, two doubles and two RBI, matched a program record for most runs scored in an NCAA Tournament game with four. John Hicks did the same for the Cavaliers against VCU in 2010.
Gelof's two doubles also tied a program record. That's now been done by four different Cavaliers in the postseason, including Andy Weber against Dallas Baptist in 2017.
The 13 runs were the sixth-most by a UVa team in the NCAA Tournament, five shy of the record 18 scored against Richmond in 1972.
Up next
The Cavaliers will face either second-seeded South Carolina or top-seed Old Dominion in a Sunday elimination game. The Gamecocks and Monarchs played late Saturday night.
Virginia's 4-3 loss to the Gamecocks extended USC's win streak over the Cavaliers to 11, including four straight in the NCAA Tournament.
UVa has never faced the Monarchs in the NCAA Tournament, but is 30-33-2 all-time against its in-state foe, including 9-7 under O'Connor.
A UVa-ODU game scheduled for April 14 of this year in Charlottesville was rained out.
Through two games this weekend, Virginia has used five pitchers, including two relief appearances by Kyle Whitten. Sunday's starter became more of a mystery Saturday when Nate Savino, typically No. 3 in Virginia's rotation, was needed for 4 2/3 innings out of the bullpen.
"I have no idea who we're pitching [Sunday]," O'Connor said. "We will discuss that [Saturday night], based on who we play. I know whoever we run out there will do a good job for us."
Senior right-hander Griff McGarry (0-5, 7.46 ERA) and sophomore righty Matt Wyatt (2-1, 5.40) are starting options.
Quotable
The Gelof brothers — freshman Jake and junior Zack — are now 11-for-17 with three home runs, five RBI and nine runs scored in the Columbia Regional.
"There is not any other Gelofs on the way that I'm aware of," O'Connor said when asked if the Delaware-based family could keep the pipeline going, "but I'm glad that we have the two together for right now."
Virginia vs. No. 4
Saturday marked the 15th time in UVa program history that the Cavaliers faced a No. 4 seed in an NCAA Regional, but first since an upset loss to William & Mary in 2016 at Disharoon Park.
Saturday's game began in similar fashion to that Tribe defeat as starting pitcher Mike Vasil was pulled after early struggles. Then-freshman Daniel Lynch got the ball in an elimination game five years ago and lasted just 1 2/3 innings, giving up three runs on five hits as W&M went on to beat UVa, 5-4. On Saturday, Vasil went two-plus innings, allowing five runs on seven hits.
The Cavaliers are now 12-3 all-time against 4-seeds.