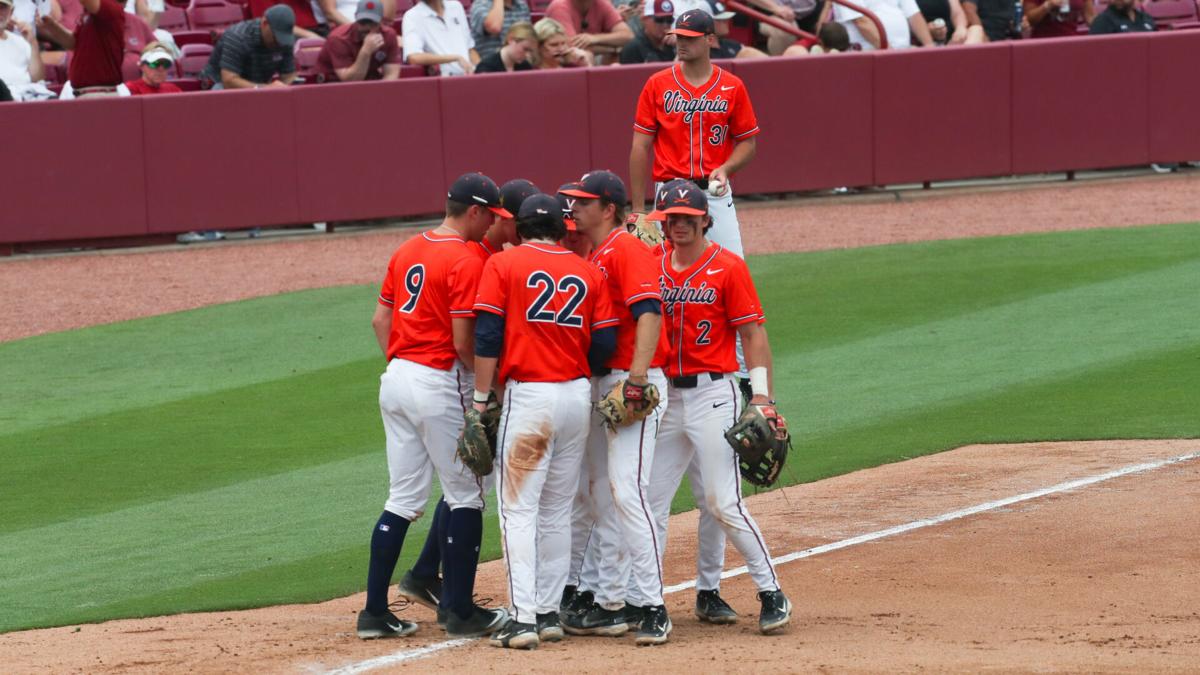 COLUMBIA, S.C. – The team that was 4-12 after the first five-plus weekends of its conference season is now in an early hole in the NCAA Tournament.
Virginia, which rallied in the second half of 2021 to make a regional for the first time in four years, is on the brink of elimination following Friday's 4-3 loss to South Carolina at Founders Park.
The tough reality is the third-seeded Cavaliers (29-24) must win four straight to advance out of the Columbia Regional. On the contrary, they feel they've been playing with their backs against the wall since the beginning of April.
UVa plays again at noon, Saturday, against either top-seeded Old Dominion (42-14) or fourth-seeded Jacksonville (16-32), who played late Friday night.
"We've been playing like that the back half of the year and certainly I think it will help [Saturday]," said junior third baseman Zack Gelof, who went 3-for-5 with a home run and a couple RBI. "As a group we're definitely disappointed today, but when it comes to [Saturday], it's another chance to go out there and play with this group and this unit, so we're going to come out ready to go tomorrow and just have a lot of fun."
Friday's loss snapped a nine-game win streak in regional openers for Brian O'Connor's program. The 18-year Virginia coach hasn't had to climb out of a 0-1 hole since 2008. Those Wahoos, after falling to UCLA, went 1-1 the rest of the weekend and didn't advance past the NCAA Fullerton (California) Regional.
"It's win or go home," O'Connor said. "That said, whoever loses the winner's bracket game [Saturday] is in the same position that we're in. I feel good about the depth of our pitching staff to be able to do this, and we'll respond to be ready to play."
O'Connor was undecided on Saturday's starting pitcher, though Mike Vasil (7-5, 4.40 ERA), Nate Savino (2-3, 3.94) and Griff McGarry (0-5, 7.46) are probable options. Right-hander Zach Messinger, who started last week's win over Virginia Tech in the ACC Tournament, tossed 2 1/3 innings of scoreless relief Friday (39 pitches).
Back on the big stage
If Virginia didn't feel it prior to the sixth inning, the home crowd at Founders Park made it known this atmosphere was different from those the Cavaliers had played in this season.
In fact, the announced crowd of 5,444 was the largest to watch UVa in a road or neutral venue since 17,689 fans were on hand for the Cavaliers' 4-2 win over Vanderbilt in the deciding game of the 2015 College World Series finals in Omaha, Nebraska.
Founders rocked hardest Friday during South Carolina's three-run, two-out rally in the sixth that gave the Gamecocks a 4-3 lead.
"It was just another ball game," Zack Gelof said. "I guess you could say that if you can't put away teams early, like that, then the crowd will be in the game. But it really doesn't matter. We just got to be better from a pitching staff standpoint and then hitters, when we had the lead, we gotta extend leads."
Power Brothers, again
There's something about tournament play and the Gelofs.
Jake and Zack Gelof, Virginia brothers and teammates, homered in the same game for the second time in a week. They turned the feat against Notre Dame in pool play of the ACC Tournament on May 28. When they did it again Friday — Jake to left field, Zack to right — it happened in the same inning.
"I'm sure I'll be even more thankful maybe like down the road," Zack Gelof said of Friday's family accomplishment. "I think at the time it was to take the lead. So that was bigger in the moment. Definitely special when we can step up. It was good, but we just didn't do enough [to win the game]."
The Gelofs are the only brother tandem in the O'Connor era to homer in the same game.
Up and down
If Friday was his final appearance in a Virginia uniform, Andrew Abbott used it to move up the record books one last time. The Wahoo ace recorded six strikeouts, giving him 142 for the season. That's enough to jump program hall of famer Seth Greisinger for third-most in a single season.
Abbott is four behind Tim Burcham (146) for second-most Ks in a year.
Along with his strikeouts, Abbott allowed four runs on four hits and walked one batter in 5 2/3 innings. Wes Clarke's home run in the first ended Abbott's scoreless streak at 31 innings. It was also the first extra-base hat Abbott's yielded since giving up three HRs to Duke on April 23.