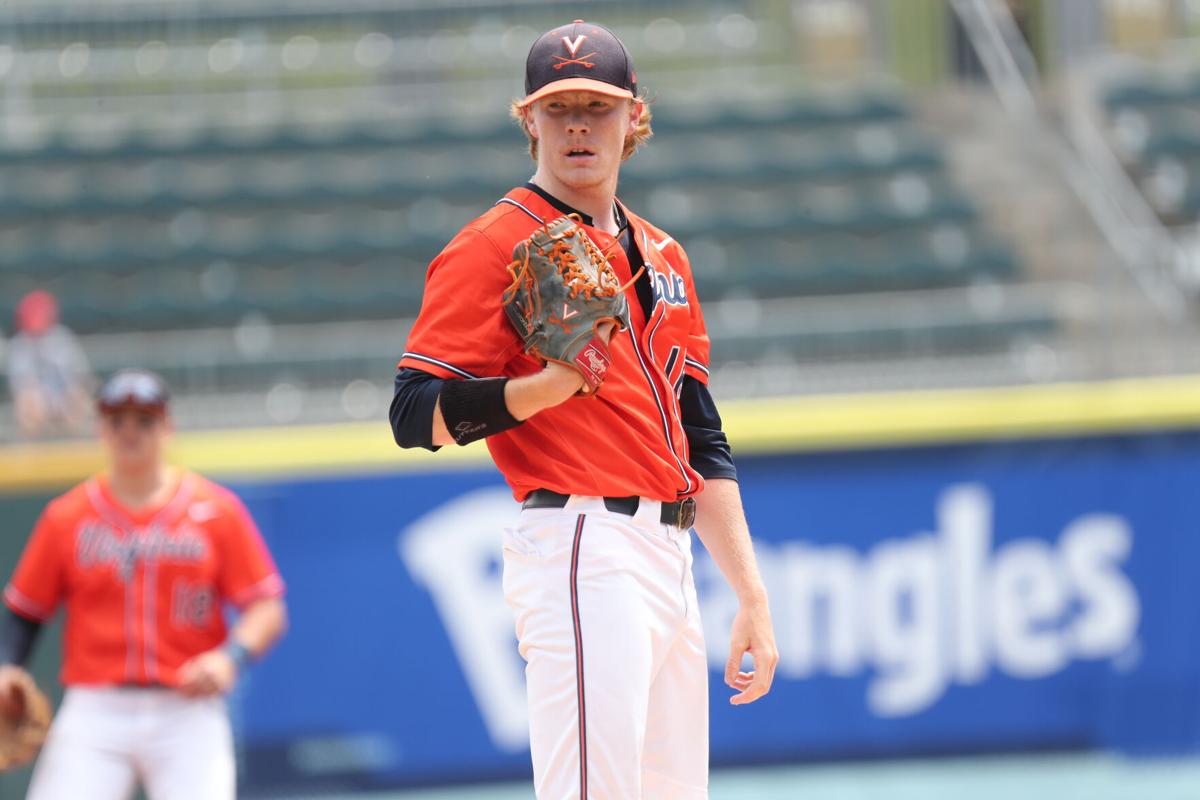 When Andrew Abbott takes the mound for the Virginia baseball team, everyone feels at ease.
Electric stuff coupled with what pitching coach Drew Dickinson describes as an attitude shift and an increased edge has Abbott nearly untouchable.
"He just went to a different place and has been pitching his ass off for us," Dickinson said.
Over the final six weeks of the season, Virginia's left-handed ace went from a top MLB prospect growing into a new role to arguably the most dominant starter in college baseball.
Dickinson credits the bulldog mentality plus a slight adjustment with Abbott's arm angle and added confidence in his changeup as reasons for increased success.
While Abbott wasn't poor to start the season by any means, what he's done the last few weeks is otherworldly.
Abbott boasts an ERA of 0.79 over his last five starts, and he hasn't allowed an earned run in any of his last four starts. He's struck out 44 batters in those four outings, going deep into each game and eating up 27 1/3 innings.
In one start, a 17-0 win over Wake Forest, he went 7 1/3 innings and struck out 16. Abbott didn't allow a hit as the Cavaliers combined to throw a no-hitter against the Demon Deacons.
"He's as good as there is out there," head coach Brian O'Connor said at the ACC Tournament. "Talk about making a statement, he's making a statement. What this guy had done down the stretch run is just remarkable."
With Abbott dealing the last month, the Virginia offense has played with confidence and put up football-like scores. First came a nine-run outing against Duke, then an 18-run explosion against Virginia Tech. Bronco Mendenhall's team only scored 13 against the Hokies on the gridiron in the fall.
The senior was greeted with 17 runs of support in the combined no-hitter against Wake Forest. The offense cooled off ever so slightly on May 20, only scoring a touchdown worth of runs in a 7-1 win over Boston College. In Abbott's latest start, against top-seeded Notre Dame in the ACC Tournament, the Wahoos doubled that and scored 14 runs in a blowout victory.
Dickinson doesn't think the offensive outbursts are a coincidence.
"He takes that field, our team is like, 'Oh, we're gonna win,'" Dickinson said. "Look what's happened now. We've gone and played so free because we have this ultimate confidence behind him, and we're winning games that you just don't win in baseball."
Early in the season, UVa didn't give Abbott much run support.
Virginia lost 3-2 in Abbott's first ACC start. He took his second loss of the spring in a 2-0 loss at Florida State, as the offense once again sputtered. The team fell to Pitt 2-1 in his fourth start, handing him another tough-luck loss.
Abbott started the season just 1-4, and in the one start when did receive five runs from the offense, he allowed six runs in 4 1/3 innings to Notre Dame. UVa lost 10-5.
Abbott started the season 1-4, but he felt his best was yet to come. He felt the same about the team's lineup. UVa hadn't faced ACC-level pitching in game action in a year due to COVID-19, and Abbott felt confident the team would get hot after seeing elite pitching regularly.
"We knew that hitting was going to turn the corner eventually, we just wanted to stay afloat," Abbott said at the ACC Tournament. "When that happened, we'd be good to go. We're getting a glimpse of what we can do now when both things are working the last few weekends."
After the 1-4 start to the spring, Abbott's record sits at a solid 8-5. He leads the team in innings pitched with 89, and his ERA dropped below 3.00 to 2.63. He's struck out 136 batters this season and is only the second pitcher in program history with 300 career strikeouts despite starting his career in the bullpen.
"He's been great for us," redshirt senior catcher Logan Michaels said. "He's been attacking hitters, throwing a lot of strikes, filling up the zone, that's the biggest thing. All his pitches are really sharp."
Everything seems to be clicking for Abbott with NCAA Regional play beginning Friday.
He gives Virginia one of the best weapons in college baseball entering the postseason, and he's expected to take the ball Friday against South Carolina. Winning the first game of a Regional is paramount in advancing to Super Regionals.
Needing a victory on the road in the biggest game of the season, UVa will hand the ball to one of the hottest pitchers in the sport.
"I pray to God he pitches the way he has this Friday," Dickinson said. "That means we're 1-0 and we're in the driver's seat sitting in the winner's bracket game on Saturday night."