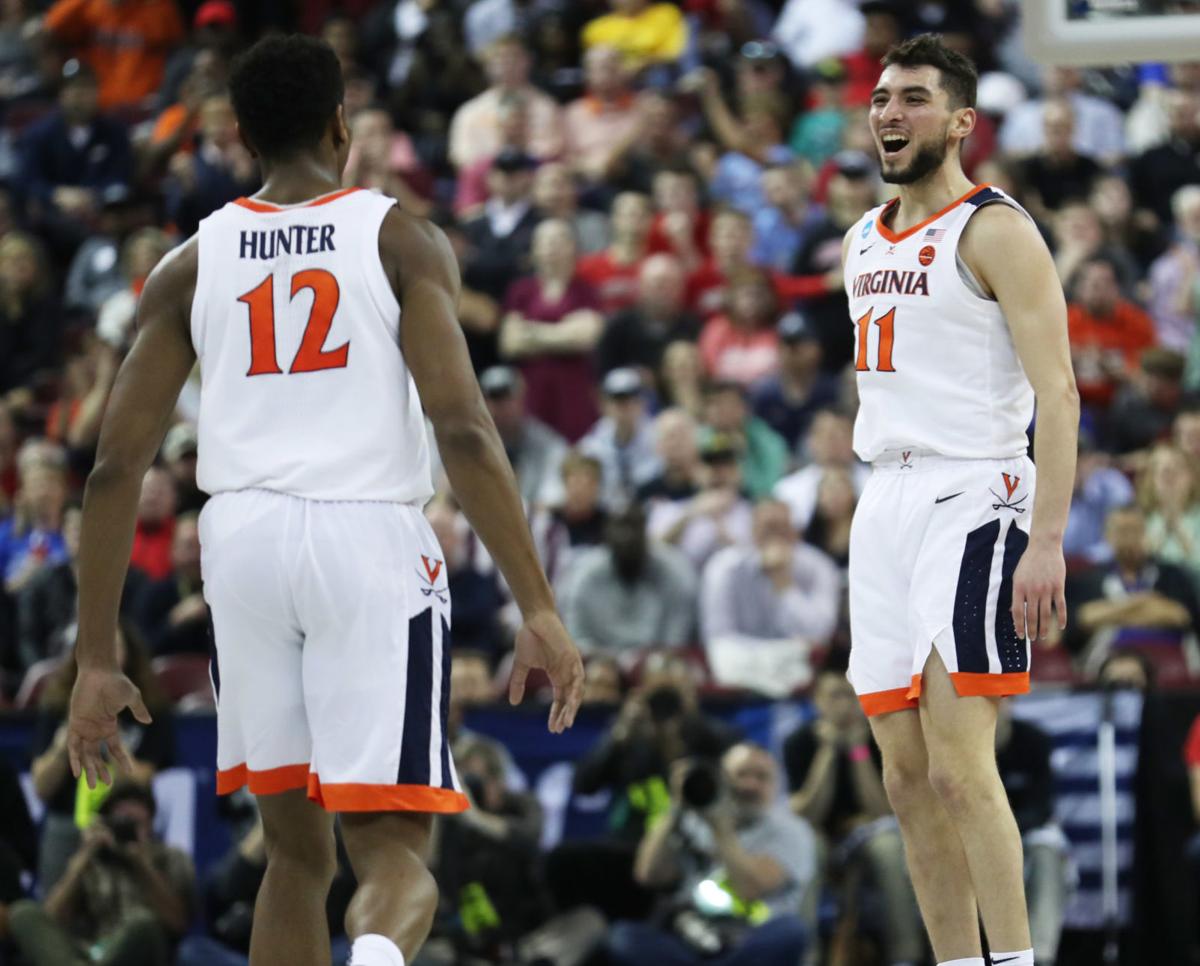 When Justin Anderson and Ty Jerome founded Locker Room Access, the duo wanted fans to receive an inside look at everything about the Virginia basketball program. From the players to the coaches to the families and friends that make up the program, Locker Room Access wanted to shed light on the Cavaliers.
With the sports world on hold due to COVID-19 and people losing jobs and some losing their lives, Locker Room Access wanted to help, while still giving fans access to the people who make up the UVa men's basketball program.
The platform, which includes a website, discussion forum, shop and podcast, will host an NBA 2K Tournament in the coming weeks. The video game tournament will benefit Aramark employees who work at UVa and are losing out on wages due to UVa's grounds and sporting events temporarily shutting down. The event also coincides with an auction of various memorabilia, including a signed Ty Jerome Phoenix Suns jersey and a 2019 national championship hat signed by Jerome.
Other items include the chance to bid for entry into the 2K Tournament and a chance to compete against Jerome in one of the practice rounds for the event. Fans can bid for a similar item with their practice round coming against manager Grant Kersey. There's also a raffle to play a practice round against Kyle Guy or Anderson. Every $1 donated serves as one raffle ticket for a chance to play the two former UVa stars while the winner also earns a spot in the tournament.
Every dollar raised from the auction goes directly to the Aramark employees affected by the loss of wages. The tourney comes after UVa separately announced a $2 million emergency assistance fund for contract employees and workers who have been furloughed.
Aramark employees were among those furloughed.
"We feel like it's a great opportunity for these guys to show love and support the other way," said TW Huang, a 1999 UVa alumnus and business partner with Locker Room Access. "It's always fans coming, supporting them. This is the other way around."
Mark Jerome, Ty's father and an accomplished basketball coach in the New York area, also helps with Locker Room Access. He hosts the platform's podcasts with Huang, and the two discussed raising money for hourly workers in the UVa community who are out of work during a recent podcast.
After Mark saw Ty in a 2K Tournament, he suggested to Huang that they do that for charity. Huang, who works at Twitch, liked the idea and the ability to live stream the games through Twitch for fans to watch and engage with the former UVa athletes in the tournament.
"We're hoping this really can help save some people or support some people through a really rough time," Mark Jerome said.
The idea is turning into a reality in the next week.
There's an extensive list of UVa athletes registered for the tournament, which starts April 30 after practice rounds this weekend. The bracket will be released Monday.
On the football side, athletes like Joe Reed, Hasise Dubois, Quin Blanding, Olamide Zaccheaus, Amhad Hawkins, Jake McGee and Luke Bowanko are registered. Pro baseball players Connor Jones and Riley Wilson are registered. As far as UVa men's basketball, Sean Singletary, London Perrantes, Isaiah Wilkins, Justin Anderson, Ty Jerome, Kyle Guy and De'Andre Hunter are all on board.
"This embodies a lot of what we want to do, which is have a platform for the players to express and control the narrative in terms of player empowerment, so this is something they want to do and they can control how they do it and they don't have to rely on anyone else," Huang said. "There's no middle man that's taking money and 100% of everything goes to charity."
The idea, which Locker Room Access has posted on social media for a few days, has gained interest. Players from UVa programs showed interest by joining the tournament and in some cases agreeing to sign memorabilia.
Outside of UVa, there was interest from other schools and former Golden State Warriors star Baron Davis, who liked the idea of doing something similar with the Warriors.
Huang and Jerome know the video game tournament isn't a ground-breaking idea — the NBA played a tournament earlier in the month with Suns guard Devin Booker winning the event — but they hope doing this with former collegiate players could start a trend of giving on a smaller scale.
"There are so many people who are in need right now, and we hope this catches on," Mark Jerome said.
For a platform that wants UVa fans to have inside access to the people who make up the men's basketball program. Huang and Jerome believe a live-streamed 2K Tournament to benefit those in need is an ideal option during this unusual time.
"First of all, when you're playing games, you're staying inside and you're social distancing and if you're watching on Twitch you're obviously staying at home, staying busing and you're still in sports and supporting something you like," Huang said. "It feels like it just checks all the right boxes off."
Be the first to know
Get local news delivered to your inbox!