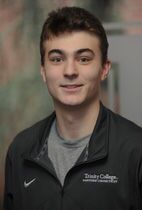 Jake Malasek has just over 800 Twitter followers.
By no means is Malasek Twitter famous, but the University of Virginia junior is quietly building a reputation as a sports social media talent.
Malasek, who transferred to UVa after spending a year at Trinity College in Connecticut, helps run the UVa Barstool social media pages. The account boasts over 30,000 Instagram followers and more than 10,000 Twitter followers.
A media studies major, Malasek also creates video content for the UVa men's lacrosse team's social media pages. More than 30,000 people follow the team on Twitter.
Arguably Malasek's most interesting sports social media work comes from "@SASBurnerAcct," an account that tweets memes, videos and GIFs of ESPN personality Stephen A. Smith. Malasek edits videos for the account to tweet out, and he's helped play a part in the account's growth to over 400,000 Twitter followers.
On any given day, Malasek's videos and social media posts are being sent out to an audience of roughly 500,000 people.
"If you told me what I'd be doing today three years ago, I would've told you you were insane," Malasek said. "This is not at all what I expected my college experience to be like, and I'm very grateful that this is what ended up happening."
At Trinity College, Malasek played lacrosse as a goalie for the Division III school. He planned on majoring in economics and ultimately getting a finance job in New York following graduation, because that's what his teammates planned on doing.
His plans quickly changed when he arrived at UVa.
"I came to UVa my second year and kind of realized that there are more than just three majors that were offered instead of what it used to be for me," Malasek said. "I kind of explored a little bit and the summer going into my second year I interned with the World Lacrosse Championships, so I kind of got to see a little behind the scenes of sports media, and that really got me excited."
Malasek's excitement quickly turned into opportunity.
He knew some of the people running UVa's Barstool pages and they reached out after seeing some of his video work. He started helping run the page in April of 2019. He frequently creates hype videos before UVa athletic events.
The connection to the Virginia men's lacrosse program formed when he tried out for the team after transferring to UVa. While Malasek didn't make the squad, he built a relationship with head coach Lars Tiffany. The coached helped him find a role within the program's social team.
In December, the Stephen A. Smith burner account used an edited 11-second video of Stephen A. Smith. The quick video where Smith says he's having a bad day with music playing in the background has millions of views on Twitter and is the account's most viewed video.
After making the video, Malasek reached out to the owner of the account and told him to let him know if he ever wanted more clips. Now, Malasek receives a couple ideas a week and makes videos for the account.
"I know basically zero about the guy," Malasek said of the Stephen A. Smith burner account owner. "His contact in my phone is even 'Stephen A. Burner,' like, he has not told me anything about himself."
The man behind the account, which is growing in popularity and has been acknowledged by Smith himself, wants to remain out of the public eye.
That's fine with Malasek, who does his work for the account, UVa Barstool and UVa men's lacrosse for free and without his name on much of the content.
With another year left at UVa, Malasek hopes he's able to leverage his unique experiences into a job in sports upon graduation.
While most people don't know he's the brain behind some phenomenally popular sports social media content, Malasek knows the content helps him stand above the crowd. When looking for a job in sports next year, his resume will feature a wide range of impressive accomplishments and unique roles.
His 11-second Stephen A. Smith bad day video has millions of views and few know it. Malasek believes the creative work for no pay and little credit will pay off in the long run.
"I think that when I'm looking for these jobs and I can kind of bring that up that I made this, that will give me a lot more credibility than having my name on it and having a quarter of the views," Malasek said. "If I go to an interview and that's my resume, I'm OK with that."
Jake Malasek isn't Twitter famous, but he's helped others reach social media stardom.
Be the first to know
Get local news delivered to your inbox!