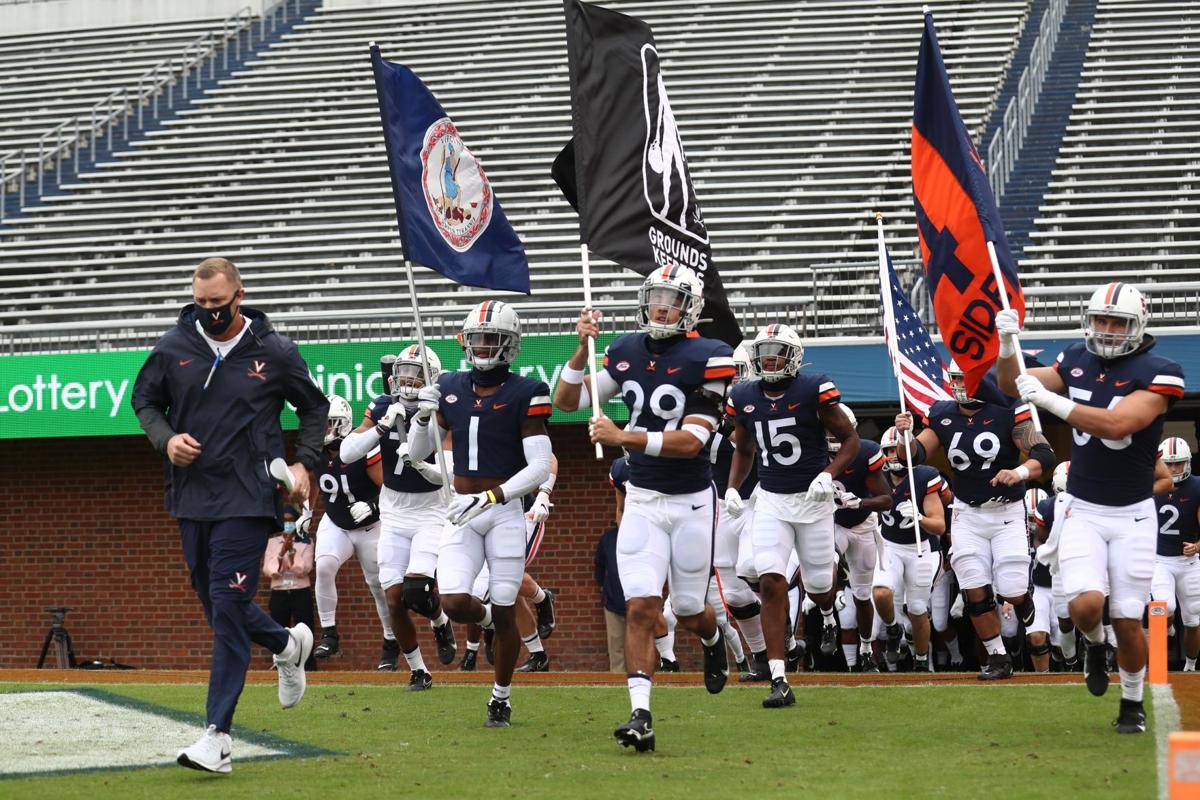 Minutes before the Virginia fall sports season began with the women's soccer team's match against Virginia Tech on Sept. 12, a majority of starters for the Cavaliers took a knee during the national anthem.
After months of social unrest nationally following the deaths of George Floyd and Breonna Taylor, members of the team decided to take a knee to protest racial injustice and police brutality in the U.S. Not every member of the team kneeled, but teammates respected the decisions of their peers, regardless of whether they stood or not.
"We wanted to make sure that everyone was doing something that they were comfortable with," sophomore Diana Ordonez said after the match. "Whether you wanted to kneel or you wanted to stand, we're a team. We all support each other. We're all in support of the [Black Lives Matter] movement. There was no pressure to knee or not knee, it doesn't matter. We were all linked. We were all touching each other. We were all together."
Ordonez and the women's soccer team aren't the only UVa student-athletes to use their platforms to speak out against social injustices in recent months.
Hailey Barnett and Myla Grace Barnett, twin athletes at Virginia, created an Instagram account this offseason called "@Athletes4BLM" in support of the Black Lives Matter movement. They've received and posted video messages from dozens of athletes sharing why Black lives matter. Other athletes submit videos sharing what it's like to be a Black student-athlete, while others share why it's important to be an ally to their peers.
Other Virginia athletes, such as Mattison Matthews, followed the women's soccer team's path and took a knee during the national anthem in volleyball team's first match of the season. Even with potential blowback from fans, UVa's athletes have gone forward with speaking up for what they believe in.
"It's very important that we were able to express ourselves in the way that we wanted to and protest in the way that we did," Ordonez said. "I think it sent a message. No matter how it's received, we know in house what that meant to us. I think it's really important that we were able to express that for each other and our teammates and of course, the movement."
Last Saturday marked the first time the Virginia football team took the field for a game in roughly 10 months. The student-athletes took advantage of the stage, using the national televised game to send a message to viewers.
Several UVa players created a group called The Groundskeepers during the offseason. The community outreach group wants to engage the community in the long term to help improve Charlottesville and make it a more just and loving place.
One of the offseason initiatives of The Groundskeepers was to lead a march from Heather Heyer Way back to Grounds. The march was designed to give the community a sense of taking back Grounds after white supremacists came and overtook the area in 2017 for the Unite the Right rally.
Safety Joey Blount ran out of the tunnel Saturday with a Groundskeepers flag.
"It was really exciting seeing Joey run out right next to me with something that we worked so hard, especially during quarantine building a foundation on," cornerback Nick Grant said Monday, while wearing a Groundskeepers sweatshirt.
Wide receiver Terrell Jana was among one of the UVa players to compete Saturday without his last name on the back of his jersey.
According to a feature article in UVa's game day book, Jana thought of the idea when he visited UVa's Memorial to Enslaved Laborers this offseason. The memorial was built to honor the slaves who helped build UVa and kept the university running in the early and mid-1800s.
Jana noticed that many of the names listed on the memorial didn't include last names. He felt those people, who helped make UVa what it is, were forgotten. He decided to exclude his last name from his jersey to pay tribute to those who weren't remembered.
"I thought it was tasteful," head coach Bronco Mendenhall said Monday. "I thought it was substantive. I thought it was well thought out and I thought it was powerful with him not drawing attention to himself, but possibly just asking folks to contemplate, 'How could that be?' And I was in support of it."
Be the first to know
Get local news delivered to your inbox!