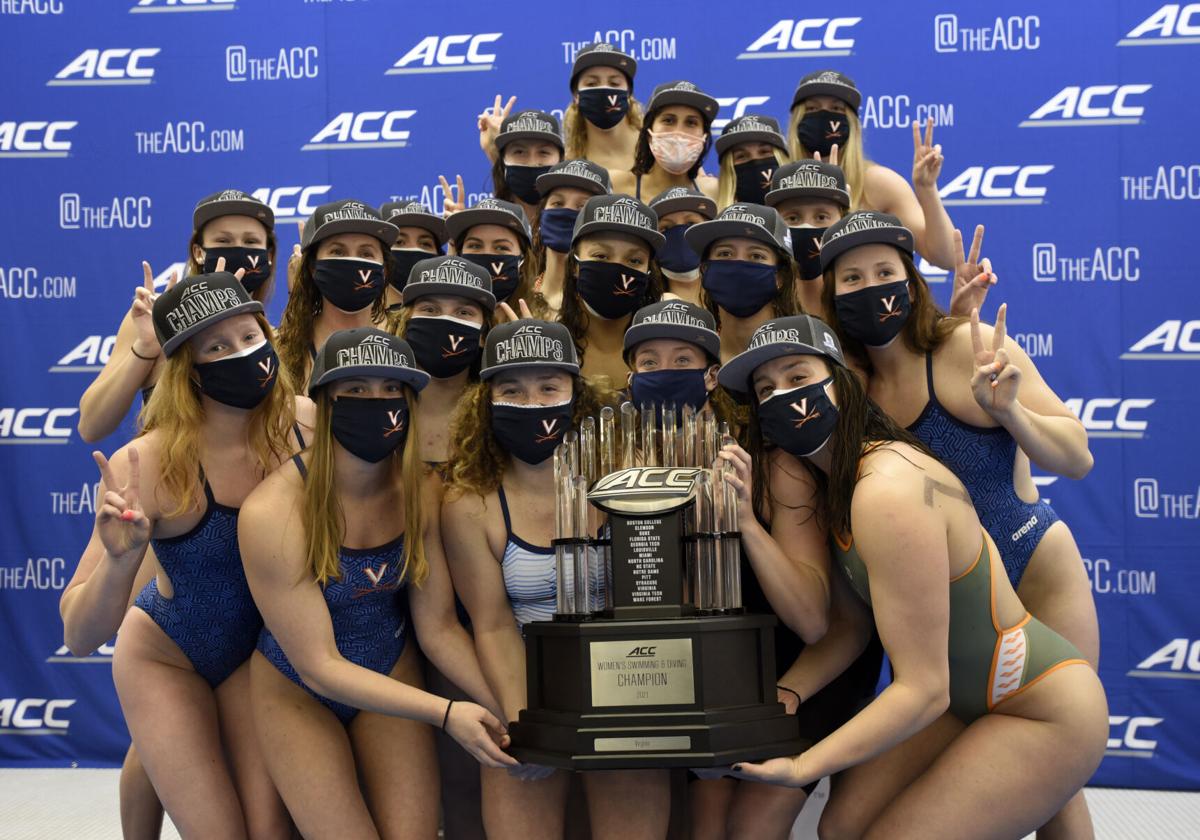 The Virginia women's swimming and diving team won the 2021 ACC Championship on Saturday with four event wins on the final night of competition at the Greensboro Aquatic Center.
The Cavaliers won the title with a score of 1,486. NC State was second (1,317) and Louisville finished third (1,006.5).
Paige Madden started the night with a win the 1,650-yard freestyle with a time of 15:45.45 and Maddie Donohoe placed third in 16:10.32. Alex Walsh podiumed with a third-place finish in the 200-yard backstroke, clocking in with a time of 1:51.12. Kate Douglass secured another ACC title with a 46.83 finish in the 100-yard freestyle. Lexi Cuomo finished fourth (48.52) and Kyla Valls was seventh in 49.37.
UVa took the top-two spots in the 200-yard butterfly. Jessica Nava won the ACC title with a time of 1:54.49 and Abby Harter was second in 1:54.93.
Virginia closed out the night by cruising to the win in the 400-yard freestyle relay to sweep all of the relays. Douglass, Cuomo, Madden and Walsh, respectively, finished in a time of 3:10.14, four seconds ahead of second place.
Houge's 12 K's help UVa split games
The Virginia softball team (2-3, 1-2 ACC) split action in ACC pod play in North Carolina on Saturday, dropping the morning contest with Louisville (2-4, 2-2 ACC) by a score of 5-4 before taking a 4-2 victory over Pittsburgh (1-4, 1-2ACC) to close the day's action.
Freshman Mikayla Houge struck out 12 batters in her start against the Panthers, picking up her first career win. The 12 strikeouts is the most by a Virginia pitcher against an ACC opponent since Melanie Mitchell struck out 13 against Boston College on March 30, 2013.
Duangmanee paces Hoos in Tallahassee
Virginia freshman George Duangmanee shot even-par 72 to lead a group of four UVa golfers competing as individuals at the Seminole Intercollegiate in Tallahassee, Fla.
He stands in 36th place after the first two rounds at 2-over 146.
Senior WeiWei Gao is two strokes behind Duangmanee on the leaderboard in 45th place. He shot 74 for the second consecutive day for a two-round total of 4-over 148. Senior Andrew Orischak also carded a round of 74 and is 67th at 153. Senior Jimmie Massie is 81st at 160 after shoot 80 for the second consecutive day.
Duignan leads Virginia pole vaulters
A trio of pole vaulters competed at the Virginia Tech Challenge on Saturday to wrap up the Cavaliers' regular-season schedule. Junior Colin Duignan turned in the top performance, setting a collegiate best mark of 4.92m (16'-1.75") to finish fourth overall.
Classmate Kane Aldrich placed eighth in the competition with a best clearance of 4.77m (15'-7.75"). On the women's side, sophomore Maya Maloney cleared 3.74m (12'-3.25") and finished 10th.