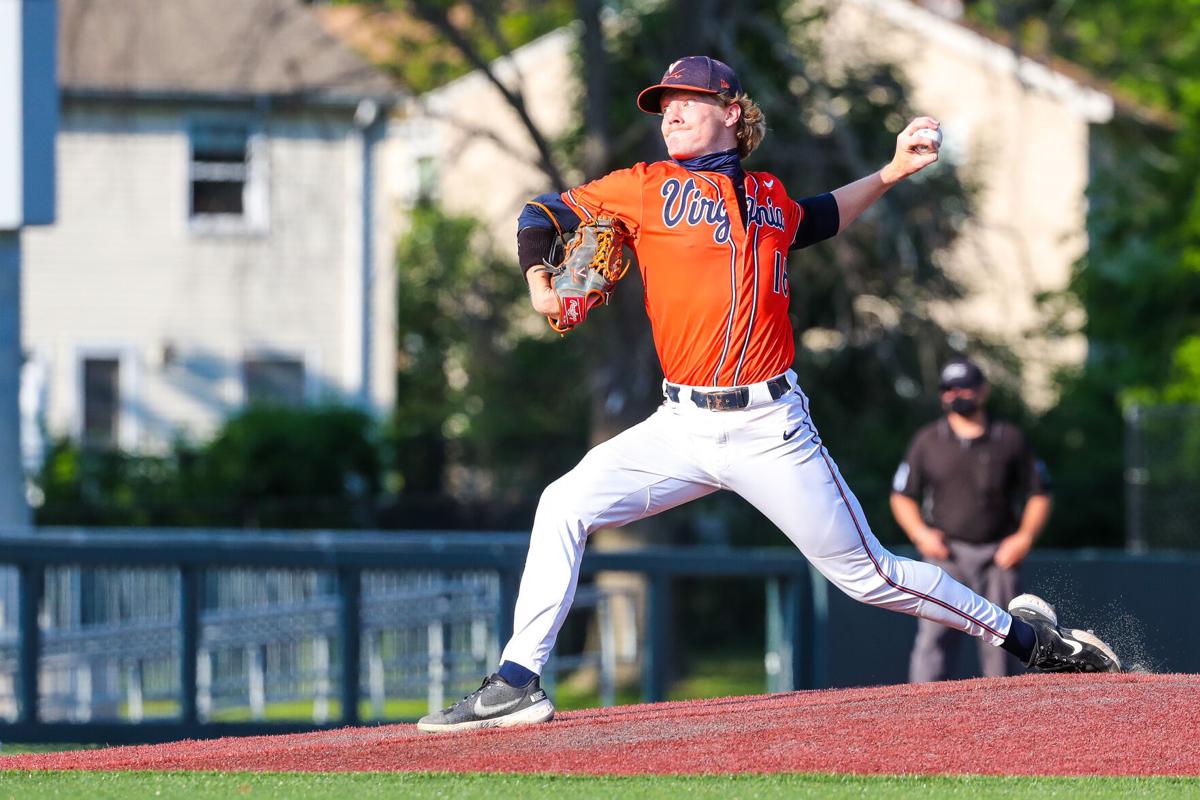 The Virginia baseball team begins ACC Tournament play Tuesday, and it will do so with three All-ACC players on its roster.
The conference announced All-ACC honors Monday afternoon, and a trio of Cavaliers made the list. Andrew Abbott, a senior left-handed pitcher, earned a spot on the first team, while junior third baseman Zack Gelof landed on the second team and freshman designated hitter Kyle Teel received third-team honors. Teel is also a member of the ACC's all-freshman team.
Abbott was stupendous for Virginia in the regular season, finishing the year with an ACC-leading 126 strikeouts in 81 2/3 innings pitched. He went 7-5 with a 2.87 ERA, playing his best baseball toward the end of the season. He led the way in the team's combined no-hitter against Wake Forest, striking out 16 over 7 1/3 innings.
Gelof finished the season on a hot streak and is currently the team's leadoff hitter. He checks in only behind Teel on the team in batting average with a .294 average. Gelof has hit six home runs and driven in 31 runs. He's also second on the team with 10 stolen bases.
Teel's freshman season has been impressive. He's only played in 40 of UVa's 49 games after missing some time to start the season. Since he joined the lineup, he's been on a tear. He leads the team with seven home runs and has also driven in 31 runs. His .497 slugging percentage leads the team.
Navarro advances
Freshman Emma Navarro is headed to the Sweet 16 of the NCAA women's tennis singles tournament. Virginia's top player defeated Arizona State's Ilze Hattingh 1-6, 7-5, 6-0 to advance to face Georgia's Meg Kowalski on Tuesday.
The No. 3 seed in the 64-player field, Navarro inches closer to a national championship bid.
Natasha Subhash, a sophomore, was unable to join Navarro in the round of 16. She lost 6-7 (6), 6-0, 6-1 to North Carolina's Alexa Graham on Monday.
Navarro and doubles teammate Rosie Johanson moved to the second round of the doubles event with a three-set win over California's Haley Giavara and Valentina Ivanov. Subhash and doubles teammate Sofia Munera also used a three-set victory to punch their ticket to the second round of the doubles tournament. Subhash and Munera defeated Tulsa's Marina Okalova and Vera Ploner.
Lillie places ninth
UVa senior golfer Beth Lillie ended her NCAA Championship run with a solid final round, shooting a 2-under round of 70 in her final 18 holes of the four-round event in Arizona. Lillie shot even par over the four days to finish in a tie for ninth place.
Lillie's final round Monday got off to a fantastic start. She recorded an eagle on the second hole, a 360-yard par 4. She followed that up with a birdie, beginning her round with an ideal start. She got to 4-under par for the day after a birdie on No. 6, but added three bogeys over her next six holes. A near-ace on the 13th hole led to an easy birdie, and she added pars on her final five holes for a 2-under round.