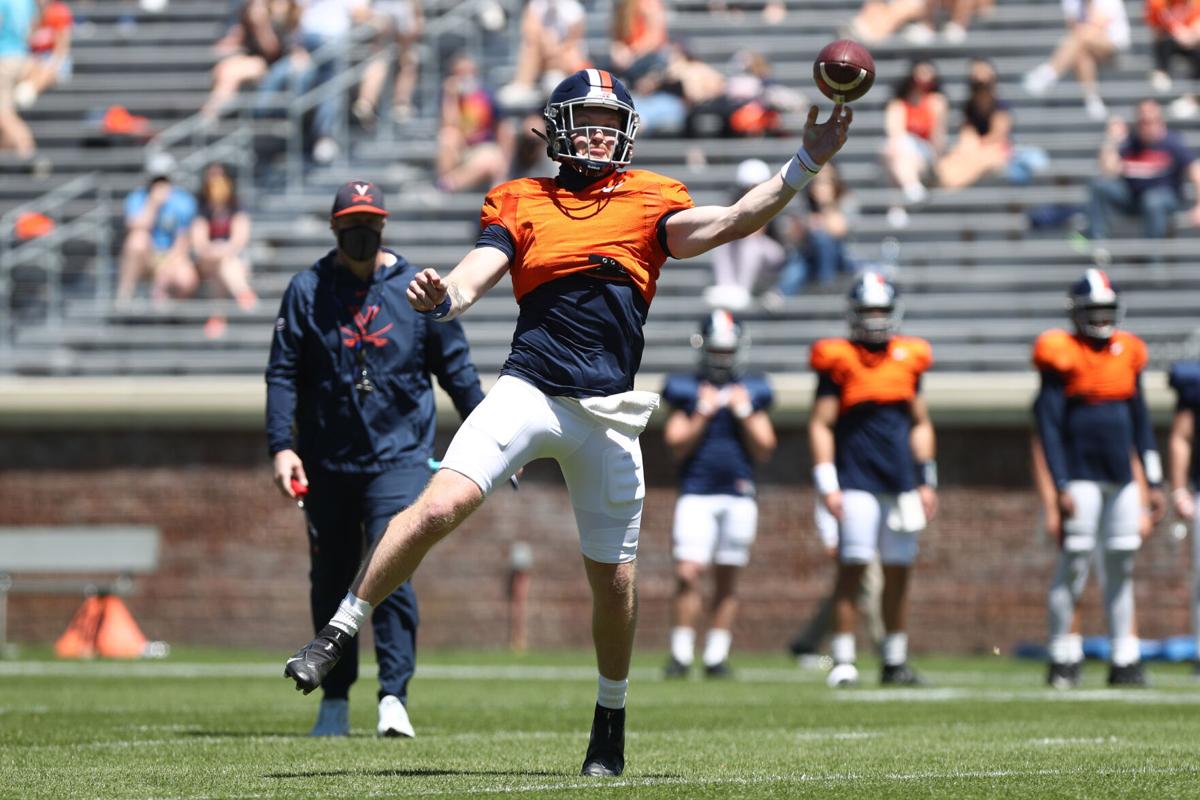 Brennan Armstrong's first season as Virginia's starting quarterback opened slowly. Thanks to a strong second half, the Cavaliers' signal caller landed on the preseason 2021 Maxwell Award watch list.
The Maxwell Award is given annually to college football's top player. The watch list was announced Monday, and Armstrong is one of eight ACC quarterbacks to make the list. A total of 80 players appear on the watch list, with 13 coming from the ACC.
The left-handed quarterback made some impressive plays against Duke, Clemson and N.C. State in his first three collegiate starts last season, but he also fired six interceptions compared to five touchdown passes and suffered a concussion in the first half against the Wolfpack.
After a one-game absence due to the concussion, Armstrong played well late in the year. He tossed only five interceptions over the final six games of the season and scored 17 total touchdowns. On the season, Armstrong threw for 2,117 yards in nine games. He threw 18 touchdowns compared to 11 interceptions and rushed for over 500 yards and five touchdowns.
He hopes to build on his first season as UVa's starter, and the Cavaliers hope the redshirt junior lives up to his billing as a potential Maxwell Award candidate.
Meyer shines in California race
UVa graduate student Michaela Meyer made school history Sunday night in a Sound Running Sunset Tour competition in California.
The elite runner completed a 1,500-meter race in 4:04.02, the fasted time in program history. It's the fastest time run by a female ACC athlete.
Meyer's time is second all-time among collegiate runners, trailing only Colorado's Jenny Barringer, who ran an outdoor 1,500-meter time of 3:59.90 in 2009.
Meyer's excellent time hit the standard qualifying time needed to make the 2022 World Athletics Championships. She also qualified for the World Championships in the 800 meters, becoming an Olympic alternate in the process.
Meyer began her collegiate running career at Delaware before coming to UVa as a graduate transfer. She's still eligible to run cross country in the fall if she wants. She also has hopes to become a professional runner at some point soon.
Field hockey adds assistant coach
Alyssa Parker, a former Maryland standout and U.S. women's senior national team member, joined UVa field hockey's coaching staff. The news was officially announced Monday.
"She was on everyone's shortlist as the next great young coach," Virginia head coach Michele Madison said in a statement. "I am happy the challenge to work at UVa resonated with her as much as her value resonated with us."
Parker served as an assistant coach at Saint Joseph's last season. She graduated from Maryland in 2016 before embarking on a career with the national team. She retired earlier this year and has pursued coaching opportunities in the time since.