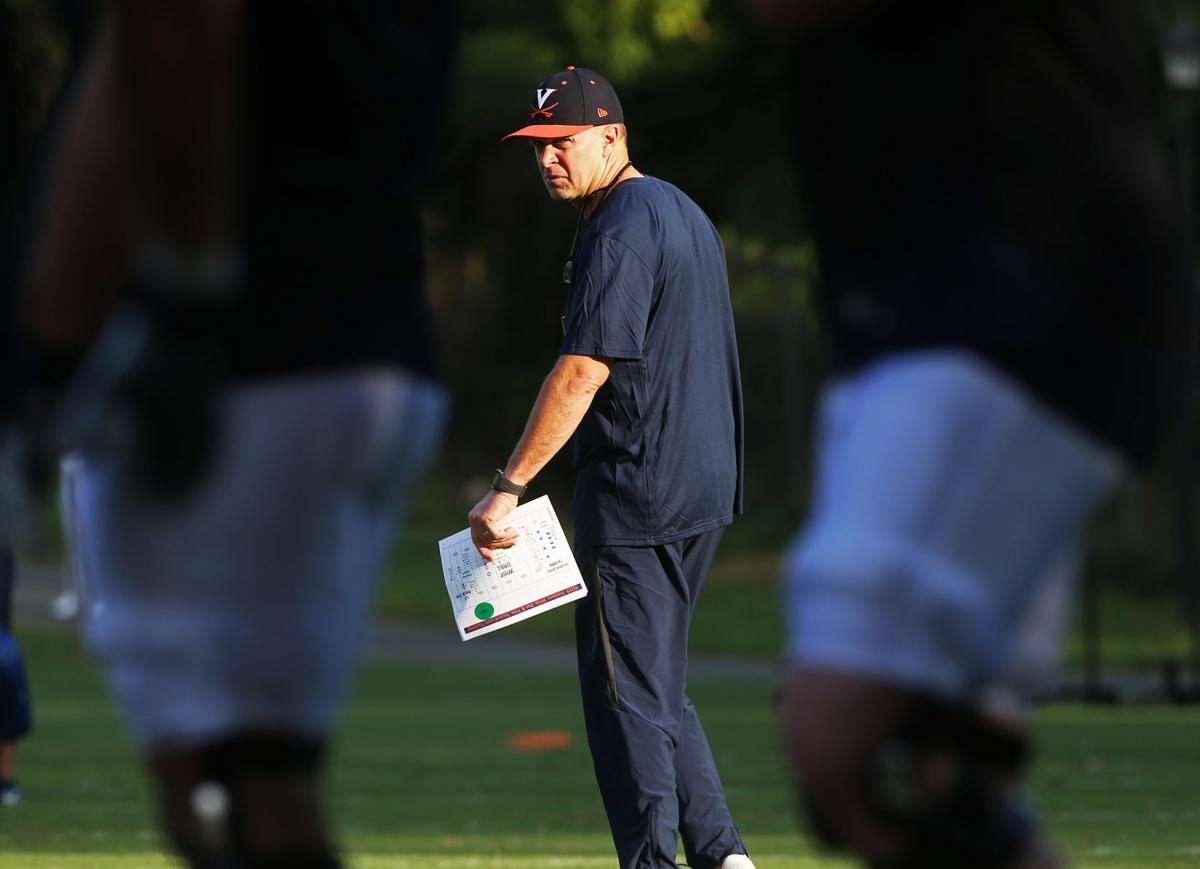 As June winds down, we're roughly two months away from the start of the fall sports season. It's anyone's guess as to how the fall will play out with COVID-19 still a very real threat, but as of now, the fall season is set to take place.
With games hopefully on the horizon, we changed things up a bit this week and asked for questions from readers. Here are a few of the questions readers want to know ahead of the fall season.
Question: When will the Virginia football team return to Charlottesville?
Answer: Bronco Mendenhall and the Cavaliers announced Friday that they'll return to grounds for voluntary workouts on July 5. From July 5-14, the Cavaliers will take part in those workouts.
Required activity begins on July 15 and lasts through July 25. The next couple weeks also feature required activity, but the allowed hours of work per week increases from eight hours to 20, according to NCAA guidelines.
Fall training camp for the Cavaliers opens Aug. 9 in anticipation of the team's Sept. 7 season opener against Georgia in Atlanta.
With COVID-19 still a concern, players can opt out of returning to grounds at no penalty. Mendenhall will honor scholarships through the entire academic year, even if players decide not to play because of the virus.
Q: When will the Virginia men's basketball team return to Charlottesville?
A: There's no official word on when Tony Bennett and the Cavaliers will get back to work this summer in preparation for the 2020-21 season. The team is allowed to return to grounds per NCAA guidelines, but coaches can't work with players until required activity is allowed to begin July 20.
With that in mind, it'll likely be a couple weeks until the Virginia men's basketball team returns to grounds. Given the football team's impending return, the university feels comfortable bringing athletes back, but there's less urgency for a winter sport like basketball to return than there is for a fall sport like football.
Waiting a couple weeks — if that's what the men's basketball program chooses to do — also gives the program a chance to learn from how football handles its return.
Q: Does UVa have an expected date to say whether or not fall sporting events will have fans at them?
A: In Virginia's latest press release regarding the football team's return to play, the athletic department said it "is considering various contingency scenarios to accommodate fans."
That could range from events at full capacity to events with no fans allowed. In all likelihood, football games won't operate at full capacity in the fall. Expect limited crowds at the very least. It's unclear how fan attendance at Olympic sports will be handled.
There's no exact date for when UVa will announce plans related to crowds, but the athletic department is trying to find a safe solution.
Q: Could fall sporting events be canceled?
A: The short answer is yes.
It's hard to know how COVID-19 will impact any of the fall seasons, but it's unlikely that all of the fall seasons will go on without issues. A few Division III programs have canceled fall sports entirely. The Patriot League announced that no teams will fly to competitions this fall, which will result in some scheduling changes for those teams.
It's only June, and fall sport scheduling changes are in the works across the country. Uncertainty remains, but scheduling changes and potential cancellations loom.
Q: Do you think UVa is in danger of losing any football recruits due to COVID-19?
A: When it comes to the 2020 recruiting class, those players have signed their national letters of intent and plan to play for the Cavaliers. Some players across the country might transfer to schools closer to home, but at this point the Cavaliers' 2020 class seems committed to the Wahoos.
While the pandemic could certainly impact the 2021 recruiting class, the Cavaliers have already built up a solid class of recruits. With a COVID-19 vaccine expected in the next 12 months, it's unlikely the pandemic will dramatically impact the decisions of those verbally committed athletes who wouldn't take the field until the 2021 season.
The recruiting impact of COVID-19 is a bit difficult to predict at this time, but the Cavaliers currently sit in a great spot when it comes to their football recruiting classes.
Be the first to know
Get local news delivered to your inbox!