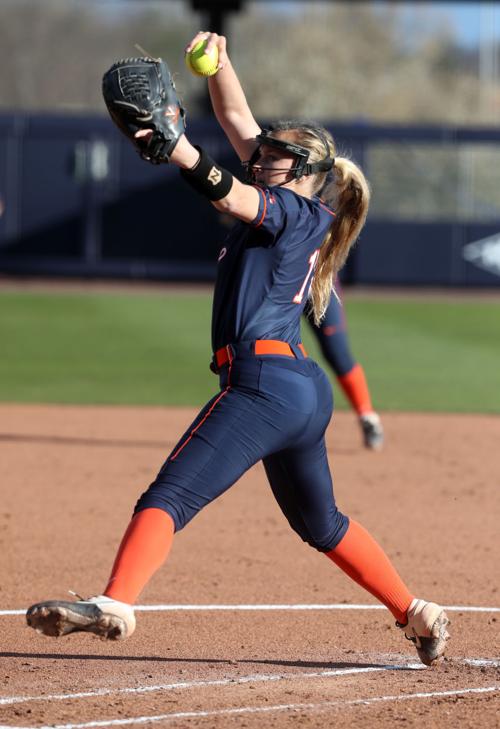 The last time the Virginia softball team won the ACC championship, its current players weren't born.
It's been nearly three decades since the program reached the top of the ACC in 1994, but the Cavaliers want to return to that level. They want to become a national force.
Their goal entering the 2021 season is to win the ACC. While winning the conference shouldn't be a shocking goal, what makes the goal interesting is UVa's willingness to tell the world about it.
The Cavaliers posted a video to social media on May 15 with the caption "One Goal – The ACC Title." The tweet also included the projected date, May 15, 2021, of the ACC Championship. The Cavaliers announced their goal of winning the conference title to everyone.
"The goals have always been like just be better and get better and growth mindset and see growth," Virginia head coach Joanna Hardin said. "We felt that it was time to say, we need to put something pretty audacious forward that we can actually really pursue. We understand it's been 27 years and hasn't happened in a long time."
Hardin admitted it's a lofty goal. In her three full seasons leading the Cavaliers, Hardin's group has gone 20-52 in ACC games. In the shortened 2020 season the Wahoos were 0-6 in league action.
Taking a step from a below .500 team to an ACC champion is a major jump. Fortunately for the Cavaliers, they have the pieces to make an improvement.
Virginia only had one senior on its 2020 roster. While Riley Wilkinson won't return, the Cavaliers bring back an abundance of contributors. Aly Rayle, a sophomore in 2020, leads the way as the team's returning ace. She impressed in 2020, tossing 57 2/3 innings and posting an ERA of 2.91. She struck out a team-high 74 batters.
Rayle likes what the Cavaliers return in 2021.
"We're all really excited and eager to get after it," Rayle said. "I think it's really helpful to have such a high goal and such a clear goal and know what we're aiming for. It really puts everything that we're doing in context and unites us all to fight for that, so it's been great so far."
Molly Grube, a freshman in 2019, also logged successful innings. She tossed 46 1/3 innings and finished the year with a 3.63 ERA. The Cavaliers hope to develop additional depth outside those two players.
At the plate, the Cavaliers return everyone. Sophomore Donna Friedman was particularly impressive in 2020, smashing three home runs and batting .324. Freshmen Tori Gilbert and Katie Goldberg both also launched three home runs in 2020.
Virginia's lineup returns with years of eligibility remaining.
While winning the ACC still seems like a rather lofty goal, there are reasons for optimism for the Cavaliers. They recently opened their new facility and stadium, and the team features talented underclassmen.
"If we fall short, evaluate where we're at and what not, but it's time to put something pretty big on the line," Hardin said.
Unfortunately, COVID-19 makes the pursuit more challenging. How will the Cavaliers develop at home without softball summer leagues and unknowns about how much they'll be able to practice this fall?
Wanting to win a league without spending time developing as a team makes the future exceptionally challenging.
The Cavaliers believe they're up for the challenge.
"I think this summer is going to be a real difference maker," Hardin said. "Do we use our time to grow and get better or are we just kind of waiting around? I'm confident that our girls are really using the summer to grow."
Be the first to know
Get local news delivered to your inbox!