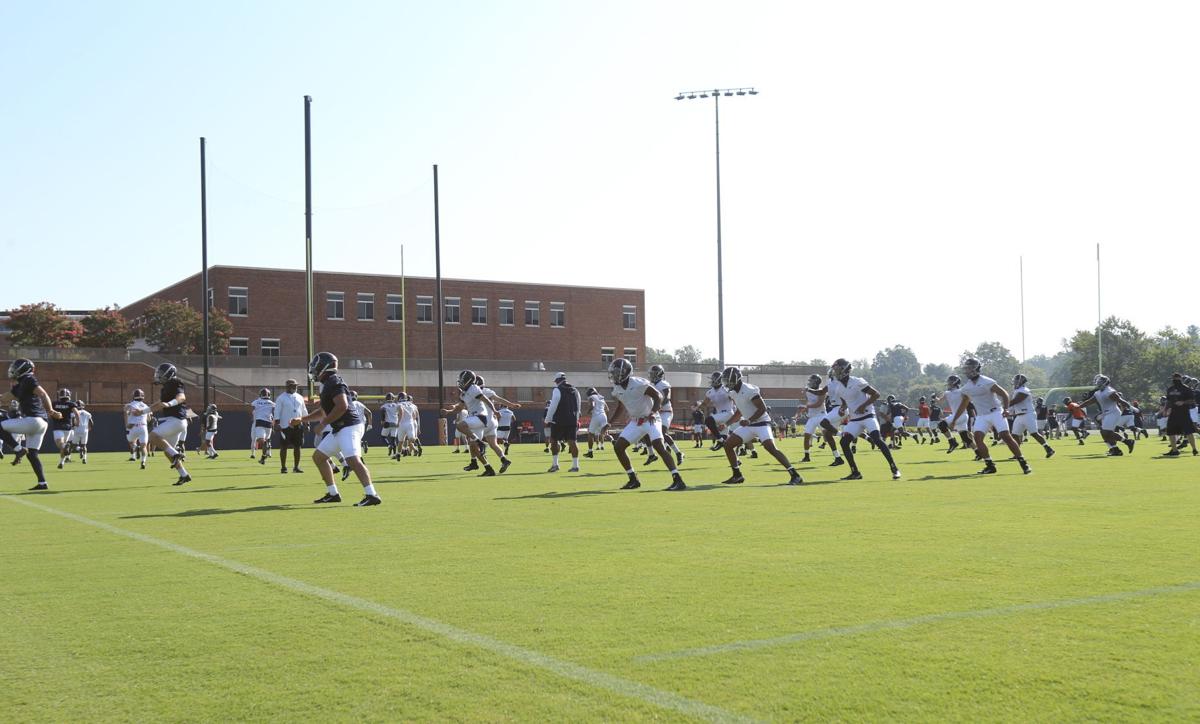 Bronco Mendenhall's Virginia football team is supposed to start its season in a month. His top daily focus isn't on Xs and Os or game plans, though.
Mendenhall's mind is on mental health.
"Quite frankly, maybe the biggest competitive work is the psychology of just trying to care for the mental health of our team and keep them positive and optimistic and focusing on just one horizon at a time, and again, what they can influence and focusing on that because there's so many things we can't, even though they're occupying our thoughts," Mendenhall told the media Monday.
The worries outside the UVa football program's control include the fall schedule, cancellations and postponements. Numerous reports suggest Power 5 football conferences will postpone or cancel fall football seasons in the coming days.
This leaves UVa to wonder about what's next. The football program opened camp Friday, but will it make it to its first game on Sept. 11?
"I think the most significant mental challenge college athletes are facing is the uncertainty," Eric Bean, an executive board member for the Association of Applied Sport Psychology, said. "There's still a significant amount of unknowns to what their sport is going to look like, what the bench setup is going to look like, to are they going to have social distance on the bench, to are their parents going to be allowed to attend, to are they only going to play in conference?"
Other concerns stem from health protocols. The UVa sports bubble has largely kept the virus from infecting student-athletes — the athletic department announced Monday that there were no new positive tests in its latest round of COVID-19 testing — but there are still health concerns for the Wahoos.
Brady Feeney, an offensive lineman for Indiana, is dealing with health complications after a battle with COVID-19. Eduardo Rodrigues, a pitcher for the Boston Red Sox, is done for the MLB season after COVID-19 led to heart inflammation. While high-level student-athletes don't face as many health risks as older populations, they're not immune to impacts from COVID-19.
Athletes have little to no control over how their fall season will look. Will games be played? If not, will student-athletes stay on campus or will classes eventually be moved online only for the semester? If a player tests positive, will they face long-term health effects?
All of the unknown questions lead to uncertainty. Bean, who has a Ph.D. in sports and exercise psychology from Michigan State, says those feelings can lead to anxiety, stress and even a little bit of fear.
To combat those emotions, Bean recommends something coaches preach all the time. Control what you can control.
"That's one area I would look at is to really make sure that they're maximizing control over what they have control over and not spending too much time on what they don't have control over," Bean said.
That's something Adeeb Atariwa, a recent graduate transfer into Virginia's football program, takes to heart.
After JMU suspended its fall football season, he made the decision to transfer. The defensive tackle decided to join UVa.
With NFL aspirations, Atariwa wants a chance to play this fall. He knows that's far from certain, even in the ACC. At the very least, he wants a chance to compete daily against Power 5 opponents ahead of potential NFL Draft preparation.
"It's been really tough mentally, but what's been helping is knowing that I can only control what I can control, anything outside of that is beyond me," Atariwa said. "I can't control how different leagues react to coronavirus and things like that, but I can control where I'm at and what I can do. I know that I will be working hard on the field and off the field at UVa the entire time that I'm there."
Atariwa likes the academic offerings at UVa, and he hopes being viewed as a Power 5 defensive lineman can help his potential draft stock. He controlled his college choice and decided UVa made the most sense for his career goals moving forward.
Bean also recommends athletes avoid constantly reading news headlines about the status of the fall season. Instead, try to block out the noise and focus on the daily activities within the team and eventually within academic life.
"Most of the time, if you need to know something, you're going to know it," Bean said. "Somebody's going to call you; somebody's going to tell you. If there has been a definitive change in the status quo, you're going to know it, so reduce your intake of news."
This leaves athletes with time to focus on practice and spending time – albeit socially distanced time – with teammates and coaches. Virginia's football program is doing its best to combat stress and anxiety by focusing on positives of each day.
Until told otherwise, the team plans on competing and training. The Cavaliers also plan on enjoying themselves.
"I've worked hard to frame this time period not in relation to if we'll play or if we won't play, but to how much growth can we accomplish daily," Mendenhall said. "What kind of circumstances and what kind of program can I provide for growth that will be meaningful and also how much fun can I have our players have daily in the meantime. That's helped make some sense of the circumstances we've been under for some time."
Interestingly, the mental health of athletes might be better off now than in a few months should classes move online and sports be canceled this fall. Currently, several UVa athletic programs are preparing for fall seasons on Grounds.
They're working out in teams and receiving frequent COVID-19 tests. There's comfort given the fitness routine and health protocols in place.
"We know that when athletes and non-athletes alike work out, endorphins are released, and they usually are associated with some positive feelings and some feelings of a sense of control over their life," Bean said.
In addition to the mental health benefits of training, there's the added benefit of seeing teammates in-person for the first time in months.
"It's been so long since our team has been together," UVa women's soccer head coach Steve Swanson said. "There's this joy of being together again. That's been quite motivating, inspiring."
Swanson says his group, which reached No. 1 in the country at a point last season, understands more about why they enjoy playing as a team. He says it's about being together, working toward a goal and building relationships.
At the same time, the Cavaliers don't even have a fall schedule yet. They might never get one. While the football team at least has a potential date to circle on the calendar, the women's soccer team doesn't know what's next.
The focus lies on keeping the bubble safe. Swanson wants players and coaches to remain vigilant to help prevent the spread of the virus.
After that, they're just trying to play soccer and have fun.
Uncertainty surrounding a fall season can lead to stress and anxiety among student-athletes. From the outside, it feels like a cancelation of the fall seasons is inevitable.
Both James Madison and Old Dominion canceled fall sports seasons Monday. Reports indicate Power 5 conferences might soon follow suit.
That may very well be the correct decision to make from a health standpoint. If it is, UVa's athletic teams will accept that fate.
For the Virginia athletes currently on Grounds, though, those nervous and uncertain feelings are somewhat mitigated — at least for now — by the joy of reuniting with teammates and playing the sport they love.
"You can really see the effect of being a part of a team and having a positive environment to the day-to-day mental health," Swanson said.