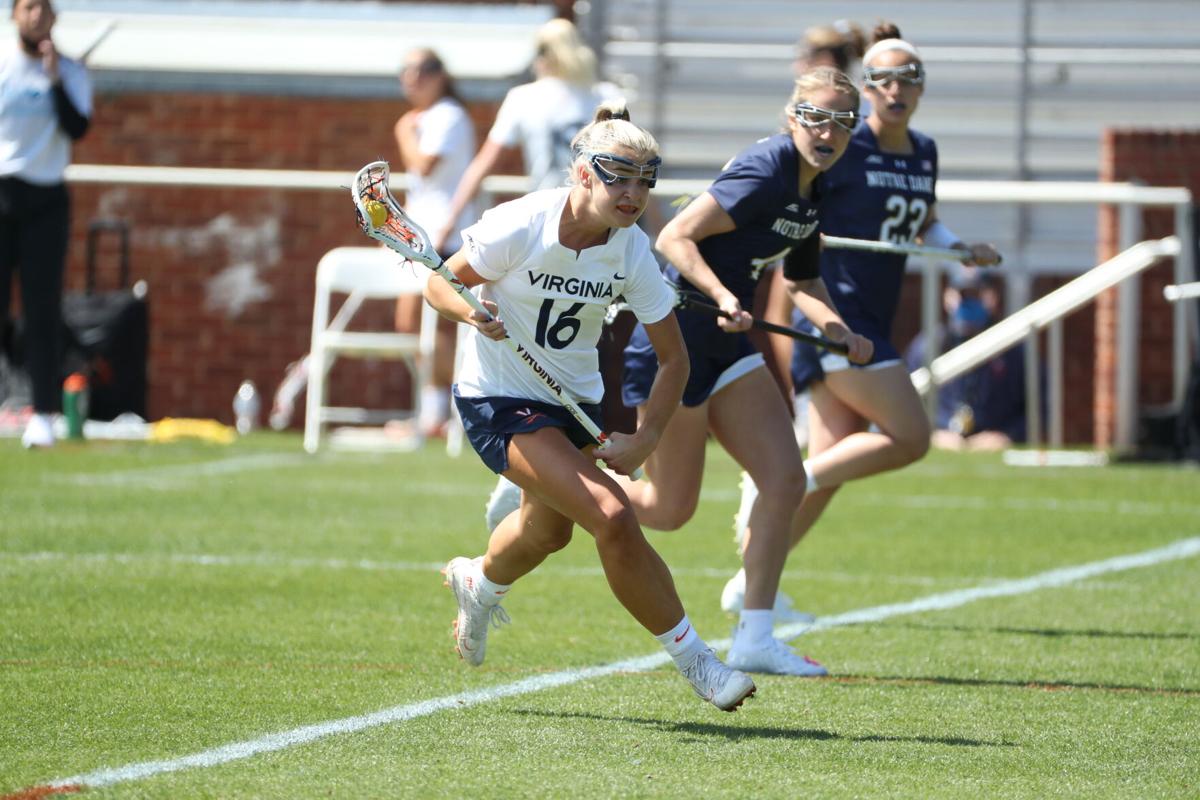 After falling behind by six goals, the No. 7 Virginia women's lacrosse team used a 5-0 run to get within striking distance, but could not complete the comeback in a 12-10 loss to No. 5 Notre Dame on Saturday afternoon at Klöckner Stadium.
The Cavaliers (8-3, 3-3 ACC) trailed by one goal at the break, but the Fighting Irish (6-2, 3-2 ACC) opened the second half on a 5-0 run to build a 10-4 lead. Virginia fought back, using a 5-0 run of its own to cut the deficit to one, 11-10, with 6:31 to play but could not find the equalizer.
"It was a battle from the opening whistle," Virginia coach Julie Myers said. "I thought Notre Dame played two consistent halves. We had not a great first half, but a better second half. We dug a ditch that turned out to be a little too big in the end for us to come up with the win."
Ashlyn McGovern led Virginia with three goals, while Taylor Regan and Lillie Kloak each added two goals. Defensively, Meredith Chapman had three caused turnovers and five draw controls.
Samantha Lynch led the Irish with four goals. Virginia led in shots (30-25), ground balls (16-14), draw controls (17-7) and free position goals (6-2).
"We competed for draws, ground balls and opportunities," Myers said. "We had plenty of them, we just didn't capitalize."
Virginia will try to bounce back next Saturday when it travels to No. 2 Syracuse for a 3 p.m. matchup at the Carrier Dome.
"A lot of things we can learn and a lot of positives we can take from this as well as we prepare for Syracuse," Myers said.
No. 10 UVa falls on late goal
A goal in the final minutes propelled the No. 4 West Virginia women's soccer team to a 1-0 victory over No. 10 Virginia on Saturday in a matchup of top 1o teams in Morgantown, W.Va.
The Mountaineers (10-2-0) broke a scoreless tie in the 86th minute when Isabella Sibley converted from just outside the six-yard box. Lilly McCarthy and Lauren Segalla assisted on the goal.
Virginia (10-4-1) held the advantage in shots at the half, but West Virginia surged down the stretch to finish the game with a 7-5 lead in shots after taking six shots in the second half. The Cavaliers held a 4-3 edge in corner kicks, but were unable to convert any of them into goals.
Wahoos improve on marks
The Virginia men's and women's track and field teams improved on numerous season bests and set several school records Saturday at the Virginia Invitational.
A week after posting the best 4x100 relay finish in school history, the Cavaliers improved on the time Saturday. Led by Kayla Bonnick in the leadoff leg and Anna Jefferson anchoring the team, the Cavaliers placed second with a time of 44.36.
The Cavaliers swept the top three spots in the women's 100-meter dash with Hazzard winning with a time of 11.44. Seaman was second (11.56), while Bonnick took third (11.76). Seaman capped off her day by finishing third in the long jump with a personal best mark of 6.13 meters (20' 1.5").
In the throws' events, Maria Deaviz made it 3-for-3 this year, winning the shot put with a best effort of 15.71m (51' 6.5"). Thelma Kristjánsdóttir took top honors in the discus with person-best throw of 52.99m (173' 10").
The Cavaliers picked up a win in the 3,000-meter steeplechase when Helena Lindsay crossed the finish line first with a time of 10:25.50. Ellie Desmon used a personal best time of 4:28.28 to win the 1,500.
Joey Kelly cleared a personal-best height of 5.05 meters (16' 6.75") to win the pole vault. Teammate Kane Aldrich finished second with a personal-best height of 4.80 meters (15' 9"). Randy Neish used a personal-best time of 3:48.88 to edge teammate Will Baginski (3:49.66) for the 1,500 title.
Claudio Romero won the shot put for the third consecutive week (18.02m/59' 1.5") and then placed second in a spirited discus competition.
Second Varsity Eight wins twice
The No. 3 Virginia rowing team's Second Varsity Eight raced to a pair of wins at the B1G/ACC Regatta on Saturday on Griggs Reservoir in Columbus, Ohio. The Cavaliers won four races overall while competing against No. 6 Ohio State, No. 18 Minnesota, No. 7 Michigan and Michigan State.