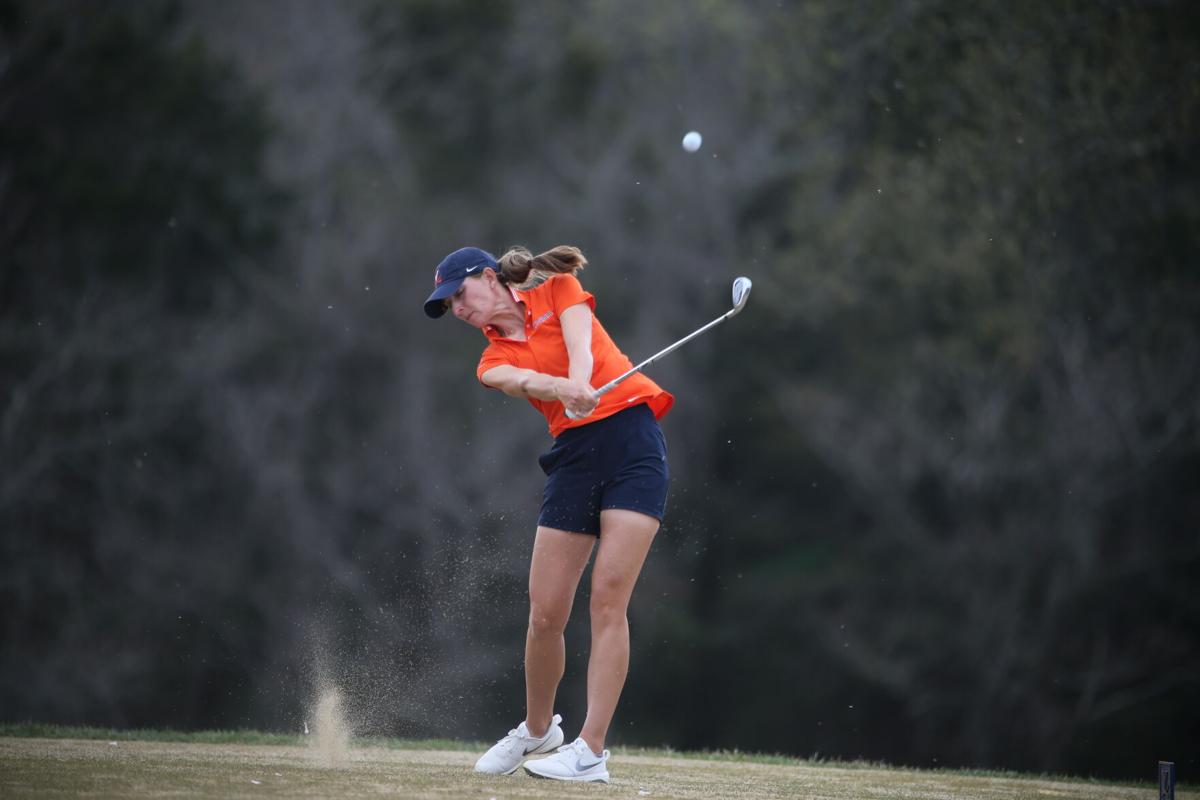 The No. 12 Virginia women's team won its quarterfinal match but lost in the semifinals during the first day of competition at the Cavalier Match Play tournament at Birdwood Golf Course.
No. 2 Duke will face No. 14 Virginia Tech in the event finals on Wednesday, while the Cavaliers will battle Maryland for third place. The Hoos downed N.C. State 5-0 during the morning round and fell to No. 14 Virginia Tech 3-2 in the afternoon.
In UVa's quarterfinal win vs. the Wolfpack, Riley Smyth picked up a 2 Up victory against Monika Vicario, Celeste Valinho won 1 Up versus Isabel Amezcua, Beth Lillie won 3&1 playing Natalie Ambruester and Virginia Bossi defeated Inja Fric 2&1. Jennifer Cleary needed 21 holes to pick up her victory against Lea Klimentova.
Smyth recorded a 3 Up win against Virginia Tech's Alyssa Montgomery and Virginia Bossi picked up a 19-hole win vs. Jessica Spicer for the Cavaliers two wins against the Hokies. UVa's Lillie dropped a close match to Becca DiNunzio 1 Down, Valinho was defeated by the Hokies' Keera Foocharoen 4 Down and Cleary lost to VT's Emily Mahar 3 Down.
In other quarterfinal matches, No. 2 Duke dispatched Richmond 5-0, No. 14 Virginia Tech handed North Carolina a 3-2 loss and No. 20 Maryland downed Louisville 3-2.
Cavaliers downed by Flames
The Virginia softball team dropped a midweek contest with Liberty on Tuesday, falling 12-3 in six innings at Palmer Park. Clare Zureich (0-4) took the loss for the Cavaliers (11-19) after allowing four runs on five hits in her three innings of work.
McKenzie Wagoner (4-2) picked up the win in relief for the Flames (23-12) after closing out the final 2.1 innings. She allowed a hit and struck out two without surrendering a run. Emily Kirby made the start, working 2.1 innings and allowing one run on one hit with three walks and four strikeouts.
Virginia will resume ACC play this weekend with a four-game set at North Carolina. The series will begin with a doubleheader at 4 p.m. on Friday.
UVa up to sixth at The Collegiate
The Virginia men's golf team moved up to a tie for sixth place following the second round of the Collegiate Invitational on Tuesday at the Country Club of Birmingham. The Cavaliers shot 8-over 292 on the par-71 course for a two-day total of 14-over 582. Clemson and Tennessee lead the 14-team field at 3-over 571.
Senior WeiWei Gao led UVa on Tuesday, shooting even-par 71 to move up to 32nd place. His two-round total stands at 5-over 147. Pietro Bovari remains the Cavaliers' overall leader. At 2-over 144, he is in 14th place. Bovari shot 3-over 74 during the second round.