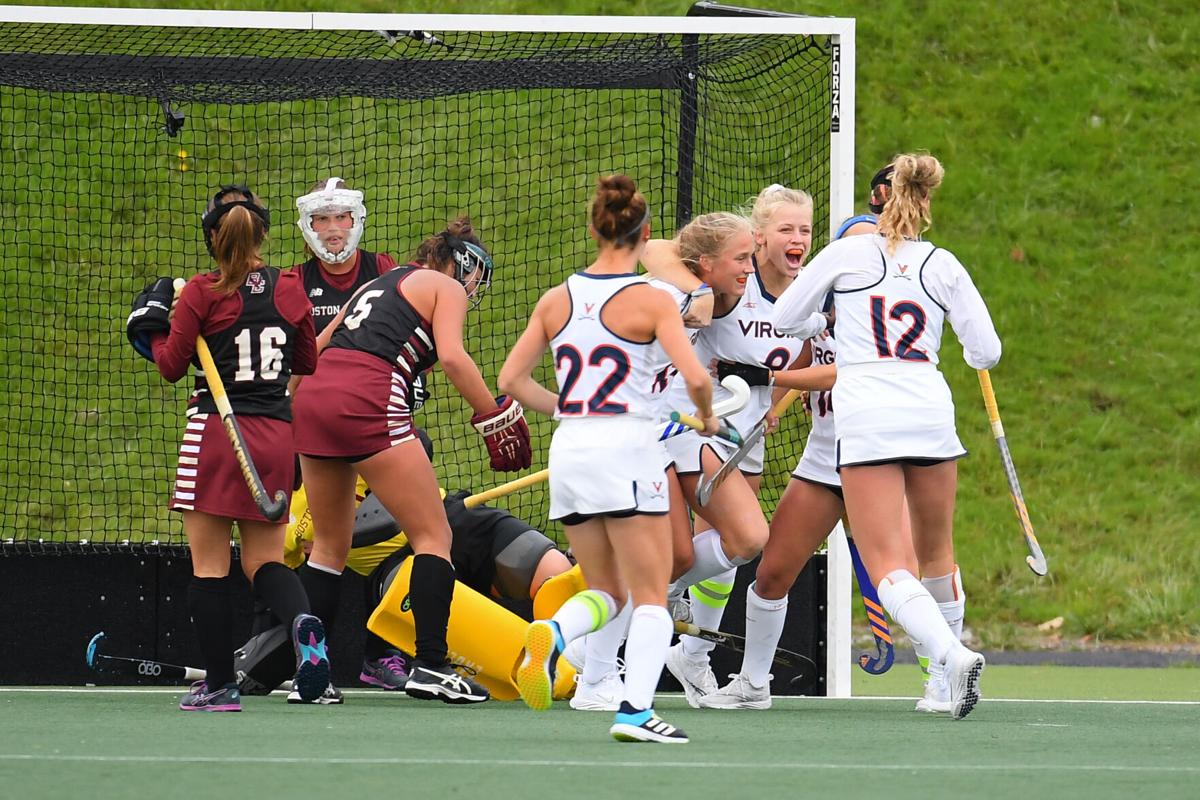 The No. 5 seed Virginia field hockey team opened ACC Tournament play on Thursday with a 2-0 victory over No. 4 seed Boston College at J.S. Coyne Stadium in Syracuse, N.Y.
The Cavaliers (11-7) advance to play top-seeded Louisville (16-2) on Friday in the ACC semifinals. That game will begin at 1 p.m. Virginia has now made the ACC semifinals each of the past seven years, including 2017, when the Wahoos were the tournament's No. 1 seed.
The start of Thursday's game was delayed an hour and 20 minutes after a storm blanketed the field in snow and hail. Once the game started, it was played under clear skies.
Laura Janssen scored what ended up being the game-winning goal for Virginia 11:27 into the contest. It was her fifth goal of the season. Rachel Robinson doubled the Cavalier advantage with 7:11 remaining in the first half when she scored off a rebound.
Both teams finished with eight shots, but Virginia held a 7-3 edge in shots on goal. Virginia goaltender Tyler Kennedy finished with seven saves as she earned her second shutout of the season.
"We started the game well," Virginia coach Michele Madison said. "I thought that mattered, how we started. We were able to maintain that intensity. Of course, you're not going to keep a team as good as Boston College out of opportunities, but we did what we had to do. Now we have to go back to the hotel, get rested, recovered and make a new game plan for Louisville."
Men's soccer season ends
The Virginia men's soccer team's season ended late Wednesday night with a 3-0 loss to Wake Forest in the ACC Tournament. The Cavaliers finish the season with a record of 6-9-3.
Omar Hernandez, Kyle Holcomb and Leo Guarino each scored a goal for Wake Forest (11-5-1), which outshot Virginia 17-6 in the match. Holden Brown finished with a career-high 10 saves for the Cavaliers.
Hoos host Horns
The Virginia swimming & diving teams host Texas in a two-day dual meet that features the two reigning NCAA championships programs on Friday and Saturday at the UVa Aquatic and Fitness Center. The meet will be streamed live on ACCNX both days.
Friday will begin with diving at 1 p.m. and swimming will follow at 4 p.m. Virginia will unveil its NCAA championship banner prior to the swimming session on Friday. Saturday's swimming session is set to start at 10 a.m.
The dual meet will feature top 10 programs.
The Cavalier women are ranked No. 1 in the CSCAA Poll after winning the NCAA championship in 2021 and are 2-0 on the season with a win over No. 6 California. UVa's men are ranked No. 9 and are 1-1 on the season with a win over Army.
The Texas men (2-0) are No. 1 in the preseason poll and the reigning NCAA champions, while the women's team (2-0) is ranked No. 6 and finished third at NCAAs.